Hester returns!
Posted by Francesca Rutherford on Thursday 14th March 2019
Alex Chapman's diary of Hesters Ethiopiaid challenge
This week Hester has arrived home safely after her epic Ethiopiaid challenge. Alex Chapman shares her experience of traveling with Hester
If you haven't heard, Hester is a local Bath based 11 year old who took on an amazing Ethiopiaid fundraising challenge to help visually impaired children at our partner project SENTigray Mekelle School for the Blind. Having herself, been diagnosed blind as a baby, Hester has embraced every opportunity to live life to the full and has never let her visual impairment hold her back!
This past week Hester has been in Ethiopia visiting our partners at Mekelle School for the Blind to find out for herself what it is like to be a blind student growing up in Ethiopia. On top of this, on Sunday the 10th of March Hester took part in the Women's First Run, completing a 5k race through central Addis Ababa alongside 14,000 runners!
Hester's visit to the Mekelle School for the Blind was overwhelming in places. After receiving a wonderful warm welcome Hester enjoyed an afternoon of singing, dancing and chatting with the students. The children were blown away by the story boxes we brought (they were pronounced 'wonderful') and we are all excited by the scope that they will have in both teaching and recreational terms. The jingly footballs, dancing bell bracelets, and craft materials were also met with huge enthusiasm and Hester was able to have her hair braided. Hester sang and danced with the children, made many new friends and was able to share and exchange experiences. The whole thing was very moving.
In Ethiopia visually impaired students are unable to study maths or science beyond grade 5 and do not take part in sports. Something Hester felt was very unfair as it limits their opportunities and job prospects in the future. While we were there Sarah (Hester's mum) was able to mend 5 broken braillers so they could be put back in use!
Run Africa
Hester also had the privilege of meeting with young female athletes from Run Africa, and shared laughter and experiences over a traditional Ethiopian Coffee Ceremony and some popcorn! Many of the athletes come from rural areas and running is a way out of poverty. Their dream is to represent Ethiopia!
Women's First 5K Run
The Womens First 5km run in Addis Ababa was the most spectacular festival of hope and promise for the future. 14000 women and girls came together to show their society that they are ready to lead. This run was to mark International Women's Day and has been completed by over 100,000 women and girls, marking the changing social and economic climate for women in Ethiopia. The music and dancing meant that it was like a Glastonbury size Zumba class! We met the legendary long distance runner and Olympic gold medallist Haile Gebrselassie (Hester shared the stage with him in front of the crowds) and the inspiring Yetnerbersh Negussie, a blind lawyer and disability rights activist, who recently won the prestigious Spirit of Helen Keller award. She invited us for dinner at her house after the run to meet her family. An Unforgettable experience.

Hester, with her guide Charlotte Evans MBE, smashed the 5km which at altitude and scorching heat which was amazing - and we have far exceeded our fundraising target and raised over £22,000 so far! We would like to thank everyone for their generous donations and support. We couldn't have done it without you!
The Just Giving Page is still live so there is still time to contribute if you would like to.
"We did it - we ran in the heat and the dust and the altitude amongst 14000 women and girls of Ethiopia. We sang and danced and showed the country that women are ready to lead - Ethiopia has a hopeful future if these wonderful people are anything to go by. All power to them. We met Haile Gebrselassi and the wonderful Yetnebersh Nigussie ( who invited us to her lovely home for dinner with her family - we were so honoured!)
We have also smashed both our original £5,000 target and subsequent £10,000 target thanks to your kind support. Huge thank you!" Hester
Hester's drive and passion comes from her selfless desire to help others. Having benefitted herself throughout her school life, of specialist support, Hester hopes that she can 'pass it on' by raising funds to help improve the educational life of the children at the school, so they too can hope for a rewarding and successful future.
"I love school and I want other blind children to have the same opportunity to learn and play that I have had" "I am very lucky and have had some wonderful teaching in school and in sport. I feel that, if I put the effort in, I can do anything that I want to do. I hope that by bringing specialist equipment and supporting the school in Ethiopia more blind children will be able to fulfil their hopes and dreams too." - Hester
We're Hiring!
Posted by Francesca Rutherford on Thursday 7th March 2019
Job Description - Fundraising Assistant
Role Title: Fundraising Assistant
Location: Bath
Hours: Full time - Monday – Friday (37.5 hours per week)
Term of contract: Short term contact to 31 Aug 2019
Salary: £18,700 FTE per annum
Ethiopiaid is based in central Bath and generates income to fund partner organisations in Ethiopia, primarily in Addis Ababa and the surrounding area.
We support projects ranging from maternal health, FGM and women's rights, to education, disability and the elderly. It is our aim to see an Ethiopia without preventable poverty, in which every person enjoys the right to quality education, healthcare and a life of dignity.
Outline and Purpose of Role
This will be an opportunity to gain work experience in fundraising within the international development sector. This position is ideal for either a confident graduate or someone with office experience seeking to move into fundraising/international development with a demonstrable interest in either or both.
You must be highly organised, able to manage multiple projects and work under your own initiatives.
Main areas of responsibility:
Donor care
AdministrationAnswering the telephone and dealing with donor enquiries, card donations and post
Manage the supporter inbox
Supporting the Fundraising Manager and Officer with fundraising admin
Supporting the Finance Officer with financial admin
Ensure all donors are thanked
Ensure all cancelled regular gifts are responded to
Delivering excellent donor care at all times
Administration
Support with data entry and updating Gift Aid information onto the Raisers Edge database
Help proof read DM appeals and newsletters
Leading on social media content and blogs
Complete scanning of remaining gift aid forms
Banking donations
Special Projects *
30th Anniversary activities and promotion
Support Global Strategy development and set up of a global data hub
Small grants programme
Team Support
Supporting the fundraising team with adhoc jobs and special projects when needed
Essential skills
Good knowledge and understanding of Microsoft Office, in particular word and excel
Professional attitude
Ability to seek new opportunities and think on your feet
Ability to multi task
Excellent written and verbal communication skills
Attention to detail
Proven interpersonal skills
Keen to learn and develop new skills
Able to concentrate in a busy office environment
Desirable
Experience of, or an interest in, International Development
Design skills
Raiser's Edge experience
HOW TO APPLY
Send your CV and a covering letter explaining why you feel you are the right person for this role. Applications can be made by email to:
Email: support@ethiopiaid.org.uk
Application Deadline: Sunday 17th March
Interview Date: Wednesday 20th March
Start Date: Monday 26th March
Please note that interviews will be held at our office in central Bath. Due to the popularity of this position we unfortunately cannot provide feedback on your application.
This position is open to UK residents with the right to work.
Mar 2019
World Water Day 2019
Posted by Amy on Tuesday 5th March 2019
What is World Water Day & why is it important?
Access to safe, clean water is a human right. But today, billions of people are still living without safe water.

In Ethiopia, one of the biggest factors behind the water crisis is repeated drought, particularly in the arid, seasonal region of Afar.

The theme for this World Water Day is 'Leaving no person behind.' It highlights the need to tackle this water crisis by addressing the reasons why so many people are being left behind.

Women, children, the elderly and sick are often more vulnerable groups
Why are people being left behind?
The people of Afar are pastoralist, nomadic people whose livelihood is their livestock, and it is these people who are left behind in the race to access safe, clean water when drought strikes.

For the people of Afar, there are underlying issues in their homeland which both accelerate the effects of drought and leave them with little buffer to prepare for the dry seasons in advance:

No community-based economy and extremely poor access to the few markets that exist in the region | This makes it difficult for people to purchase emergency supplies of grain, medication or fodder, and even when this is available, produce is often hugely marked up in price.

No available feed or medication for livestock | This means drought and outbreak of disease can quickly decimate whole herds.

Too few water sources | This means existing sources of water like dams or cisterns get used up far too quickly if the rains don't come, or else are vulnerable to contamination

On top of this, groups who are already marginalised or more vulnerable become even more so once crisis hits. Children, women, the elderly and sick are unable to travel the long and grueling distances to access water or food supplies during times of crisis. Many are left to beg for water by the road.

In Afar, livestock are the main livelihood
How can we stop people being left behind?
Our field partners in Afar, APDA, are working tirelessly to provide relief for the current drought, and build capacity to withstand future and repeated drought.

Along with emergency water trucking to provide immediate access to water in isolated areas, APDA are:

Supplying basic food rations including grain and oil to the most vulnerable households (destitute households, pregnant and breast-feeding mothers and children under 5 years)

Providing animal fodder for livestock in households facing absolute destitution if their last remaining goats die

Handing out animal treatment to immediately stamp out disease outbreaks

Providing house-to-house vaccinations against measles and whooping cough which further weaken communities, plus water purification tablets to prevent outbreaks of acute watery diarrhea

All of this is acting to alleviate the current water crisis for the people of Afar.

The dream for the future, however, is for an Afar where the people have buffers in place against the crisis and where no person is left behind.
COMMUNITY EMPOWERMENT

…where women can run local household-based shops selling domestically needed commodities at reasonable prices, including animal feed and fodder

LIVESTOCK SUPPORT

…where animal feed and fodder are readily available in these local shops year-round; both for times of emergency and also for breeding animals so that households have access to fresh and nutritious milk

VETERINARY AID

…where animals are treated and vaccinated by local veterinary cooperatives, so that herds are less susceptible to disease and so fattened animals can be sold at market for a good price

WATER SOURCES FOR CROPS

…where smart water sources support small-scale crop production to provide diversity in diet and income from commerce, while also being able to withstand drought.
Trucking in emergency supplies to families who are most vulnerable
How can you join World Water Day 2019?
This World Water Day, chip in for emergency and long term drought relief to help make sure every person across Afar has access to safe, clean water.

Go to our 'DONATE' page and help provide water for all – during drought and always.

Camels are often used to transport produce across the arid landscape
Mar 2019
International Women's Day 2019
Posted by Amy on Tuesday 5th March 2019
International Women's Day has arrived! This year's theme is #BalanceforBetter, spotlighting the need for gender balance in boardrooms, government, media coverage, wealth, sports… Everywhere!
Today is a day for celebrating the social, economic, cultural and political achievements of women, and what better way to do this than by showcasing women who are kicking goals in their fields across our partner organisations.
You may recognise some of these outstanding women while others may be new to you. Each of these women is making a large and active difference across her field of work. We are proud to partner with and support the mission of each across our global Ethiopiaid offices.

Dr Ambaye: Surgeon
Dr Ambaye is a gynaecologist and leading fistula surgeon with local partner the Women & Health Alliance.

Based in Addis Ababa, Dr Ambaye travels regularly to the Gondar Fistula Hospital in Ethiopia's north and also to Zimbabwe and Mozambique to assist with complicated surgeries and train more fistula surgeons – a critical need given that there are 3,000 new cases of fistula each year and barely more than 250 obstetricians and gynaecologists in Ethiopia equipped to treat it.
What is one of Dr Ambaye's biggest challenges?
For Dr Ambaye, the challenge is not just to treat fistula but to help a woman maintain a fistula-free status.
"I used to get frustrated with patients who didn't heed my advice about going to hospital to have a C-section if they got pregnant after fistula surgery," says Dr Ambaye.

"Now I understand that many women live in such remote places, it is not easy for them to travel. Often their families will convince them that they are cured and should have the baby at home."
Following surgery, Dr Ambaye makes it a point to connect with patients about the importance of long-term care and seeking out hospital care for a second birth.

Maria Munir: Justice
A former High Court Judge, Maria is the co-founder and director of the Association for Women's Sanctuary and Development (AWSAD).

Through AWSAD, Maria opened the first safe house for abused women and girls in Ethiopia. The safe house operates under the premise that women and girls who have been abused need a range of services to help their recovery; from medical care, counselling and legal aid, to training in literacy and vocational skills.
From this first holistic safe house in the capital city, there are now five sanctuaries for survivors of abuse across Ethiopia, currently home to 259 women survivors and 70 children.
Maria's mission for justice has taken her across Ethiopia and around the world to promote women's rights and the need for capacity training in government bodies.

Berhan: Ambassador
A former obstetric fistula patient, Berhan is now a trained Safe Motherhood Ambassador, a valuable and vocal voice for safe pregnancy & childbirth in rural districts.

Berhan lived with obstetric fistula for nine months following the birth of her fifth child. Through Healing Hands of Joy, Berhan was not only referred to a health centre for the treatment she needed but was given the opportunity to train as a Safe Motherhood Ambassador.
What does a normal day look like for Berhan?
On a given day, Berhan will walk on foot to a village on her roster. She will seek out new mothers and speak with them one on one about safe pregnancy and childbirth – a valuable resource in rural areas where this information is not widely known or shared. She'll also check in on any other expectant mothers in the community, provide antenatal care such as blood tests for HIV, and may even accompany a woman in labour to the hospital, especially if she has never been in an ambulance before.

Nigisti Gebreslassie: Entrepreneur
Founder of the humanitarian Yenege Tesfa organisation, Nigisti runs life-changing programs for children's homes, agricultural programs and medical assistance.

Nigisti is both the founder and full-time manager of Yenege Tesfa, meaning 'Hope for Tomorrow'. She was spurred to take action after moving to Gondar and seeing the great need and lack of welfare that existed, especially for the many local children who were living on the street.
What are some of the programs Nigisti has established?
Children's group homes, providing safe shelter, food, clothing, medicine and schooling for orphans and vulnerable children

Mobile school van which travels to different parts of the city each day and offers food and fun, interactive learning activities so children on the street still have the chance to learn

Agricultural training program which teaches single parents and those in rural areas how to grow seasonal crops and tend cattle for sustainable food and income

Community medical assistance program which provides coupons for free, quality medical treatment at local health centres for those in the community who need but cannot afford healthcare

Freweini Mebrahtu: Chemical Engineer
With a degree in chemical engineering, Freweini developed and patented a resuable sanitary pad which is changing how women and girls go through menstruation.

"The stories I heard were shocking," says Freweini, speaking out about girls' experiences with periods in rural Ethiopia.

"[Girls were] digging a hole and squatting over it for three to five days, or wrapping themselves with strips of cloth. I also noticed that they were uncomfortable talking about it – this is still a taboo subject."
Freweini's reusable sanitary pads are affordable, reliable, and environmentally friendly. In 2009, she founded the Mariam Seba Sanitary Products Factory which employs local women to produce over 600,000 pads and 300,000 pairs of underwear each year.
"It is my hope that this product will bring dignity to many more girls in Ethiopia."

Dr Catherine Hamlin: Pioneer
Australian obstetrician and gynaecologist, Catherine and her husband Reg pioneered fistula treatment in Ethiopia.

Founding the Addis Ababa Fistula Hospital which is the leading centre for fistula surgery, Catherine has forever changed the landscape of maternal health in Ethiopia.
What was a defining moment for Catherine?
It was Catherine's very first fistula patient which spurred her life-long mission to eradicate fistula.
"We were touched and appalled by the sadness of our first fistula patient: a beautiful young woman in urine-soaked ragged clothes, sitting alone in our outpatients department away from the other waiting patients. We knew she was more in need than any of the others."
This year marks 60 years since Catherine first arrived in Ethiopia with Reg. To this day, Catherine is as committed to transforming the lives of some of the world's most vulnerable women as she was on the first day she arrived in Ethiopia.
Feb 2019
World NGO Day
Posted by Amy on Tuesday 26th February 2019
World NGO Day is a day to celebrate the progress that NGOs are making around the world, recognise all the wonderful supporters who are powering this progress (that's YOU!) and give small, grassroots organisations the recognition they deserve.
As you know, we partner with many dedicated, hard-working grassroots organisations based on the ground in Ethiopia. Across our global offices, we support development in maternal health, harmful practices, gender-based violence, disability, elderly welfare, education and destructive disease.
Here is a show reel of these grassroots organisations we are proud to partner with and their top highlights from last year, made possible through your support.

Great Ethiopian Run Fundraising Tips and Tricks
Posted by Francesca Rutherford on Monday 11th February 2019
Great Ethiopian Run 2019!
This November we're celebrating our 30th Anniversary and offering you a once in a lifetime opportunity to join our 30th Anniversary Challenge to Ethiopia. This trip promises to be a life changing experience with chance to see and meet, first-hand, the incredible Ethiopian entrepreneurs and partner projects that inspired Sir Alec Reed 30 years ago whilst also taking part in Africa's biggest road race, the Addis Ababba 10K!
The trip will take place from the 13th – 22rd November 2019 and you will need to commit to fundraising £3,000.
Fundraising Tips!
Now, we hear you… £3,000 AND a 10K run… here are some tips and tricks to pushing and challenging yourself in ways you didn't know were possible!
Previous successful participant:
"Biggest tip would be to manage your time! It is do-able! I look after Swindon's largest accounts so the recruitment I do is high volume (Basically means I never switch off) and I managed to do it alongside my work!"
"I made cakes and sold them via Facebook! It's all time management so it's worth making a plan"
We can agree, best advice – 'Make a schedule and plan how you're going to fundraise and stick to it!'
Another successful participant shared how she managed to raise the money:
Friday afternoon 'Cocktail Club' in branch (had to be authorised by BM at the time & AM) - made cocktails for the team for them to buy each Friday at 5pm
Cake sales - joined forces with another colleague in a megasite and split the funds raised between our JustGiving pages
Quiz Nights (Client Events) - spoke to my Area Manager and secured client entertainment budget from them to host a local quiz night for clients and their teams. This meant we were able to provide the venue and complimentary drinks for clients, and asked them to donate £5 per head to Ethiopiaid to participate. These proved to be successful and the branch are still running them for different causes each quarter!
30th Birthday presents - the year I participated I turned 30 in the August prior, and asked my friends and family to donate to my fundraising effort instead of buying me presents
30th birthday party raffle - secured donated prizes from local businesses etc and ran a raffle at my 30th birthday party with all raffle ticket sales going to my JustGiving total
Friends and family sports events - sold cakes at my boyfriend's football matches etc.
Jade, a 2018 Team Member who admitted to struggling with a lack of time, said "Coming on this trip, honestly, I'd give all my time, because this is incredible and it will change my life".
Okay.. so the next challenge is that 10K!
Luckily for you (and us!) there are more than 40,000 runners, joggers, walkers and dancers. For those wanting to run a timed race under 1hr we can enter for the earlier set off. But for the rest of us the whole run is a great party atmosphere with many runners chooseing to stop for a drink along the way! Now thats our kind of 10K race!
Best advice for the run... Drink plenty of water, stick with the group and HAVE FUN!
If you're interested and would like more information about the challenge OR would like to chat and find out more about this trip please get in touch!

To hear first-hand from two 2018 participants visit: Jade & Helen
Feb 2019
We're Hiring!
Posted by Francesca Rutherford on Monday 11th February 2019
Role Title: Partnerships Assistant
2 year fixed term contract (potential to extend/ become permanent)
Location: Central Bath
Reporting to: Partnerships Fundraising Manager
Salary: £21,700 p.a. / 25 days holiday allowance
Hours: Full time (37.5 hours per week)
Ethiopiaid is based in central Bath and generates income to fund partner organisations in Ethiopia, primarily in Addis Ababa and the surrounding area.
We support projects ranging from maternal health, FGM and women's rights, to education, disability and the elderly. It is our aim to see an Ethiopia without preventable poverty, in which every person enjoys the right to quality education, healthcare and a life of dignity.
In 2018 our income reached in excess of £2.6m, primarily through the support of individuals via our direct appeals, grantmakers and legacies and we are expanding our plans to continue to grow and diversify our income in the coming years. It is an exciting time to be joining Ethiopiaid as we look to the future.
Outline and Purpose of Role
You will work with the Partnerships Manager to ensure that existing income streams are maintained whilst seeking new opportunities to develop income from charitable trusts and major donors.
We are seeking someone with strong administrative skills and excellent writing abilities to work closely with the Partnerships Manager to grow our portfolio of partnerships.
To be successful, you will have an interest in international development and proven experience of researching, approaching and cultivating trusts and/ or major donors. You must be a team player and highly organised, able to manage multiple projects, spot opportunities and experienced in writing copy to a high standard.
This is a new role in a small but very effective team at Ethiopiaid. For the right candidate this is a great opportunity to make the role your own, have an immediate impact in the team and develop your fundraising skills further.
Please read the full job description here.
You can find our most recent newletter here and our global strategy here.
Application Deadline: Midnight on Friday 22 February 2019
Send your CV and a covering letter explaining why you feel you are the right person for this role. Applications can be made by email to: support@ethiopiaid.org.uk
Feb 2019
International Day of Zero Tolerance for Female Genital Mutilation
Posted by Amy on Tuesday 5th February 2019
In Ethiopia, roughly 1 in every 2 girls from rural areas are forced to undergo Female Genital Mutilation (FGM); the vast majority before they reach their first birthday.
Girls as young as 24 hours old are scarred for life. The side effects remain with them forever: difficulty urinating and menstruating, recurrent infection, kidney disease from urinary reflux, and childbirth complications.
We can't turn away from this. Not when we have the power to make a difference. It's time to put an end to female genital mutilation (FGM).



How are we fighting to #EndFGM?
Through local partner the Afar Pastoralist Development Association (APDA) in Afar, we are working on the ground in Ethiopia to:
Educate communities that FGM has no religious significance

Teach women about the long-term health risks of FGM which women too often don't realise are due to this practice

Show families where to get medical help for their daughters; something they may not know because they live in remote areas or which they're scared to use because they fear prosecution

Work with local leaders to defend the rights of women

Train local women who have practiced and/or experienced FGM themselves as 'health workers' to continue the fight in rural areas

Meet Hasna
For many years, Hasna practiced FGM on infants in her community (Hasna; below, middle).
Why?
Because that's what happened to her as a child, and her mother, and her grandmother before her.
For Hasna, FGM was the 'done thing'. She, her family and her community believed it was necessary to uphold a woman's purity and honour.


Today, Hasna is a fierce fighter AGAINST female genital mutilation (FGM).
Through the awareness work of local partner APDA, Hasna understands just how dangerous FGM is and how it has no religious meaning.
She took part in APDA's 30-day Women Extension Worker Program, and she now speaks out against FGM in her community. She visits with women one-on-one to give them the knowledge and support to stop FGM and protect their baby daughters too.

What progress has been made so far to #EndFGM?
By educating local women who have experienced and practiced FGM themselves, we can and are tackling FGM from the ground up.
In many districts of Afar, the severity of cutting has been reduced and in some districts it has stopped altogether. For girls, this reduced severity of cutting means the long-term health dangers are lessened. It also means the elders are listening and that, with time and ensuing generations, even more progress can be made against FGM.
In the last quarter of 2018, the 50 health workers across Afar spoke with 1,500 people about stopping FGM, sometimes in a one-on-one capacity and other times through workshops specifically for practitioners.
In the district of Erebti – in which APDA have only just begun to work – local woman have already set up a cooperative against FGM. They encourage their neighbours and leaders to speak out against FGM and stop the practice on children. They have also introduced a way to better reach out to their community: they provide small loans to families suffering from Afar's drought, but only if they have joined the cooperative to stop the practice of FGM.
* * * * *
Change like this would not be possible without the support of people like yourself from around the world who have come together to put an end to FGM.
If you would like to continue the fight, a donation today funds the education and healthcare that's essential to ending FGM.
Together we can #EndFGM.

Hester's Next Challenge -
Posted by Francesca Rutherford on Tuesday 18th December 2018
Hester's Next Challenge -
Last year Hester challenged herself to do 100 sports in 100 days to raise funds for her Visually Impaired Ski Racing Team. This coming year Hester is undertaking a fundraising challenge to raise awareness, support and provide specialist equipment for the Mekele School for Blind Children in Ethiopia.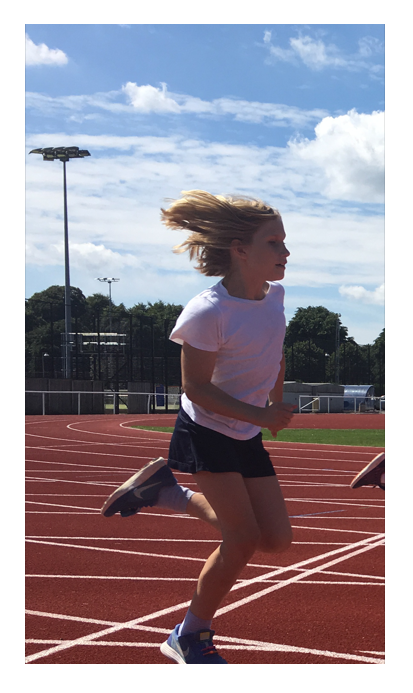 .
.
Hester is a severely visually impaired 11-year-old girl local to our offices in Bath. Diagnosed blind as a baby Hester has never let her visual impairment hold her back.
She works hard to maintain high academic standards at school, loves to sing, play the piano and hang out with her friends. Hester is also an alpine ski racer, a very able blind athlete, who hopes to represent GB in the winter Paralympics in the future. She trains with Precise Racing VI team and is part of Bath University's Future Athletes development programme.
Hester and her ski coach (Charlotte Evans MBE Gold Medallist Paralympic Alpine Ski Race Guide) are planning to take part in the Women First 5K Run in Ethiopia on Sunday 10th March 2019. This will be a return to guiding (albeit on rather different terrain) for Charlotte who will be taking on the role of guiding Hester during the run. Charlotte shot into the record books at the Sochi Paralympics in 2014 guiding Kelly Gallagher to Britain's first Alpine Skiing Gold medal.
She was the first professional athlete guide and is committed to ensuring that young visually impaired athletes have the opportunities necessary to reach their full potential.
Hester and Charlotte will take part in The Women First run which was started in 2004 to recognize the achievements of Ethiopia's great female athletes and to support the broader changes regarding the role of women in Ethiopia's economic and social life. The women first race has grown to be the biggest women only race in Ethiopia and one of the biggest in Africa. This race is timed to mark the international women's day (March 8)
Hester's particular concern is to raise awareness and funding for the Blind School in Mekele which is supported by Ethiopiaid. Having the benefit herself, throughout her school life, of specialist support from the Bristol Sensory Support service who provide braille teaching, resources, and technology as well as having the personal support of wonderful teachers and teaching assistants Hester hopes that she can help to make the educational life of the children in Mekele school for the Blind as rewarding and successful as it can be.
Hester says "I love school and I want other blind children to have the same opportunity to learn and play that I have had" "I am very lucky and have had some wonderful teaching in school and in sport. I feel that, if I put the effort in, I can do anything that I want to do. I hope that by bringing specialist equipment and supporting the school in Ethiopia more blind children will be able to fulfil their hopes and dreams too."
Without education the lives of the blind are extremely limited across the world. A good education is the only way a blind child can hope to access an independent adult life either financially or socially. Hester has the ambition to go to university and lead a successful and independent life. This is also the ambition of the blind children of Mekele School. Sharing these hopes and dreams, and knowing how important they are, Hester wants to help and support the children of the Mekele Blind school to reach their goals.
.
To launch this challenge and start the process of raising awareness and funds for Mekele School for the Blind and Ethipiaid Hester is organising a concert on Saturday 19th January 2019 at Bathwick St Mary's church in Bath from 6.30 - 8pm. Bath Choral Singers will perform a variety of choral and operatic pieces by candlelight. Tickets £15 available on the door from 6pm. It promises to be a lovely evening concert with a glass of wine (or soft drink) included in the ticket price.
.
Support Hester by visiting her Just Giving Page.
Dec 2018
Sir Alec on our 30th Anniversary
Posted by Francesca Rutherford on Friday 14th December 2018
To celebrate our 30th year Sir Alec Reed, our founder, has recorded his memories of his first visit to Ethiopia and explains why he is so passionate about the work you help make possible.
Dec 2018
Join Us In Our 30th Year!
Posted by Francesca Rutherford on Wednesday 12th December 2018
Take a look at our Winter Newsletter to find out how you can celebrate with us or take a look at our our 2019 events or if you're thinking of holding your own fundraiser take a look here! And here's an idea to get you started...

Dec 2018
Human Rights Day
Posted by Amy on Sunday 9th December 2018
"All human beings are born free & equal in dignity and rights."

Article 1 – Universal Declaration of Human Rights
This year marks the 70th anniversary of the Universal Declaration of Human Rights and today on Human Rights Day, it's time to #StandUp4HumanRights.
Human rights should be universal; however, among marginalised groups across Ethiopia, basic human rights are routinely denied. For the poor, disabled, elderly, invalid or orphaned, basic human rights are more often a luxury than a reality.
Human rights are everyone's rights.
The UN has created a campaign to help spread the word about human rights, and we're proud to take part in sharing the word too.
Today on Human Rights Day, watch people from around the world recite articles of the Declaration in their own language and then stand alongside them by recording yourself reading one of the 30 articles in the Declaration.
Watch the UN's #RightsOutLoud video here and follow the link to create your own video.
Nov 2018
Help women living with obstetric fistula come out of hiding
Posted by Francesca Rutherford on Friday 23rd November 2018

Take a look at our winter newsletter and find out what we've achieved together this year and our plans for our forthcoming 30th anniversary year.
We are delighted to be featured as one of Mumsnet's Guest Campaigns from Wednesday 28th November. Have a look at their page for our campaign here.
Abrehet was married at the age of 12 and pregnant at 14. Being so young, her body wasn't ready when it came time to give birth. She was in labour for days and with no hospital nearby, she had to endure it without any medical help.
When her daughter finally arrived, Abrehet was so relieved to discover that she had survived the traumatic experience - especially when she knew many babies do not.
But her joy was soon cut short. She realised she couldn't hold on to her bladder or bowel anymore. She was incontinent. And one week later, her husband passed away.
It's unimaginable, isn't it? When I think about what I was doing when I was her age, it's hard to fathom how someone so young could go through such horrors, one after another. But this is Abrehet's story. Like thousands of other women and girls living in rural Ethiopia, she experienced an obstetric fistula caused by being in labour for five days. And like the vast majority of these women, she was immediately ostracised by her community because of it.
As a supporter you will know that obstetric fistula is almost entirely preventable - and it's curable. When a woman is in labour for so long, the baby's head compresses on the walls of the bladder and rectum, cutting off blood circulation. Eventually the tissue dies, leaving a hole and resulting in incontinence.
Usually the baby will be stillborn. Many women also experience severe nerve damage that can affect their ability to walk. They can leak urine or faeces, develop a chronic smell and get skin infections from urine burn. But perhaps the hardest part about this condition is that most women are forced to live with the agony and embarrassment alone.
Fistula has a strong social stigma in Ethiopia — 70% of women who develop fistula are divorced by their husbands. Nearly all will be shunned by their community, refused employment or education opportunities, and pushed further into poverty.
Please help us make this senseless suffering a thing of the past by making a generous gift of £45 today.

When Abrehet lost her husband, her cousin took her in and helped to look after her and the newborn baby.
But then, after six years of barely leaving the house due to the shame of her incontinence, Abrehet suffered another cruel blow. Her cousin died, and her extended family forced her to move into town in a small room with her daughter.
"I felt abandoned. I had no money for rent or food and no-one would give me a job," she says. "My daughter wasn't able to attend school because I couldn't afford it. She was forced to look after me, cleaning the urine from my clothes. It was humiliating - I was supposed to be her mother, but she had to take care of me."
"I felt hopeless. I tried to commit suicide by hanging myself by a rope on a tree."
Can you imagine the desperation of this young woman? She was only in her 20s, but she felt as if her life was over. Sadly, this is common for women living with fistula. Many are forced to beg just to feed themselves or their children. Depression and suicide are rife.
But we know there is a solution to this needless suffering and you can be a part of it. £45 will help train a fistula survivor as a Safe Motherhood Ambassador (SMA), educating other women on maternal health and preventing the condition from happening to anyone else.
You see, our partner Healing Hands of Joy (HHOJ) are on a mission: not only are they fixing fistula injuries by sending women to specialist hospitals to be cured — they are also working to fully rehabilitate and reintegrate survivors back into their community. I have visited them several times and I'm left inspired every time. They help women to get jobs, learn new skills and receive counselling to work through their trauma.
Abrehet's neighbour found her the day she tried to take her own life and stopped her just in time. He and his wife befriended Abrehet and offered to help her and her daughter. They told her that the incontinence could be cured and soon after she received surgery to repair her fistula and Healing Hands of Joy trained her as a Safe Motherhood Ambassadors.
By that point, Abrehet had lived with fistula for 17 years — almost two decades living in isolation, in shame and in agony. It makes me so sad to think of all those wasted years; of all the women still in hiding; all of the women who took their lives because of a preventable and curable condition.
I know that we can make fistula a thing of the past and as someone who has always responded to our calls for help, I know you believe it too.
With warmest thanks for all you do and on behalf of all of us at Ethiopiaid we wish you a peaceful Christmas and New Year.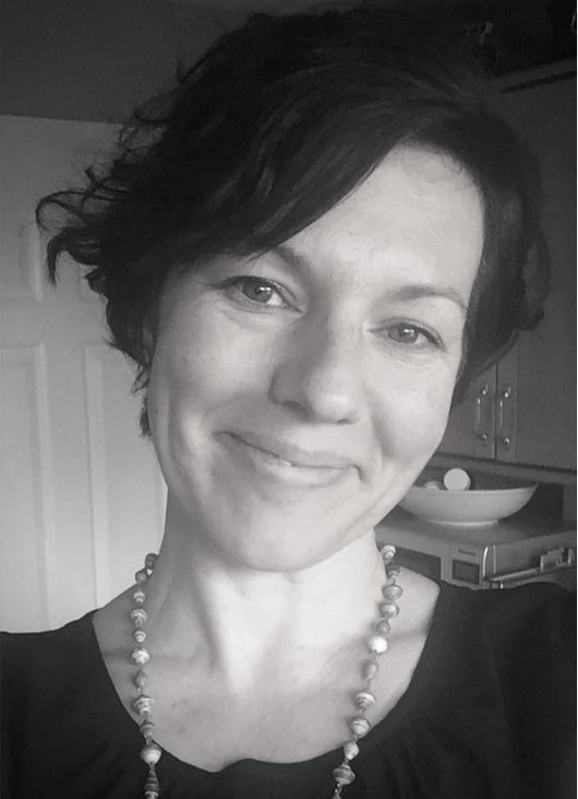 Lisa Cousins
Executive Director
PS: If you are in a position to split your gift over the year by setting up a monthly direct debit for £10, please consider doing so. Knowing that we have committed donations helps our partners plan ahead and
reach more women in need.
Ethiopian women in power!
Posted by Francesca Rutherford on Thursday 22nd November 2018
Ethiopia is now the second African State to have an equal gender representation in government with 10 out of the 20 seats filled by women!
.
Since coming into power on the 2nd of April 2018, Ethiopia's Prime Minister Abiy Ahmed has transformed the country, particularly in its attitudes towards women in leadership.
Alongside freeing thousands of political detainees, lifting the country from a state of emergency, declaring the end of the border war with Eritrea and reopening the border, he is quickly providing strong female role models.
He came into power after the unexpected resignation of Hailemariam Desalegn who in contrast held a much larger cabinet with only 4 seats held by women.
The Prime Minister believes that women are best suited to fight corruption, reduce inefficiency and bring accountability and fairness to the government, which is what he states leadership is.
"Our women ministers will disprove the old aphorism that women can't lead."
.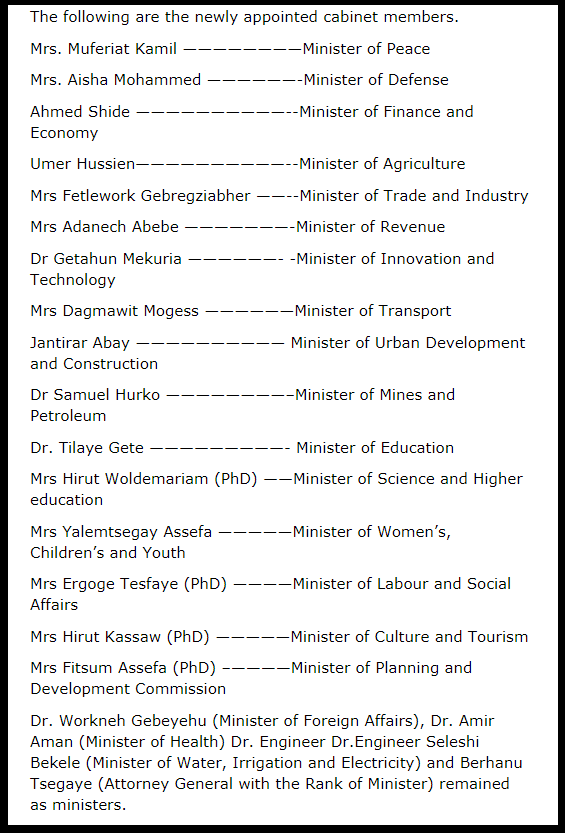 Ms Meaza Ashenafi - Ethiopia's first woman president of the Federal High Court - is probably the best example of this change in attitude towards womens rights.
.
In the late 1990's, Ms Meaza (far left) won a court case whilst defending a 14 year old bride who was accused of killing her "husband" who had abducted and assulted her. This story has now been made into a film, 'Difret', produced by Angelina Jolie.
In a society where gender inequality has been deeply rooted in social structures, institutions and economic opportunities with the voices of women historicalyl being silenced and their capacity limited, Prime Minister Abiy Ahmed is creating strong, real and visible role models of powerful women for future generations.
Nov 2018
World Children's Day
Posted by Amy on Sunday 18th November 2018
November 20 marks an important day across the globe – World Children's Day. Established in 1954, World Children's Day promotes togetherness, awareness and improvement for children's welfare worldwide – something that every person no matter their age, location or position can play a part in.
Today we'd like to share the words of UN Secretary-General António Guterres on the importance of children and the need to make their welfare a worldwide priority.
"

Dear young people, the future of our planet… the future peace of our world… is in your hands. I am sorry to say that, try as we might, we adults are letting you down.

Millions of girls and boys like you are in danger, and we are letting them down.

They are fleeing deadly conflicts. They are going hungry, or without the medicine they need. They are separated from their parents. Or making long, dangerous journeys to safety.

…Many are being bullied online or in school. Or suffer from discrimination because of their religion, the colour of their skin, or their ethnicity. And so often, they are victims of violence or exploitation at the hands of adults.

All this is completely unacceptable.

…Every child has a right to a safe, healthy, peaceful childhood and to develop to their full potential.

The future of the world is in children's hands. But we can never forget that children's futures are in our hands. There is no greater responsibility. No more important job.

And no better pathway to a better, healthier, more peaceful world for every person… every family… and every child.

"
UN Secretary-General António Guterres (2017)

PROTECTING CHILDREN: WHAT WE DO
Safeguarding our children's futures is one of our foremost commitments at Ethiopiaid and we are proud to partner with leading, local organisations in Ethiopia who are committed to protecting and improving the livelihoods of children. Our top priorities are to:
Promote quality education for vulnerable, impoverished or orphaned children

Provide the basic necessities such as safe shelter, food and medical care to orphaned and vulnerable children

Support children living with disabilities to access rehabilitation and resources for improved quality of life

Treat children who have been attacked by the preventable yet destructive facial infectious disease called Noma

Protect girls from harmful traditional practices such as Female Genital Mutilation through awareness and education

Help girls complete their education by providing resources to manage menstruation so they are not forced to skip schooling

Protect adolescent girls from gender based violence through the provision of protection, support and rehabilitation services
For more information on our work both with children and also more widely in Ethiopia, check out the "Our Work" page.
It's beginning to look a lot like Christmas..!
Posted by Francesca Rutherford on Thursday 8th November 2018
We're always on the lookout for new ways to spread the word of the amazing work of our partners in Ethiopia!
As our team prepares for their visit to Ethiopia to catch up and meet with those partners, those of us staying back at home have the chance to get on with some early Christmas shopping and begin getting into the Christmas spirit!
This year, for the first time we're offering Ethiopiaid Charity Christmas cards. With two designs being created especially for you by children at Hope Enterprises School, Addis Ababa. These children told us how much they enjoyed designing these cards and those with winning designs are delighted to be able to share their artwork with you and the loved ones you'll send them to!
Because we're such a small team, they're only available online, so order your favourite pack of cards here before we run out!
Why not spread Christmas cheer whilst supporting and sharing this life changing work and help us ensure no one gets left behind this Christmas!
Oct 2018
International Day for the Eradication of Poverty
Posted by Amy on Tuesday 16th October 2018
Coming together with those furthest behind to build an inclusive world of universal respect for human rights and dignity.
This is the theme for the 2018 International Day for the Eradication of Poverty.
As explained by poverty relief worker and UN affiliate Joseph Wresinski,
"Wherever men and women are condemned to live in extreme poverty, human rights are violated. To come together to ensure that these rights be respected is our solemn duty."

How are we eradicating poverty in Ethiopia?
To help those furthest behind in Ethiopia, we are tackling key factors which condemn people to a life of poverty – factors like lack of healthcare, limited education, lack of women's rights, and insufficient support for the marginalised.
Healthcare
Access to quality healthcare – particularly maternal healthcare – is a fundamental part in breaking the cycle of poverty. Without medical attention, those who are sick or suffering from a chronic condition have no way to change their circumstance. On top of this, maternal health conditions such as obstetric fistula are very socially isolating, so without access to healthcare or even knowledge that treatment exists, those who suffer are often forced to live on the fringe of society; denied employment, and reliant on handouts from relatives with no way to provide for themselves.
Women's rights
This ties into themes of women's rights – women face unique risks to their health and livelihoods such as early marriage, Female Genital Mutilation and gender based violence, which restrict them from living an independent life and limits their capacity to achieve their full potential.
Marginalised groups
Correspondingly, there are other marginalised groups in Ethiopia's society – such as the elderly, orphans and those with disabilities – who are often neglected or exploited. People with disabilities are routinely denied their most basic human rights; cut off from education, employment, and healthcare, and often living in extreme poverty; while the elderly often have no access to state pension, never earned enough to save for their old age, and so become either reliant on family support or are forced to beg on the streets.
Education
Finally, education is the lynchpin that ties this all together. By providing the opportunity for education – in the form of both formal schooling and informal skills training – this gives people from every walk of life the tools, skills and knowledge to build better prospects for employment, income and self-sufficiency well into the future, and tackle the cycle of poverty from the ground up.
Diary of an enthusiastic (and slightly terrible) runner.
Posted by Francesca Rutherford on Wednesday 10th October 2018
Diary of an enthusiastic (and slightly terrible) runner.
When training for a half marathon you are overloaded with training hints and tips from every direction. Whether that's from your late-night googling sessions or the friendly advice from a seasoned professional. Although helpful, sometimes this tidal wave of information can be slightly confusing and possibly a bit overwhelming!
There are of course many things to consider - such as training programmes, breathing properly, the correct shoes and avoiding injury - but from the person that has all the gear and no idea, I think that the most important thing to consider is your motivation for attempting this feat!
So what is your motivation for this mammoth task? For some it maybe a fitness goal or to tick an item off their bucket list, but for others it may be to support a cause close to their heart. Whatever the motivation, running a half marathon can be a wonderful way to raise some money for charity.
So if you are up for a challenge and would like to support a charity, why not consider Ethiopiaid? We are a gold charity partner for the 2019 Bath Half Marathon, which means that we have 10 (9 remaining) spaces for willing volunteers. We welcome all abilities and would be thrilled to have you as part of the Ethiopiaid team! This is a very exciting event for us, as it is located right next to our office and we can't wait to support our runners and help to create a really great event! Every runner will get lots of support from our team in the run-up to the event as well as some excellent cheerleaders (ahem…we'll do our best) on the day of the run!
If you choose to run for us, or support someone that does, your fundraising efforts would go a long way to support our charitable partners in Ethiopia. As a small charity we keep our running costs low so that we can really invest as much as possible into our projects. As you may know, if you are reading this, we are a charity that focuses on a number of areas that include: maternal health; changing attitudes towards harmful practices (such as FGM); assisting adults and children living with disabilities; providing quality education for all; treating preventable yet destructive diseases such as Noma; helping the elderly to live a dignified, secured and healthy life.
The minimum fundraising amount if you would like to join our running team is £200 but we will help you every step of the way! If you want to find out more, why not get in touch or have a further browse around our website and social media
The run is on 17th March 2019 - use this link to register to join us.
Good luck with the training!
Rose
Volunteer Fundraising Assistant
Oct 2018
International Day of the Girl Child
Posted by Amy on Wednesday 10th October 2018
The International Day of the Girl Child shines a light on the unique needs and challenges that girls face.
In Ethiopia, girls face barriers to attaining their full potential – barriers like harmful traditional practices, unequal access to education, gender-based violence, and lack of specialised health services.
This year's theme for the International Day of the Girl Child is "With Her: A Skilled GirlForce". Our global Ethiopiaid offices and local partners in Ethiopia are hard at work every day to help break down these barriers that girls face and give them the skills to reach their full potential in life.
Here's how we stand for girls and women in Ethiopia… Here's how we stand "With Her".

Harmful traditional practices
It's not just the immediate trauma of harmful traditions like Female Genital Mutilation (FGM) and child marriage which are so dangerous – it's also the health risks and social repercussions which stay with girls for life.
With female circumcision – which affects up to 85% of girls in the Afar region of Ethiopia – long term side effects such as difficulty urinating, kidney disease, and severe childbirth complications physically limit a girl's ability to lead a full, unrestricted life. At the same time, girls who have been married as children often experience a severe lack of rights in their marriage, losing their independence plus opportunity for schooling or employment.
How we are "With Her"
We work on the ground through a local partnership in the areas where these traditions are still carried out to raise awareness and education about the risks involved.
WOMAN BY WOMAN | Local women who have experienced and/or practiced these traditions themselves are trained as Women Extension Workers to understand the dangers of these traditions, bring this knowledge back to their community, and help communities move away from these traditions.

RELIGIOUS LEADERS | Training and empowering workshops are held with religious leaders to help them defend the rights of women, while community committees are created to monitor the discontinuation of harmful practices and to provide a forum which actively speaks out against these traditions.

COMMUNITY WORKSHOPS | Workshops and conferences for local communities are held every quarter, sometimes in areas so remote they're only accessible by foot or by camel. These conferences open up discussion about harmful traditions and help bring new ways of thinking forward – important for areas which are so inaccessible they don't often have other information or health resources at hand.

Unequal access to education
Only 7.8% of girls/women have some secondary education in Ethiopia compared to 18.2% of men. And, correspondingly, the adult literacy rate is a low as 47% in women as opposed to 63% in men.
It's clear there's a huge discrepancy in access to education between women and men – and the reason behind this boils down to puberty and periods. Oftentimes, girls have neither the resources nor the knowledge to manage their periods discreetly, nor do their schools have bathroom facilities to allow them privacy and sanitation. It's a sad fact that girls will often stay home during these days of the month, fall behind in their studies and drop out at a much greater rate than male students.
It's a shocking waste of human potential.
How we are "With Her"
One of our global partners operates in the remote areas of northern Ethiopia where menstruation is still a highly stigmatised topic to help keep girls in school and give them back their dignity.
RESOURCES FOR GIRLS | Our partner distributes reusable sanitary pads to girls in schools throughout rural areas who would not have ready access to them otherwise. The pads are reusable, washable (in fact, they can be hung out to dry just like a normal item of clothing so girls don't have to feel embarrassed) and are locally made.

SCHOOL FACILITIES | Creating more supportive school environments for teenage girls is imperative, which is why our partners are hard at work improving facilities in rural schools with private girls' bathrooms to allow girls to manage their periods with dignity instead of having to stay home from school.

INFORMATION | A short informational booklet called 'Growth and Changes' is also printed and distributed to both girls and boys to teach them about the facts behind puberty (facts they often would not get elsewhere), dispel common myths and help break down the taboo behind puberty and menstruation which so isolates and shames girls.

Gender-based violence
Gender-based violence is a horrifying reality in Ethiopia, with 71% of women having experienced physical or sexual abuse (or both) over their lifetime. What's worse is that an estimated 39% of these women have never talked about their experience because they fear the repercussions of reporting it.
Not only is violence against women rife, but a lack of social support services means that women often find themselves alone and unable to seek help.
How we are "With Her"
We partner with a local organisation which runs fully-staffed sanctuaries for women who have experienced gender-based violence or abuse.
SAFE SHELTER | The shelters are staffed 24/7 and are women and children-only, so that survivors of violence can feel fully secure. They also offer food, medication and legal advice for residents.

EDUCATION | Residents are given the opportunity for basic literacy lessons and skills development courses to gain better prospects for the future. Some of their skills development courses include hand weaving, food preparation, sewing and bamboo weaving.

CONFIDENCE | Staff in the safe shelters encourage residents to be physically active as a way to rebuild their confidence, and offer activities such as self-defence classes, scouts groups and marathons.

GOVERNANCE | Staff work with the wider community such as the police, media, local governance and school teachers, to encourage the reporting of abuse, promote awareness and coverage of abuse cases, better prosecute cases, and educate on the harm of gender-based violence.

Lack of specialised health services
Lack of specialised health services – particularly maternal health services – is a huge detriment to girls in Ethiopia. Practices such as child marriage and female circumcision are part of the reason behind the devastatingly high rates of maternal mortality and childbirth complications. There are an estimated 36,000 women living in rural Ethiopia with the debilitating condition of obstetric fistula, but less than 7,000 midwives trained to deal with this issue.
This lack of healthcare, especially in rural areas, means that girls and women suffer alone and in silence for conditions which should be and can be curable.
How we are "With Her"
We partner globally with multiple organisations who work across four key areas to identify, treat, prevent and support maternal health in Ethiopia.
IDENTIFY | Our partners work tirelessly to locate women suffering from conditions such as the socially isolating obstetric fistula (often these women are located in some of the most rural and remote areas of Ethiopia) and arrange transport to the nearest quality health centre or hospital for treatment.

TREAT | A number of our partners provide free treatment and surgery for conditions like fistula and pelvic organ prolapse, along with post-operative care, rehabilitation and counselling to help with physical and emotional recovery.

PREVENT | Ex-patients are given the opportunity to train as advocates of women's health and are equipped to go back out to their communities to help identify women in need, refer them for treatment and provide valuable information to expectant mothers on safe pregnancy and childbirth. Within health centres and hospitals, our partners also run programs to train more midwives, gynaecologists, surgeons and nurses to provide critical healthcare, particularly in the rural areas where it is still sadly lacking.

SUPPORT | A key part of improving girls' healthcare is to grow awareness and support for this need in communities. This is done through radio broadcasts, educational film screenings and community workshops – including male sensitivity workshops – all with the aim to teach about the facts of fistula and other maternal health conditions, break down the stigma behind them and show how families can support women living with them.

Want to learn more?
Today, the International Day of the Girl Child, shines a spotlight on this critical need for support of women and girls in Ethiopia.
LEARN MORE | To learn more about our work empowering girls, check out the 'Our Work' section.
SUPPORT GIRLS | To make a donation in support of girls in Ethiopia, head to the 'Donate' page.
Help Give A Teenage Girl Her Dignity Back
Posted by Francesca Rutherford on Monday 24th September 2018
Click on the video above to learn about our partner Dignity Period
Video credit Dignity Period. Photography Joni Kabana
Donate! Just £6 helps give two teenage girls their dignity back.
Donate! Just £3 a month gives a teenage girl back her dignity.
Our parnter Dignity Period works in the Tigray region of Ethiopia helping to give girls the information and support they need to manage their period. Sadly menstruation is largely misunderstood in Ethiopia and particularly in the rural areas of the country, Dignity Period hope to change these misconceptions and ensure that girls feel comfortable and confident talking about their bodies.
Harifeya is 16 years old and at the top of her class at Adigudem Secondary School in a small town in Tigray. She is from a farming family in Wujurat, about 22 miles away from her school, and is only able to visit her family home once a month. For girls like Harifeya, starting your period is a difficult experience.
'When I first started to menstruate, I did not know what it was...[it] came suddenly when I was working on the farm... I was very shocked and embarrassed…I did not tell anyone the first day. The second day the blood came again. I was very embarrassed…'
In rural Ethiopia menstruating girls have little support. This important step into womanhood is not openly talked about and is seen as a source of shame. 98% of girls in Tigray lack access to sanitary products which are expensive and difficult to find. Many don't possess underwear either. Girls are forced to use whatever materials are available such as grass, leaves, old rags or nothing at all.
'I went home, hid… and tore an old scarf. I used this to manage my menstruation. I couldn't attend class ... I did not go to class for three days.'
Harifeya could not ask her parents to purchase menstrual products because they are too expensive and she was ashamed. During their periods girls are afraid to go to school where they often face ridicule and embarrassment. In addition to this, the majority of schools have inadequate, if any, toilet and washing facilities. As a result, many girls drop out of school altogether, missing their chance to create a better future for themselves.
'I thought people would stare at me and insult me. Whenever I menstruated, I did not go outside of the house. I didn't even to go to school…..this affected everything in my life.'
There are 9 million girls in Ethiopia. Educated girls make better decisions about their bodies, their lives and their future families. They have access to better opportunities, employment, are at less risk of dying in childbirth and are more likely to send their own children to school
'…Girls should not be shocked or afraid when they start menstruating because it is something natural that happens to all girls when they grow to [become] a woman.'
A reusable sanitary pack costs just £3 to make and provides girls with everything they need to manage their period for 12-18 months.
We are working hard with Dignity Period in order to give girls In Tigray the confidence to manage their period and continue with their studies free from fear and embarassment.
Thank you.
Just £6

helps give two teenage girls their dignity back.
Sep 2018
How you've helped survivors of domestic violence
Posted by Amy on Sunday 23rd September 2018
Sep 2018
Alert: New Job Vacancy!
Posted by Francesca Rutherford on Thursday 20th September 2018
Looking for a temporary position over the Christmas period? Looking to gain experience within International Development? Look no further...
Role Title: Temporary Office Assistant
Location: Bath
Hours: Monday – Friday (9am to 5pm)
Ethiopiaid is based in central Bath and generates income to fund partner organisations in Ethiopia, primarily in Addis Ababa and the surrounding area.
We support projects ranging from maternal health, FGM and women's rights, to education, disability and the elderly. It is our aim to see an Ethiopia without preventable poverty, in which every person enjoys the right to quality education, healthcare and a life of dignity.
Outline and Purpose of Role
This role will provide support for a nine week period, to Ethiopiaid's staff team. This will be an opportunity to gain work experience in fundraising within the international development sector. This position is ideal for either a confident graduate or someone with office experience seeking to move into fundraising/international development with a demonstrable interest in either or both.
You must be highly organised, able to manage multiple projects and work under your own initiatives.
Please read the full job description here.
Application Deadline: Sunday 7th October
Send your CV and a covering letter explaining why you feel you are the right person for this role. Applications can be made by email to: support@ethiopiaid.org.uk
Sep 2018
Drought update: Fresh water at Kori!
Posted by Amy on Wednesday 12th September 2018
THANKS TO YOU… A new well has been built in the Kori woredas or region of central-eastern Ethiopia.
For people struggling to survive one of the worst droughts Ethiopia has faced, this well makes a huge difference in their lives.
Because of your support, the people of Kori now have access to:
SAFE DRINKING WATER: Bored from deep underground, this well provides a fresh and reliable supply of water. Although water purification tablets can still be used, the water here has a vastly lower risk of contamination than from dwindling water supplies found from dried-up rivers or lakes.

EASE OF ACCESS: Beforehand, children would trek for miles each day to find a water source and fill their containers with enough to sustain their families for another day. Not only does this well offer a water supply much closer to home, but it also makes the water readily available to everyone, including the elderly, invalid and very young.

WATER FOR LIVESTOCK: For pastoralists who live off the land, ensuring cattle can survive the drought is hugely important. Livestock not only provide a source of food, but also act as a source of income so families can afford basics like schooling, medical care and clothing.
The video below shows the people within the Kori region enjoying their new well.

Local partner APDA (Afar Pastoralist Development Association) is working tirelessly to alleviate the effects of drought in these rural and isolated areas.
Boring for water and constructing a new well is an incredibly labour-intensive project, and one that needs to be coupled with immediate solutions for drought-relief, like transporting water across the vast desert landscape, providing water purification tablets to minimise risk of water-borne disease and providing veterinary care to livestock to help them survive the drought and safeguard the livelihood on which so many families rely.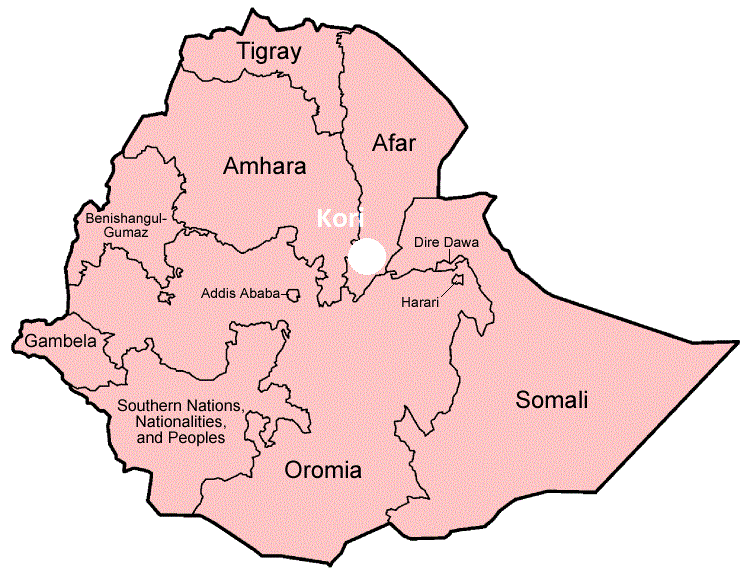 All the drought continues across much of north and eastern Ethiopia, for the people in Kori your support has made all the difference.
From this very happy Kori community, a very heartfelt THANK YOU.

Aug 2018
Midwives & Motherhood Ambassadors
Posted by Amy on Tuesday 28th August 2018
MIDWIVES & MOTHERHOOD AMBASSADORS: Who are they? What do they do? And why are they needed?
Both midwives and safe motherhood ambassadors give women the support, care and advice they need during their pregnancy, labour and postnatal period.
They work hand-in-one with one another.
Safe Motherhood Ambassadors are trained in basic maternal health skills and will educate and encourage expectant mothers to give birth in maternity clinics, often referring mothers to a midwife.

Midwives will monitor mothers for any health complications, particularly during labour, and are trained to treat any complications that occur.
In a country where maternal health is devastatingly low, both midwives and motherhood ambassadors are essential for safe pregnancy and childbirth – especially in rural areas where health resources are few and far between.
Across Ethiopia, only 16% of mothers are attended by a professional midwife or obstetrician, largely in urban areas. This has led to a high maternal mortality rate. It is a sad statistic that among mothers there are 420 deaths per 100,000 live births. And, among infants, there are 44 deaths per 1,000 live births.
Field research has shown that midwives can prevent 87% of maternal mortality. In fact, one midwife can provide care for 500 expectant mothers and safely deliver 100 newborns every year! Meanwhile, one Safe Motherhood Ambassador can reach hundreds of women with information on safe pregnancy and childbirth that they would not otherwise have access to.
This is why the training of both midwives and ambassadors is so vitally important for the safety and care of mothers and their newborns.


ACTION: What steps are being taken?
Across our global Ethiopiaid offices, we work with different partners focused on spreading maternal health throughout Ethiopia.
SUCCESS STORY: The story of Tigist & how one Motherhood Ambassador can make a difference
Tigist's Story, from Kebele, Ethiopia
Tigist spent 2 long years living with obstetric fistula following the birth of her second child. Her labour lasted for days, and the prolonged pressure of the baby's head caused a rupture to occur internally, resulting in incontinence.
For 2 years she lived in shame with her condition, not knowing where to go for help or that help was even available.
Through the awareness work of other midwives and ambassadors, Tigist became aware that she did not have to bear the shame of her condition – that she could receive treatment for it. Not only was Tigist able to receive a fistula-fixing operation through referral to the Gondar Fistula Centre, she also opted to be trained as an ambassador of maternal health through the Women & Health Association (WAHA).
It has been 5 years since Tigist received her life-changing treatment and training as a maternal health ambassador. Since then, she has taught more than 900 women about maternal health, including information about HIV, staying safe during early pregnancy, and preventing and treating fistula.
Her work has caused a ripple effect throughout her community and neighbouring district. She has brought 6 women living with fistula to the Gondar Fistula Centre where she herself received treatment. One of these women was only 9 years old.
One of Tigist's proudest memories was being able to help her neighbour; a woman who had been living with obstetric fistula for years, just like Tigist. Thanks to Tigist, not only did her neighbour receive the treatment she needed, but she also was able to become self-employed following the surgery and live a life no longer dependent on others.
For Tigist, her neighbour is a daily reminder of her achievement;
"Every day I see her, I am proud to be so helpful to other fellow women!"

Aug 2018
International Youth Day
Posted by Amy on Saturday 11th August 2018
Youth are the key to our future; and giving them safe spaces to live, learn and grow is essential. That's why the annual International Youth Day is so important to us and this year's focus on Safe Spaces for Youth is particularly close to our hearts.
With partners across Ethiopia, we are working to give youth the safe spaces they need; not just to live, learn and grow; not just for their best chance for a brighter future; but also so they can be part of a confident and resilient generation that can continue to shape and advance society for the better.
* * *
150,000 children live on the streets of Ethiopia
60,000 of these live in Ethiopia's capital, Addis Ababa
50% of homeless youth don't have access to shelter, adequate food or education
Many find themselves lured into prostitution as a way to survive
71% of woman have experienced physical or sexual violence
Cultural taboos on puberty & menstruation means youth don't have safe spaces to talk about this natural part of life
Ingrained traditions like female circumcision and child marriage don't give youth opportunity to question or express their views


How are we providing #SafeSpaces4Youth?

SPACES FOR PHYSICAL SAFETY
REQUIREMENT: Youth must first feel physically protected, and be given the opportunity to live with dignity and in safety.
Through partnerships with various organisations in Ethiopia across our global offices, we help provide sanctuaries or safe houses for vulnerable youth who have been forced to live on the street and women who have experienced violence

These safe houses provide physical necessities such as shelter, food and medical aid and also protection from violence, abuse and the threat of prostitution


SPACES FOR MENTAL HEALTH & EDUCATION
REQUIREMENT: For youth to reach their full potential, they need to have safe spaces to disclose their thoughts, ask questions, discover new interests and learn.
Children living in these safe shelters are given the opportunity to enrol in their local school or to take introductory lessons at the shelter in reading, writing and simple maths if they have not yet had the chance to go to school

Pop-up street schools operate in different urban areas of northern Ethiopia. The mobile 'school' is set up in a public square, offers a free meal for children living on the streets and encourages them to take part in fun, interactive and educational activities – like learning their letters or numbers – to give homeless children a basic education

Almost all sanctuaries have counsellors at hand to help youth overcome trauma. Counsellors also help children from rural areas acclimatise to their new urban surroundings and teach them 'street smart' skills such as looking after their sexual health, managing puberty and finding sound work

Youth are given the opportunity to take part in a sport or hobby. Leisure activities is said to be an essential part of the psychological, cognitive and physical development of young people, plus helps them build their self-esteem and confidence


SAFE SPACES FOR INTER-GENERATIONAL DIALOGUE
REQUIREMENT: Youth need a space to fully express themselves without feeling uncomfortable or unwelcome, firstly with family members and then with wider society.

Provide menstrual hygiene kits including re-usable sanitary pads and puberty information packs at schools. A simple but effective solution to give youth the resources they need to understand this natural part of life, plus help encourage conversation so that these topics are no longer seen as taboo or shameful

Actively create safe spaces for dialogue in rural communities through trained on the ground workers, such as Women Extension Workers and Safe Motherhood Ambassadors. These workers go out to isolated communities and speak one on one with individuals, families and community leaders about topics like the rights of girls and women and maternal health.

Not only do they start talk about these otherwise taboo subjects and share information but they also provide opportunity for youth and the rest of the community to ask questions or ask for help in a safe and supported environment
Jul 2018
Violence Against Women
Posted by Amy on Saturday 28th July 2018
Violence against women and girls is a daily reality across Ethiopia. Figures by the World Health Organisation paint a frightening picture about the levels of violence girls and women experience in Ethiopia.
+ + + + + + + + + + + + + + + + + +
Nearly one half of women have experienced physical violence by a partner at some point in their lives
71% of women have experienced physical or sexual abuse (or both) over their lifetime
The main injuries these women suffer are:
- Abrasions or bruises -

- Sprains and dislocations -

- Injuries to eyes and ears -

- Fractures -

- Broken teeth -
For pregnant women, 8% experienced physical violence during at least one pregnancy and of these, 28% had been punched or kicked in the abdomen
39% of women have never talked to anyone before about their abuse...
...and more than half of these woman said they had not said anything because they had been threatened or feared the consequences of reporting it
+ + + + + + + + + + + + + + + + + +
Violence can be in the form of emotional abuse, physical violence or rape and is often at the hands of male family members, neighbours or employers – people the women know or are close to in their lives.

How are we working to support survivors of violence?
We partner with the Association for Women's Sanctuary & Development (AWSAD); an organisation working across Ethiopia to provide protection and support for women who have survived gender based violence.
AWSAD runs fully-staffed safe houses for women who need safe refuge. These shelters are for women and children only, so that survivors can feel safe in their new environment and share their experience with others who have gone through a similar ordeal.
Alongside safe shelter, AWSAD provides food, medication, legal advice and counselling for the women and girls in its care. For women who have not had any formal education, they provide basic literacy education and also skills development training to give women the tools to rebuild their lives and move forward as independent and self-sufficient members of society when they are ready.
Residents are also encouraged to develop their self-esteem and confidence by being physically active and developing their own interests; such as taking self-defence classes, joining a scouts group or participating in a marathon.
In the past year alone, AWSAD has supported 160 women and 73 of their children who experienced and needed refuge from violence. At the start of this year, 13 young women graduated as fully qualified hair dressers following a 6-month course, allowing them to find work in a skilled profession once they are ready to leave AWSAD.

For women and girls
Safe shelter and food

Food and medication

Legal advice

Counselling

Reading and writing education

Skills development for jobs
For communities
Educate primary school students and teachers about the harm of gender based violence

Work with the media to report cases of gender based violence
For government
Work with police and other officials to encourage reporting of abuse and violence

Work with community and government institutions to provide quality services for women and girls
Jul 2018
World Youth Skills Day
Posted by Amy on Saturday 14th July 2018
In a country where almost 3 million children are deprived of basic education and almost 50% of youth are unemployed, it's more critical than ever to ensure youth have the skills they need for their best future.
Today on World Youth Skills Day we're showcasing the work we're doing to support training and education for youth across Ethiopia.

OUR AIM: To promote quality education for all
Across our global offices, we have partnered with various local organisations in Ethiopia to cover a range of education resources for youth; from basic literacy on the street, to access to formal primary or secondary school, to scholarships for university and apprenticeships. We believe everyone should have access to comprehensive education regardless of age, gender or physical condition.

STARTING OUT: SAFE HOUSES & BASIC EDUCATION
For homeless and parentless children, going to school is often less of a priority than finding safe shelter and food. We work with different local organisations across Ethiopia who run sanctuaries or safe houses for orphaned children and survivors of violence. As well as housing, feeding and protecting these children against slavery, these sanctuaries provide access to formal and informal education.
Provide all the essential school materials such as writing books, pens and textbooks so students can focus on their learning - and not how to pay for it.

Enrol children living in the safe houses to local primary schools which they attend daily.

Provide programs for business, craft production, communication and mathematics to students unwilling or unable to attend formal school.

Help older students access higher education, vocational training or find long-term employment so they can become self-sufficient citizens.

Provide mobile schools where children still living on the street can learn simple literacy and numeracy so they don't miss out on basic education.

HIGHER LEARNING: UNIVERSITY & APPRENTICESHIPS
Higher learning is often a luxury only the wealthy can afford; but even for those who can afford it, a lack of choice and quality in tertiary institutions has meant many students go abroad to study. They often do not return to Ethiopia, so valuable skills and expertise are lost. We partner with universities and vocational institutions to provide higher learning scholarships to disadvantaged students who could not otherwise afford it.
Provide access to university education through scholarships at the Hope College of Business, Science & Technology – Ethiopia's first public benefit university!

Here, students can obtain diplomas in areas such as business, technology and social sciences. These are all highly employable areas in the government and private sectors, so students are able to find jobs quite easily after graduation.

Provide access to vocational training through the Hope Enterprises' Vocational Training Unit in Ethiopia's capital.

Students can learn practical skills in tailoring, metal work, furniture making, industrial machinery, hospitality and catering. This includes a 2-month apprenticeship to help graduates secure a permanent job upon completion.

EQUAL EDUCATION: GIRLS IN SCHOOL
There is a stunning difference in education levels between men and women in Ethiopia. Only 7.8% of women have some secondary education compared to 18.2% of men and, for women, literacy levels drop by 16%. A large factor behind this is that girls in rural areas often miss school during menstruation due to lack of sanitary items and toilet facilities, plus widespread stigmas against menstruation. This causes them to fall behind in their studies and drop out of school at an earlier age. This is a huge waste of human potential and one we are working hard to rectify with local partnerships.
Provide menstrual hygiene kits to girls in school which contain a reusable sanitary pad so girls can manage their periods discreetly, with dignity and without having to stay home from school each month.

Distribute information booklets which have the facts on puberty and menstruation to help break down taboos, dispel common myths and offer a factual resource for students who often have nowhere else to turn.

Build toilet facilities with adequate sources of water including female-only toilets so girls can manage their periods in a sanitary and private environment.

INCLUSIVE EDUCATION: SPECIAL EDUCATION NEEDS
For a child living with a disability in Ethiopia, access to education is virtually impossible. Only 1% of children with special needs have access to specialised education and are often neglected by society. Through various partners such as a boarding school for the blind and a physical mobility support and rehabilitation organisation, we support youth with special needs to have the same opportunity for education as every other child.
Support a boarding school for blind children (Mekelle Blind School) including funding for training in braille typewriting.

Provide funding for 'Talking Textbooks' where volunteers read and record textbooks for use by sight impaired students.

For physical mobility needs, provide walking aids, ramps and accessible toilets in schools where students have mobility issues.

Cover costs for school fees, books and transport for older children with disabilities who don't have the means to support themselves, and provide funding for inclusive kindergartens where children both with and without disabilities can learn and interact together.
Want to get on board?
To get involved in this work, visit our Donate page and help promote education and skills training for youth across Ethiopia!
Behebret - Summer Newsletter 2018
Posted by Francesca Rutherford on Wednesday 11th July 2018
Welcome to our renamed newsletter
'Behebret' meaning 'coming together' in Amharic, the widest spoken Ethiopian language. We chose this name as it is 'together' with you, our loyal supporters, and our local Ethiopian partners that we are able to instigate positive change and help more people in Ethiopia live self sustainable lives.
It has been a busy first half of the year. As you will see on page 3-4. We have been restoring water and hope in the drought stricken Afar region. Thanks to a number of generous legacies we have received from our donors we are now able to support these local communities to construct water management systems that will free them from their reliance on water trucking and emergency aid.
We have also embarked on an innovative new project using smart phone technology to help detect eye problems amongst school children in the Tigray region (see page10). Currently there is no eye screening for children and many are unable to see in class, struggle to read or go blind. Ethiopia has one of the highest incidences of blindness per capita in the world and 80% of it is either preventable or treatable. This project aims to train teachers to use a simple app on their mobile phone called PEEK (portable eye examination kit) to pick up any issues at an early stage.
In the spirit of togetherness it is wonderful to see two of our partners, Dignity Period and APDA, team up and work together to distribute reusable, washable sanitary pads amongst pastoralist girls in remote regions of Afar. It is a challenging environment in which to work. The searing temperatures and sparsely populated rough terrain as well as the pastoralist way of life could have made it hard to reach the most needy. But thanks to your loyal support Ethiopiaid has been able to purchase a specialist vehicle to reach the most remote communities and 6,743 Afari girls have received pads so far this year.
I would also like to highlight our small grants programme on page 8. This is a good way of helping small grass roots organizations and testing them out as potential long term partners in the future. We have been particularly impressed with the work of Hospice Ethiopia who are providing palliative nursing care to impoverished people dying from cancer and AIDS. With no palliative care or medication available for the poor many die in horrendous pain. Hospice Ethiopia are working hard to change this and bring dignity and comfort to those suffering.
I hope you enjoy reading about all the wonderful work that you are supporting and I would like to thank you from the bottom of my heart for your generosity and kindness.
Warmest wishes,
Alex Chapman
Chair, Ethiopiaid
Jun 2018
Menstrual Health Management Symposium
Posted by Amy on Friday 1st June 2018
The FIRST-EVER meeting on managing menstrual health for women and girls in East and South Africa was held this past week in Johannesburg, South Africa.
A ground breaking initiative, the Menstrual Health Management Symposium aims to bring together the many different programs and policies that already exist surrounding menstrual health and develop a sustainable, scalable framework which is cohesive across East and South Africa regions.
Purpose of Menstrual Health Management Symposium
According to the United Nations Population Fund (UNFPA), the purpose of the symposium is:
To strengthen commitment and build on the latest evidence base, to move from research to action, and to demonstrate innovative, sustainable and scalable models to address the menstrual health management needs of adolescent girls and women throughout their menstrual life cycle in East and Southern Africa.
Issues surrounding menstrual management
Across the globe, a lack of access to menstrual hygiene products and a lack of widespread education contribute to cultural stigmas against menstruation.
Dr. Julitta Onabanjo, UNFPA's Regional Director for East and Southern Africa, says on the topic:
"African sexuality is very much a hidden thing… [but keeping it hidden] perpetuates stigma and discrimination.

"Access to sexuality education is vital for menstrual literacy but also for self-confidence, self-esteem and self-worth."
In Ethiopia, menstruation is a taboo subject. As a result, girls' first periods usually take them by surprise; they don't know what to do, or who they can turn to for help.
"When I first started to menstruate, I did not know what it was. I was very shocked and embarrassed. I was even too embarrassed to tell my mother."

Excerpt from educational booklet 'Growth and Changes' distributed by Dignity Period
Although health and biology are taught in schools, the classes do not do enough to change the social perceptions about menstruation — that it is shameful, unclean, and a result of sexual activity – nor do they offer the practical knowledge adolescent girls need to manage their menstrual hygiene effectively.
Many girls are forced to use straw or strips of old cloth because they do not have access to or cannot afford sanitary products.
The lack of sanitation, fear about accidents and shame of having their period often drives girls to stay home from school during menstruation. With frequent absenteeism, these girls fall behind in their studies and have a higher risk of dropping out early.
Not only does this greatly restrict girls' freedom and opportunity for education, but it is also a tragic waste of human potential.
How we support menstrual management
We work in partnership with Dignity Period with the mission to keep Ethiopian girls in school by providing quality menstrual hygiene products. Dignity Period operates within three areas of work:
SANITATION | Purchasing and distributing reusable, eco-friendly pads for girls in school, locally manufactured in the Mariam Seba Sanitary Products Factory.

RESEARCH | Funding research at the established Mekelle University in northern Ethiopia to explore cultural beliefs and social attitudes around menstruation in rural Ethiopia.

EDUCATION | Developing research-based programs to improve awareness and support on issues surrounding menstruation that are sustainable over the long term.
Within the field of education, Dignity Period produces a 'Growth and Changes' information booklet which provides facts on puberty and menstruation, answers common questions and dispels long-held myths which perpetuate menstruation as shameful.
Since launching the Menstrual Dignity Project in Ethiopia in 2015, a huge 73,197 students have been reached with information booklets and sanitary products for improved menstrual management.
Small steps for sustainable change
The menstrual management programs we support through Dignity Period are just one part of a wider chain of programs spanning many different sectors, channels and organisations.
The Menstrual Health Management Symposium aims to look at a wider picture of menstrual health across Africa by collating evidence and research from the many different programs in place and using this knowledge to drive more unified, scalable solutions for menstrual management.
Together we can help shape menstrual health in rural areas of Ethiopia and take the steps needed for sustainable change.
Want to get on board?
Reusable sanitary pads are an effective and immediate way of improving menstrual hygiene and management. Dignity Period purchases these sanitary pads locally from the Mariam Seba Sanitary Products Factory and distributes them to girls in rural schools who could not afford or access these products otherwise.
For a small amount, you can purchase a Mariam Seba sanitary pad to help a girl in school manage her period with dignity. If you would like to give a gift of dignity, please visit our Donate page. A small gift will make a big difference for a girl in Ethiopia.
The Fight To Eradicate Obstetric Fistula
Posted by Francesca Rutherford on Tuesday 15th May 2018
Hamlin Fistula Ethiopia recruits students from rural areas, puts them through rigorous midwifery training as midwives, and deploys them back to their villages where their skills are needed.
Ensuring women in Ethiopia have access to qualified midwives so they no longer suffer for days on end with an obstructed labour, is a vital part of Hamlin's vision.
The Hamlin College of Midwives
Each student undertakes a four-year degree in Midwifery and commits to working as a Hamlin midwife in a rural location for a minimum of four years following their graduation. Generous supporters, like you, fund scholarships for each midwifery student.
There are now Hamlin midwifes at 46 rural government health centre. The long term effects of a Hamlin midwife are enormous – when a Hamlin midwife starts at a clinic, new cases of fistula drop to virtually zero in nearby villages.
In 2017, 85 Hamlin Midwives were able to provide skilled
delivery services to 10,844 labouring women.
NEW HAMLIN GRADUATES IN ACTION
Firomi and Meron, both 23, are from Mettu, a small town in the South West of Ethiopia. Both women graduated from the Hamlin Collage of midwives last July and are passionate young midwives, eager to apply the knowledge and skills they gained in their degrees.
Firomi and Meron have both returned to work in their local health centers.
"The fact that I am a Hamlin trained midwife, made it easy as a student I never had to worry about delivery equipment but here on the ground I must use the available equipment as efficiently as possible and learn how to work with limited resources" Firomi said.
Meron has been deployed to a newly identified Hamlin supported health center, located over 30Kms off the road from Mettu town. In order to reach the clinic Mettu has to travel a long and difficult mountain road. Due to this difficult location, the clinic suffers severe shortages which affects performance; the delivery room is far below standard, the delivery couch is old and worn and medicals supplies are lacking.
Meron has to work with these challenges and adapt, in order to build trust and serve the community.
"Compared with Dr Catherine's many challenges in the long years it took to establish such a life changing hospital for women of my country, mine is very small. I am exerting my utmost effort so that all delivering mothers in my community get quality care." Meron says.
In a country of 102 million, there are approximately just 5,000 trained midwives. Please give £45 today to help provide more midwives in rural Ethiopia.
ASMERE HAS TWO HEROES: DR CATHERINE HAMLIN AND HER HUSBAND
Posted by Francesca Rutherford on Tuesday 15th May 2018
Today I would like to share with you a story which has stayed with me. A story of fear and great sadness, of bravery and pain but ultimately a story of love. Asmere's story begins…

Life before Fistula
Asmere never went to school and spent her childhood looking after goats and supporting her mother at home. When she reached 17 years old, she married her childhood sweetheart and together they started their own life in the village.

In time Asmere was blessed with a son and two daughters "For strangers who came and saw the happiness we have in the family, we didn't seem to be poor. We had a joyful life, most villagers felt jealous of us until my 5th delivery" Asmere recalled.

The Journey
Five years ago, Asmere happily fell pregnant once again and was so happy and hopeful that she could complete her family with a fourth healthy child. In rural Ethiopia there is minimal access to antenatal care. So many women end up labouring at home, unassisted.

In a country of 102 million, there are approximately just 5,000 trained midwives. Please give £45 to help provide more midwives in rural Ethiopia.

Unlike Asmere's other labours, this time she was tortured for two whole days. Her husband was in despair. He decided that this was enough and made a stretcher to carry Asmere the two hours on foot to the closest health centre.

Asmere was then transferred to the Bahirdar branch of Hamlin Fistula Hospital. With the help of surgical intervention, Asmere devastatingly gave birth to a stillborn baby. Not only was she heartbroken, Asmere was left with a double fistula; holes in both the bladder and the bowel. Asmere began to leak urine and faeces.


In 2017 The Ethiopian Ministry of Health estimated there are more than 36,000 women living in rural Ethiopia with obstetric fistula and that over 3,000 new cases occur each year.

Fortunately for Asmere, she was already in the best place for treatment. But before she could be treated, she first had to recover from the trauma.

Sadly Asmere's injuries were so severe, there was no easy fix. Asmere had four difficult, painful and exhausting surgeries over four years, each time believing, hoping she would be cured, constantly leaking, wet and smelling of urine. "It was my husband who was washing my clothes, bathing me and made everything clean like normal. He was the only one who stood by my side and let me feel that I am in good hands." Asmere said.

None of these attempts were successful in stopping the urinary incontinence. "In those traumatic four years with fistula, I used to mix with villagers at some communal events but after I saw some villagers seated by my side cover their nose, I abstained myself from attending any event and stayed at home."

Treatment and Recovery
In the summer of 2017 Asmere was brought to the Addis Ababa Fistula Hospital for specialist treatment. She stayed for six months and underwent many different stages of treatments and surgeries. Finally, in December Asmere received the diversion surgery that successfully fixed her injury and left her totally dry.

"The first person I called and told the good news of my cure was my husband and his happiness was unexplainable. He didn't believe me at first until he confirmed after I got back home with happiness and a bright face. Dr. Catherine Hamlin, you gave us back our happiness that we had lost for almost five years."

Fistula surgery is life changing. Please help by donating £45 or setting up a regular gift for £10 a month.

Thank you for your continued support to end fistula in Ethiopia.


Sir Alec Reed CBE
Founder
MASHO'S STORY: A VISION FOR THE FUTURE
Posted by Francesca Rutherford on Wednesday 28th March 2018
My name is Masho Kidanemariam. I was born in 1988 in the Northern region of Ethiopia in a village called Feresmay. My family were pastoralists and after school I would help my family shepherd our goat herd.
At the age of 10 years old, whilst caring for our goats, I stopped to cool off in a river. I will never know what happened but I was left unable to see.

It took my parents a month to save up enough money to take me to the nearest Hospital in Mekele. It was there that it was confirmed that I would be blind for life.

I faced an uncertain future. Unless I could get a place at one of the only 'blind schools' in the country, it was likely that I would end up begging to survive. Thankfully after a year of waiting, I was finally offered a
residential place at the Mekele Blind School.

When I joined the school I lived with other blind children who came from different parts of the region. I felt so lucky. I loved learning and I'd been given another chance, my future had been given back to me.

Sadly very few children in Ethiopia who have special educational needs are able to access appropriate learning. Just 1% of these children are able to attend a specialist school like I did. The rest are often abandoned by their families and communities. Left to fend for themselves, they face a life of begging and extreme poverty.

Please help me to reach visually impaired children who, just like me, want more than anything to be in school.

Life in the school fulfilled all our needs. We had an education, shelter, food, clothes and friendships - even if our dormitory roof leaked and our clothes were rags. I was so lucky to be enjoying a different life from the time before my blindness. With the support of my new friends I was able to adapt to the unfamiliar school environment and to living so far away from my family. So many of my peers were a long way from home. The little ones, some as young as five years old, found it particularly hard.

Our school only had enough beds in its cramped leaky dormitories for students up to grade 8. Aged just 14 years old I had to leave the safety of the school and move to a single rented room in the town. It was hard.

I had to learn to cook, clean and find my way around. I lived with a few of my friends and received a small monthly allowance of 120 birr (£3.16) from school but it was only enough to cover rent and one meal a day. I suffered a lot of hardship in those days.
Despite this, I was still top of my class and was awarded a grant to study law at Mekele University in 2009. I completed law school with distinction and was a medalist during the graduation.

I want to change how people think and advocate for those who have little or no voice of their own. Without support, these children have little chance to show their ability. I believe that every child deserves an education.

The school receives minimal Government funding and sadly the equipment and facilities are aged, poor quality or falling apart. The health and safety of the 92 students is always a concern but this is their best hope of an education.

£10 a month will ensure a blind child, far from home, will be cared for in a safe environment.

Since working for SENTigray I have been doing my best to introduce modern governance, equip the children with adaptive materials and skills, increase their care and support, fix holes in roofs and increase the monthly allowance for the children who, aged just 14, are expected to live and manage on their own.

The school desperately needs additional accommodation so that it can admit more students. So many are losing out on even a basic education. For the children already here, we need more specialised learning resources, better quality food and improved safety. These are all basic human rights.

With your help I hope to make the school a better place for the blind children who have nowhere else to turn. I am asking you to kindly help me pave the way for their future.

Thank you,
Masho Kidanemariam
Executive Director, SENTigray
Thank you to Nicola Reed
Posted by Francesca Rutherford on Monday 5th March 2018
Last Tuesday's charity gig at the Bush Hall, London, was the place to be. With Natalie Imbruglia and The Staks Band headlining along with Eli 'Paperboy' Reed and Joy Crookes, we were set up for a great evening.
Kindly organised by Ethiopiaid trustee, Nicola Reed, the sell-out event saw 400 people packed into the venue, which lived up to its dance hall roots with everyone enjoying a lively evening.
Nicola and Natalie came up with the idea of organising a gig for Ethiopiaid after Natalie became an ambassador to promote the charity's work preventing and treating obstetric fistula in rural Ethiopia.
The artists, all of whom generously gave their time for free, were amazing. The 20 piece Staks band and Eli 'Paperboy' Reed set the party atmosphere, followed by up and coming singer Joy Crookes who captured everyone's hearts.
The audience were well and truly ready for Natalie as she took to the stage with her guitarist Pete. Natalie's acoustic set and beautiful vocals filled the hall, and ended with her hit 'Torn' which she performed with The Staks Band and Eli. We can't thank you enough Natalie for being our Ambassador and giving your time.
So many women and girls will benefit from the £22,934 raised from the gig. On behalf of them all, I want to thank the artists and everyone who bought a ticket and made a donation.
And finally but most importantly, a huge thank you to the person behind the event. Nicola, it really couldn't have happened without you.
Lisa Cousins
Executive Director, Ethiopiaid
An important message on safeguarding from our Executive Director
Posted by Francesca Rutherford on Wednesday 14th February 2018
We are deeply saddened to hear of the situation at Oxfam and of the inevitable impact upon the people who matter, their beneficiaries. Whilst the media coverage continues and the investigation is underway one thing is certain, the ramifications will ripple across the sector and affect international development charities of all sizes, including Ethiopiaid.
We have worked in Ethiopia since 1989 and have great faith in our partnership model. Our monitoring process means that we know our donors' money is being spent wisely, ethically and morally to better the lives of the poorest and most marginalised in Ethiopia.

We want to reassure donors that we have a good working relationship with all of our partners and regularly review and evaluate their programmes throughout the year, including their safeguarding policies and procedures. Many of these partners have worked with us for a number of years, even decades, and have strong moral leadership. We trust them.
Funding from Ethiopiaid is dependent upon our partners meeting specific requirements including having adequate safe guarding policies and procedures, being transparent, having good financial management and leadership, and sharing our values.

If you have any concerns over the work you are helping to fund in Ethiopia please do not hesitate to get in touch.
Lisa Cousins
Executive Director, Ethiopiaid
Understanding Noma
Posted by Francesca Rutherford on Wednesday 14th February 2018
Each year Ethiopiaid's supporters help us to fund three complex surgical missions to perform life changing surgeries for victims of Noma across Ethiopia. It is a complex and devastating disease so below are 8 to inform you about Noma and the efforts of Ethiopiaid and its partners in dealing with this crisis.
What causes Noma?
Noma is caused mainly by malnutrition and extreme poverty. It was eradicated throughout Europe around 1860 with improvements in people's diets and alongside the industrial revolution. It resurfaced during the Second World War in German concentration camps as a result of malnutrition. It is now found throughout sub-Saharan Africa and in parts of South America and South East Asia.
Is Noma infectious?
Noma is not infectious. It frequently starts following an illness such as measles or as a fairly minor gum infection. It acts incredibly quickly particularly on children under the age of 6. Within 10-14 days Noma can destroy th4e soft tissue covering half the face.
What is the survival rate?
The World Health Organisation estimates that 90% of Noma victims die within 4 weeks of getting the infection.
Who are we helping?
Noma often follows the effects of other illnesses or begins as a minor gum infection particularly in children. Read about America here, a 6 year old due to undergo Noma surgery, and here to learn about two young women, Hulu and Zinash, who underwent surgery in our 2017 surgical mission.
How are we helping?
Ethiopiaid supporters fund three surgical missions each year usually in February May and October. These missions are staffed by volunteer surgeons, anaesthetists and nurses recruited by our partners from the UK and Ireland. Noma is relatively simple to cure with an antibiotic if caught in the very early stages. However the vast majority of victims come from extremely poor and malnourished families living in remote areas of the countryside with little or no access to medicine. With difficulty breathing, eating, drinking and speaking, survivors are often isolated from their communities. They often live hidden away so our partners visit rural and remote communities, running awareness campaigns to help identify survivors and offer help. Last year we helped to complete over 40 reconstructions as well as support patients in post-operative care, accommodation and food for a further 4 weeks after surgery.
Can Noma survivors be completely cured?
Noma survivors have often been living with facial disfigurements long before our partner's surgeons reach them. The surgeons, anaesthetists and nurses are able to restore or partially restore the missing tissue on their faces, enabling them to re-join their communities who have, up until now, rejected them.
What about the medical team?
Our fantastic volunteer medical teams not only perform the surgeries and dedicated post-operative care but also provide skill sharing opportunities to local medical professionals improving knowledge and expertise in the country.
What is predicted for Noma in the future?
Our partners predict an increase in children developing Noma, largely due to the food and water shortages continuing to affect parts of Ethiopia. This leads to malnutrition and susceptibility to infection and disease. This year we hope, across the three missions, to complete 120 surgeries and we will continue to follow and share the journeys of the Noma victims that our hard working medics hope to transform.
To donate to our Noma projects,
please click here.
Hope for America
Posted by Francesca Rutherford on Wednesday 14th February 2018
We'd like to introduce you to America, one of the many brave young children we support in rural Ethiopia. She is HIV positive and suffers from a devastating disease, Noma.
Despite this, and thanks to our partners, she still has hope for the future.
Her story
America contracted this disease, thought to cause the death of 90% of its victims, when she was just 3 years old. Living in drought-stricken, rural Ethiopia, America's immune system was simply too fragile to help her fight her illness alone. Sadly, her parents did not have access to antibiotics, easily accessible in the UK, to help tackle the infection. As the disease progressed, she rapidly lost almost the entire left side of her face – her nose, lips and cheeks were overcome with necrotic scabs.
Facing the prospect of the gangrenous infection taking their malnourished daughter's life, her parents were forced to take her to a local hospital. All they could do for her there was remove the infected areas.
America was fighting for her life.
Though our partners rushed America to a better equipped hospital in Addis Ababa, and fought to save her, facial disfigurements continue to prevent her living a normal life. Once discharged from the hospital to build her strength at home, sadly, there was still a long road ahead to full recovery.
America contracted the disease a second time shortly after her condition stabilised. Saved for a second time, America is again building her strength to have surgery to allow her to live a more normal life. Making eating, drinking and breathing easier for America is now the surgeons' priority.
Hope for the future
Throughout the turmoil that America and her family have been through, our partners in Ethiopia have been able to offer them hope. America's surgery is planned for May 2018 and we are excited to see her recover. Without your support, America's story could have come to an end a long time ago.
Now, she can look forward to the year ahead and the prospect of a healthy life after surgery.
We would love to offer this hope to other Noma sufferers.
A few facts
In the UK and Europe, we bid farewell to this horrific disease over a century ago.
Noma affects young children, leaving families devastated as they suffer from the infection eating away facial features and taking young lives.
Ethiopiaid offers complex surgery and expert post-operative care to children with Noma. Our volunteer surgeons not only save lives but also allow families to look forward to their children's Noma-free futures.
For more information about the disease and our work please take a look at our recent blog post, Understanding Noma or to donate please click here.
Zero Tolerance to FGM
Posted by Francesca Rutherford on Tuesday 6th February 2018
Today is the International Day of Zero Tolerance to FGM, a cause close to our hearts. Please join us in our mission to end female cutting in Ethiopia.
A little while ago we told you about Faatuma Ismael, from Kori in the Afar region of Ethiopia, a former FGM practitioner. When she received training from our trusted partner the Afar Pastoralist Development Association (APDA), she decided to dedicate herself to ending FGM.
Ethiopiaid continues to support APDA and Faatuma in their work but there is still work to be done…
10 Reasons to show Zero Tolerance to FGM
1. FGM is an immensely painful, illegal practice.
2. In Faatuma's region up to 91.2% of girls are living with FGM (UNICEF, 2016).
3. Women living with FGM often suffer throughout their lives – it can have a lasting effect on their maternal health.
4. Girls have to experience psychological trauma during the cutting process (UNICEF, 2005).
5. Progress is already being made – Ethiopia showed a reduction of 5.6% in FGM prevalence over five years (28 Too Many, 2013).
6. FGM is not a religious practice – education can help communities understand this.
7. Educating just 5 generations, could eradicate FGM (28 Too Many, 2013).
8. Fighting against FGM works towards 6 of the UN Sustainable Development Goals.
9. People like Faatuma are educating their friends and daughters about FGM.
10. It costs just £40 to train an extension worker to protect more girls in Ethiopia from this harmful practice.
If you would like to support our partner APDA in eliminating FGM in Ethiopia, please click here to donate.
Join us in showing #zerotolerance and giving a new generation of girls the chance of a very different life – a life free from FGM.
World Cancer Day
Posted by Francesca Rutherford on Sunday 4th February 2018
Today marks World Cancer Day, a day for everyone to come together and have a real conversation and think seriously about fighting the disease. It is the leading cause of death worldwide so raising awareness, finding cures and funding better treatment and care are all part of this important day and beating cancer.
United across the world, we are doing our bit to join the fight and bring more comfort to those who are suffering.
Ethiopiaid is dedicated to improving the treatment received by those suffering from the disease in Ethiopia. That is why we are supporting Hospice Ethiopia, a partner committed to improving the lives of cancer patients and their families. Their vision is to ensure that all Ethiopians and their families have access to comprehensive, affordable and culturally appropriate palliative and end of life care. Already, progress is being made.
Set up in 2003 by an Ethiopian nurse, Hospice Ethiopia provides palliative care to people in their own homes and in a walk-in centre. Their team of community volunteers, doctors and nurses works with families go out into communities to ensure the correct pain relief is available whilst also offering practical and financial support to families.
One of their patients, K, is suffering from metastatic breast cancer at just 24 years old. When she was visited, her pain was not well managed. Suffering from a range of symptoms, and unable to have surgery due to a serious congenital heart condition, it was important to provide her with better pain relief. Thanks to funding from Ethiopiaid, Hospice Ethiopia is now able to visit K regularly to monitor her pain medication. She is happier and no longer in severe pain. K is also receiving a small grant, allowing her to take better care of her 6 year old sons. The money enables her to volunteer in a local community centre to help identify others with symptoms of life-limiting diseases.
In a country where palliative care services are limited, this organisation has been instrumental in helping to develop the end of life care offered in the capital. Now, Palliative Care Hubs exist in various locations in Addis Ababa. Whilst continuing its own work in the community, Hospice Ethiopia has provided training to these centres.
We hope that one day our partners will no longer need to provide end of life care to cancer sufferers. In the meantime, we are encouraged by the way awareness is being spread and delighted to see nurses in Ethiopia better equipped to care for those with cancer.
If you would like to donate to support this project, please click here.
Natalie Imbruglia live in concert for Ethiopiaid…
Posted by Francesca Rutherford on Tuesday 23rd January 2018
A special charity gig at Bush Hall featuring Natalie Imbruglia performing along with The STAKS, Eli Paperboy Reed and Joy Crookes.
In November 2016 Ethiopiaid announced that Natalie Imbruglia had joined them as their Fistula Ambassador. Natalie is passionate about ending the suffering of women and children and shares Ethiopiaid's commitment to eradicating obstetric fistula.
Joy Crookes is a 19 year old singer/songwriter from South London. She is currently in the studio writing her debut album. Joy's unique voice and lyrics are already grabbing the attention of music industry insiders.
The STAKS are a high-energy Soul/R'n'B band featuring musicians who have collectively performed and recorded with some of the biggest names in the industry.
Eli Paperboy Reed" Reed is a survivor. He was one of the first of the new wave of singers and songwriters to embrace unabashedly soulful music and he has been tearing up stages all over the world with his heart-stopping falsetto screams for close to a decade.
'Disability is Not Inability'.
Posted by Francesca Rutherford on Tuesday 12th December 2017
I have recently returned from Ethiopia after an amazing trip visiting some of the projects funded by Ethiopiaid and running in the Great Ethiopian Run with other donors (read about that trip here). I was then fortunate in being able to stay on for four days at the Cheshire Services Menagesha Rehabilitation Centre to learn about the day to day therapy that goes on there.
I work as a Paediatric Physiotherapist in the Children's Unit of a District Hospital where we see new born babies with club feet but never older children, as if we cannot correct the deformity with exercises we refer to a specialist orthopaedic consultant within weeks of birth. At Menagesha the majority of patients have 'neglected' club feet, and because they have been walking or crawling in an abnormal way many have also developed contractures at their hips and knees.
They have surgery in a hospital in central Addis Ababa and can then spend up to a year at Menagesha as they typically need between 9 and 11 serial plasters to continue to stretch their feet into a better position. It was interesting to swop ideas about different ways of stretching tight limbs and I was able to carry out some treatments despite my extremely limited Amharic, which is hard to learn due to the unusual script. I often found myself wishing I had spent as long mastering a few more words as I had on training for the 10km run that had featured earlier in the trip!
I had exchanged emails with the Menagesha physios, and also a UK physio who had visited two years ago, before I left and so had been able to bring out some equipment that is hard to find locally. This included some swimming costumes and hydrotherapy equipment which I was able to demonstrate and teach the physios how to use.
One of the things that really impressed me was the standard of equipment that was being made in the workshops in Menagesha, particularly the wheelchairs that are custom made for disabled people who live in remote parts of the country. They are measured by outreach teams who also note the terrain that the chair will be used on and any particular requirements like the ability to carry goods to market. Then next time the team visits they take the wheelchair out to the individual, along with crutches and supportive boots to hand out to others who are having difficulty getting around.

Most of the children have come from far flung regions of Ethiopia and can be as young as 6 years old so it is a long time to be without their families but there is a lovely feeling of community with the older ones helping the younger ones. I happened to be there on International Disability Day and there was a lovely celebration with the children joining in dancing competitions and running races as well as enjoying watching the staff doing a sack race! I liked the slogan that is prominently displayed around the centre: 'Disability is Not Inability'.
I was also able to spend a day at Reed House, a new outpatient rehabilitation centre run by Cheshire Services in the middle of Addis Ababa. Here children with neurological conditions such as cerebral palsy, spina bifida and head injuries receive free treatment in an environment that wouldn't look out of place in the UK. They normally attend for a weekly session where they are given treatment and ideas that their parents can carry out at home. For most of them this includes standing in a frame that in the UK would be provided for daily use at home, but has to be funded by the family in Ethiopia. Richer families are able to have a frame made at the workshop in Menagesha, but the majority just stand at their treatment session. Once the parents are confident about therapy to do at home the frequency of visits decreases, much as it would in the UK, thus allowing more patients to benefit from the service.
First I watched the initial assessment of an 18 month old girl who had been referred from a local hospital, as this sort of treatment is not provided by the government. The assessment tools were very detailed and gave a good baseline by which to measure progress. I then spent the rest of the day joining in treatments and had a valuable exchange of ideas with the physios who were all very dedicated and keen to learn. Although there was generally plenty of equipment they didn't have many specialist therapy toys for the youngest children so I hope to be able to send some of these soon.
I feel really privileged to have had the opportunity to spend time learning more about the work of Ethiopiaid and have come back even more convinced of the value of their work. All the projects I saw were providing a high quality of care tailored to what is required by using local partners who are working tirelessly to improve the lives of disadvantaged Ethiopians. I have also seen how over the years the UK team has been proactive in finding new partners and continuing to expand the projects it supports, but by remaining focused within one country are able to keep monitoring that money is well spent.
So in conclusion please do consider making a donation - I know regular direct debits are particularly useful as it helps the charity to plan the most effective use of funds.
Great Ethiopian Run 2017 - How we got on!
Posted by Francesca Rutherford on Tuesday 12th December 2017
In early 2016 I was invited to take part in the Great Ethiopian Run (GER) on behalf of Ethiopiad. It was explained that I would need sponsorship of £2,500 and a JustGiving page would be the best way to organise that. I was assured that while it was called a Run, I would be able to walk the 10Kms of the course. The main carrot of doing this trip for me was to visit the Hamlin Fistula Hospital which is one of the projects supported by Ethiopiad. This all seemed an exciting challenge and I agreed to ask for the sponsorship and go.
The political situation in the country was uncertain in November 2016 and the visit was cancelled with the confident hope that we could go the following year and so it happened. We set off from Heathrow in a group of 23 on November 22nd 2017, comprising a small group of donors (6 in number) and 17 people from the Reed Recruitment Company who have Ethiopiad as their preferred charity. It was a mixed group of ages and experience, all of which contributed to a very lively company.
The visit to Addis Ababa was twofold. Not only were we taking part in the GER, but also seeing at first hand the various projects that are funded by Ethiopiad. For me this meant a steep learning curve of what is being done there with partners on the ground. Our first visit was to the Hamlin Fistula Hospital which was the place I knew most about. This inspirational hospital was founded by two dedicated obstetricians Reginald and Catherine Hamlin from Sydney Australia to help women in Ethiopia who have suffered terrible consequences from unassisted obstructed labour. It was a joy to visit the quiet peaceful place where women have repair operations and are able to re-join their communities.
Ethiopiaid also gives grants to other partners like the Hope Enterprises which feeds street children who would otherwise go to school hungry. It was an experience to hear about the numbers who come and the difference that is made. The breakfast of warm milk, a bun and a banana is desperately needed by many. We visited the Hope School which caters for education for the poorest children from Kindergarten age children right up to school leavers. In addition we saw the vocational training offered in courses ranging from sewing and cookery to metal working and woodwork.
One visit which was especially enjoyable was to the Cheshire Ethiopia centre for children with physical disabilities. Remarkable work is done to provide a huge range of care and equipment, including building wheelchairs and tricycles. The afternoon of the day there was spent in playing with the children of all ages and the Reed group had obviously spent much time preparing for this and brought all manner of games, toys and activities. The whizzing balloons, the face painting and the manicure sessions spring to mind as well as the instant Polaroid photographs!
The GER was the focal point of the trip and turned out to be one huge street party with 44,000 participants. Obviously some of the front runners were trying to set good times but the vast majority ran, walked and danced with bands at every corner and everybody taking selfies at all opportunities. Some of our company set times they were very pleased with, ie. under the hour, but most of us just got round the course as enjoyably as possible. The group I was part of stopped to have a beer or a cola at the 8KM mark. We all finished in good shape and have the medal to prove it!
So it is a trip I can recommend to anyone. The spirit of the group was excellent and the uplift from seeing the projects and the feeling that the money raised is spent in excellent ways is deeply satisfying.
Di Miller
Retired
Milton Keynes
Nov 2017
#GivingTuesday Help Us Turn Tragedy Around
Posted by Francesca Rutherford on Monday 27th November 2017
Obstetric fistula is a hole between the vagina and rectum or bladder, caused by prolonged obstructed labor. It is a devastating condition that leaves the woman incontinent. We'd like to tell you Hawwa's story.
Hawwa was born and raised in a remote rural village in Oromia where she lived with her farming family. At just 15 years old she married and led a happy existence with her husband who cared very much for her. The news that she was expecting their first child was a time of great excitement and preparations began for their new family.
Hawwa's labour was excruciating and her worried family tried every possible traditional remedy to help her. After five days of laboring Hawwa was left unconscious. Desperate, her family carried her by stretcher for five hours to the nearest town.
Sadly, it was too late to save Hawwa's baby. Her prolonged labour had left her with a devastating and complex fistula injury. Mourning the loss of her baby and the trauma inflicted upon her body, Hawwa returned home. The never-ending flow of urine a harsh reminder of her devastating loss.
"After... I feared eating and drinking, I lost appetite. I never got back to my husband and almost divorced. Fistula had totally ruined my life." Hawwa said.
But hope was not lost. Another woman in the village told Hawwa's mother about the Addis Ababa Fistula Hospital. It took three surgeries to completely cure her after which Hawwa rejoined her husband to rebuild their life together. Several years after her traumatic fistula injury, Hawwa was overjoyed to find that she was expecting twins.
"And now here I am totally dry, restarting a happy family…. Thank you all for reconstructing my whole life and enabling me to become a woman with self-esteem…. no words of mouth can express my heartfelt gratitude."
Sadly, Hawwa's story is not unique. There are so many women still facing a life of despair. The Ethiopian Ministry of Health estimates there are more than 36,000 women living in rural Ethiopia with obstetric fistula and that over 3,000 new cases occur each year.
Our three fistula partners are leading the Ethiopian government's fistula taskforce. Together they aim to eradicate this devastating birth injury and help survivors resume their lives as mothers, wives and members of their community.
We can reach out to more women and help them. But to do this, we need your support.
A gift of £45 will help provide free surgery, maternal care, counselling and practical support so that fistula suffere can piece their broken lives back together.

Take a first look at our 2017 Christmas newsletter here.
Happy #GivingTuesday!
Posted by Francesca Rutherford on Sunday 26th November 2017

Happy #GivingTuesday! Why should you give to Ethiopiaid this year? Use your #BlackFriday and #CyberMonday savings to:
• Help 100,000 Ethiopian women live with the unbearable pain and indignity of untreated fistula after giving birth to a stillborn baby
• Help the 9,000 women that develop this debilitating condition every year
We also keep our costs to a minimum with just a small team and donated office space. We have worked in Ethiopia for 25 years creating lasting change, and hope you will support us in our work.
It takes just one hour to heal the broken, damaged body of a young mother of a still-born baby. This #GivingTuesday, please will you give £20 to help?
A one-hour operation and a homemade dress can heal a young woman who has a terrible condition called obstetric fistula. Fistula happens during childbirth, often in young women, many no more than girls, when their pelvis is too small for the baby. It can also happen when the baby is in the wrong position and cannot be delivered without medical help. But there are no doctors or midwives. During their obstructed labour, a hole can form in the bladder or the rectum or both. These poor women suffer prolonged and crippling pain, lasting days on end. Eventually the baby dies and is stillborn. A stillborn child. A devastated, damaged mother.
Take part in #GivingTuesday: £20 can give an operation and a simple dress to a, grieving young mother.
Dasach was just 18 years old when she arrived at the Addis Ababa Fistula Hospital in agony, dressed in stinking, filthy rags. She was in constant pain, barely able to walk with urine trickling down her legs. Her labour had lasted for days and the baby had died. Her husband, family and friends had abandoned her. Before her operation, the surgeon sat by Dasach's bed and held a dress against her frail body. She said, "We are going to give you a new body and a new dress. You will go back to your village feeling clean, cured and happy." Dasach stayed at the hospital for three weeks. She made herself a simple dress from a pattern just like the one I've enclosed. On the day she went home, in her new dress, she smiled like sunshine and glowed with hope and health.
This #GivingTuesday, let the healing begin with your gift today. Dasach is just one of 2,500 women who surgeons at the Addis Ababa Fistula Hospital treat every year. The work we fund, and the healing it brings, happens only because people like you give money to Ethiopiaid. With a gift of just £20 today you give a grieving, damaged young mother her life back. No more fistula, no more embarrassment but a healed body, the hope of another child and a new dress to wear with pride. Please help.
Happy #GivingTuesday!
Give Girls A Future Free From the Cruel Cut
Posted by Francesca Rutherford on Monday 9th October 2017
On this UN #Dayofthegirl we're talking about FGM and what every day people are doing to erradicate it, with the assistance of our partner, the Afar Pastoralist Development Association (APDA). This is Faatuma's story:
Faatuma Ismael, from Kori in the Afar region of Ethiopia, was an FGM practitioner. Some years ago Faatuma voluntarily walked for four days to attend a workshop run by our trusted partner the Afar Pastoralist Development Association (APDA). She had heard that people in the government were not happy with the practice, but assumed that this was because they did not share her beliefs. She knew her work caused pain and could cause illness but her elders told her it was right.
"When the trainer said that there was no part of my cultural beliefs that supported FGM, I felt physically shocked as I always thought this was the clearest mark of purity."

One of APDA's Traditional Birth Attendants led the meeting and talked for three days explaining how people must respect the human body. She told Faatuma the ways in which she changed her own life, stopped cutting women and started working in a local hospital helping to deliver babies. She also told
Faatuma about the problems women who come to the hospital have after FGM: struggling to pass urine, prolapsed uteruses and difficulties in childbirth.

Faatuma decided right then that she would commit herself to ending FGM in her own community.

Faatuma has a daughter, who is now 15years old:

"My mother is now a Traditional Birth Attendant for APDA. When I was younger, I remember how she stopped cutting girls and started teaching other women that FGM is very dangerous. Both my mother and I have been going to school; my mother has just reached grade 10 and wants to study to be a midwife to help women even more than she is now. I have reached grade 8. I want to complete grade 12 and then decide to be a nurse or a doctor. I do not want to get married until I complete my school. What I know is that many, many girls and women suffer because of FGM. I think now more and more people will stop FGM once they see how much trouble it causes and that not having FGM is actually normal. I'm so proud of my mother for helping change the future."

With the support of APDA, Faatuma not only changed the course of her own life - educating herself, gaining a vocation and the passion to lead change - but also transformed her daughter's: inspiring her to stay in school, marry later and continue the fight to end FGM.

This is such a positive story, and evidence that in this one region of Ethiopia, change really is starting to take hold. We want this story to be repeated over and over again.
Please help and donate what you can on this Day of the Girl Child.
Local school girl cycles Coast to Coast to feed Ethiopian street children
Posted by Francesca Rutherford on Tuesday 5th September 2017
Huge congratulations and a massive thank you to Sky!
10 year old local school girl, Sky Silcock, spent her Easter holidays tackling the 74 mile route from Barnstaple to Paignton to raise funds to provide breakfast for destitute street children in Addis Ababa, Ethiopia. The final fundraising total was an incredible £1,300!
Sky decided she wanted to raise funds to help feed street children after learning about the charity at her school, The Manor C of E School, Coalpit Heath.
Sky said "I decided to raise money for the children in Ethiopia as I know how important a breakfast is to help you concentrate and start the day right. The street children are really poor and sometimes the breakfast is all they get to eat all day. All my family and friends sponsored me and I managed to raise over £1,300. My little brother and mum were my support crew. "
Supported by her family Sky spent months preparing for her big ride by training at weekends and eating healthily. The ride took her 2 days and she was met in Paignton by family who cheered and cycled with her for the last few miles.
Sky's dad, Adam, said "Sky decided that she wanted to raise money for Ethiopiaid after hearing about them at school. Our first impression was that it may have been a bit of a flash in the pan idea but, Sky was determined. After several months the determination was still there and we developed the idea of a mini coast to coast bike ride. Sky is very confident on her bike and had completed her bikeability level 2 a year early and was the driving force behind the training for the ride. When we started the sponsorship forms, Sky had set herself a target of raising £100. Due to the generosity and support of all of those who know her, she's raised over £1,300 which includes £100 which she collected along the ride, from complete strangers.

On the ride, Sky was faced with several different terrains and around Dartmoor, had some very challenging hills to climb. Although tough and energy zapping, she carried on to ensure she completed her challenge.

We are all very proud of Sky for her determination to help others and to complete what she set out to do. We would like to thank all of those who supported Sky whether that was through route planning, sponsorship, meeting us along the route, and being at the finish line."
"We were really delighted that Sky was inspired to help the children we support in Ethiopia. I have visited the street children's breakfast project myself and have seen firsthand how important it is for the 850 children who turn up every morning for their milk, roll and banana. These children, some as young as 3 or 4 years old, live in abject poverty on the streets or in slums in the city. They arrive at the project for their free breakfast every day before they head off to school. It costs around 25p to 30p to provide a breakfast for one child so Sky's fundraising will help provide over 4,000 breakfasts." - Lisa Cousins, Ethiopiaid's Executive Director
There are approximately 150,000 children living on the streets in Ethiopia and 60,000 of those are in Addis Ababa. More than half of those children do not have access to adequate shelter, food or education.
Ethiopiaid provides funding to 'Hope Enterrpises' to help feed and school thousands of street children who are living in doorways, bus stations and makeshift shelters. Through their 'Ladders of Hope' approach they help some of the most disadvantaged children with quality education and training. It all starts with the street children's breakfast where six days a week, 850 homeless children receive two bread rolls, milk and a banana. The breakfast is an incentive to attend the informal literacy and numeracy classes that are held afterwards. By removing the constant pressure of finding money for food, the children are given time to learn so that they can progress to primary and secondary education. The Ladders of Hope programme helps children and youths in Addis Ababa work themselves out of poverty.
Find out more about our education partners here.
Remember a Charity Week
Posted by Francesca Rutherford on Tuesday 5th September 2017
Remember a Charity Week 11-17 September
Remembering a charity in your Will can be a powerful way to ensure that your estate continues to help the most vulnerable, after you are no longer around. Legacies allow charities, like Ethiopiaid, to support the causes that are most important to you for generations to come.
Legacies have the power to transform lives in Ethiopia and create long term positive change.
Legacies have:
· funded the establishment of Hope College of Business, Science and Technology. Since then thousands of undergraduates from impoverished backgrounds have graduated with their degrees and can look forward to a better future.
· helped to fund the building of REED House for our partner Cheshire Services. The facility provides space for physiotherapy and rehabilitation clinics for children living with disabilities and is one of the only such services in Ethiopia. The Ethiopian Ministry of Health recently recognised Cheshire Services as a centre of excellence.
· enabled us to respond quickly to emergencies. In response to the ongoing East Africa Crisis we were able to support our partner APDA who works in the remote Afar region. We were able to provide £300,000, which funded emergency food, water trucking and sanitation, and livestock support for the most vulnerable families (who could not reach aid distribution points).
Writing your Will is an incredibly important and personal experience and we understand that it can be difficult to think about. To help you give the decision the consideration it deserves, we have put together a guide to legacy giving, which will help you through the process. To request your free copy of our guide 'The Greatest Gift' please get in touch.
We hope that you would like to see us to continue our work in the future and that, once you have looked after your friends and family, you will consider including Ethiopiaid in your Will
If you have any questions about leaving a gift in your Will to Ethiopiaid or to request your free copy of our guide 'The Greatest Gift' please contact Christina Pierce-Winters on 01225 476385 or email mylegacy@ethiopiaid.org.uk

Facing Africa Surgical Mission 2017
Posted by Francesca Rutherford on Thursday 24th August 2017
Mr Hiroshi Nishikawa recently travelled to Ethiopia, with our partner Facing Africa, to take on complex surgical work not available in the country. He tells us about his experience with two Noma cases.
Recently I have returned from my eighth Facing Africa surgical mission to Addis Ababa in Ethiopia. As always, I come back older, slightly wiser but also humbled by what we see and do there.
Facing Africa is a charity that deals with the treatment of a devastating disease called Noma. It affects poorly nourished children and those who survive often have terrible facial deformities as well as difficulties eating and drinking.
The charity organises and funds all the equipment and hospital conditions needed for an experienced surgical team to treat these very challenging patients in the middle of a poor developing country.
This year we were faced with both technical and ethical dilemmas. Our mixed skill set often means that we are asked to help with non-Noma cases too. This year we were presented with a total of twenty patients, all who had facial deformities. I personally dealt with two young women called Hulu and Zinash, who were both suffering from a condition known as ossifying fibroma.
Both women's lower jaws had been replaced by a solid, rock-hard bony tumour that had invaded the surrounding tissue. They had been suffering from this slowly growing benign tumour for several years and now the size of them was equivalent to a large melon. Unless we could treat the women, they would die as it was becoming almost impossible to eat, drink or breathe.
It took two surgical teams ten hours respectively to remove the tumours and replace the resected lower jaws with new ones made from the skin and fibula bone taken from one of their legs. The operations had been planned weeks in advance, in the UK, to allow for the precise fit of the bone and reconstruction plates by my Maxillofacial colleague Kelvin Mizen. Microsurgical techniques were also needed to allow blood to flow to the new jaw.
Zinash recovered brilliantly and her fighting spirt was inspirational. She now has a fantastic future ahead of her and it was wonderful to see her true beauty emerge now that the mass had been removed.
Prior to her surgery Zinash's loving and totally dedicated father had tried everything to cure his daughter. He had even sold his cattle to help fund her treatment in the past but it came to no avail. Luckily however, myself and the team at Facing Africa were able to not only save Zinash but also help to fund his cataract surgery to allow him to see properly again.
Unfortunately, the reconstruction for Hulu failed, but thankfully a salvage operation helped to ensure that she would have a functional lower jaw. Despite this however, she will still require future surgery in order to live a normal life.
While Zinash came from a very supporting home, the same could not be said for Hulu, who had been rejected by her family after her disease lead to the demise of the family laundry business (locals feared they might catch the same disease as Hulu). As a result, Hulu was left living on the streets and it's only due to the persistence of Facing Africa front line workers, Tihitna and Kidist, that she was saved.
The sadness in Hulu's eyes reflected the desperation to be accepted by her family again, but sadly, when her mother did eventually come to visit her in hospital Hulu received a slap instead of a hug. However, in spite of this, Hulu did eventually return to her family home but unfortunately, we have no idea how she's now being treated or whether her family have now accepted her.
Obviously, a two-week surgical mission only allows for me to skim the surface of this vast country, but I'm so thankful to say that I could assist in saving not one but two lives. Furthermore, I am so proud of the Facing Africa team as it is rare to find total harmony between skills and aims.
A Tv documentary has been made of this mission which will be shown on Channel 5 soon, giving you the opportunity to see the journey of both of these inspiring ladies.
If you would like to find out more about Facing Africa you can do so here: www.facingafrica.org.
Mr Hiroshi Nishikawa
Consultant Plastic, Reconstructive and Aesthetic Surgeon
International Youth Day
Posted by Francesca Rutherford on Saturday 12th August 2017
Today is International Youth Day, a day that recognises the issues affecting young people around the world and acknowledging the efforts, initiatives, collaborations and participation of young people in society. Countries in Africa tend to have a much higher percentage of young people than countries in Europe and North America, around 53% of Ethiopia's population are under the age of 20 whereas this number is only 25% in the United States and 23% in the UK. This means that in Ethiopia the provision of education, training and health services for children and young people is vital for the country's future. We work with a number of partners in Ethiopia who work to support children and young people gain the skills, experience and qualifications they need to be able to contribute to society and be self sufficient in the future.
Access to quality education is one of the major issues currently affecting Ethiopia's youth population, even though efforts have been made by the government and improvements have been seen, Ethiopia still has one of the highest numbers of out-of-school children in the world. We have been working with Hope Enterprises for over 20 years, Hope provide quality, free education to hundreds of Ethiopian children every year, ensuring that those who would not otherwise be able to go to school receive the education they deserve. Hope Enterprises also run programmes such as the Street Children's Breakfast that enables children who are forced to live on the street the chance to attend literacy and numeracy classes. Hope Enterprises also run vocational training programmes which allow young people the opportunity to gain valuable technical skills which should assist them in finding a job and able to support themselves for the future.
We also work closely with SENTigray, an organisation that supports children with visual impairments with their education. Recently SENTigray have been launching their Talking Textbook project, which allows visually impaired children the chance to despite their additional educational needs.
We think that by ensuring every child receives a quality education, they will become active and positive members of their communities and the leaders of tomorrow.
To read more about how we support children and young people, you can read about our projects here.
Jul 2017
Introducing the Fundraising Preference Service
Posted by Francesca Rutherford on Monday 17th July 2017
Introducing the Fundraising Preference Service
The Fundraising Preference Service (FPS) was launched earlier this month (July) with the aim of giving those living in England and Wales more control over the communications they receive from charities.
This online service provides a simple and easy way for members of the public to identify those charities from which they wish to suppress communications. Individuals are asked to log on and provide their contact information so that they can be matched to a 'charities' record. Through this they can submit a request to not receive further communications from that charity.
Ethiopiaid is registered with the FPS and will regularly check the FPS register to ensure that our records are up to date.
FPS is part is part of the larger General Data Protection Regulations (GDPR) that are coming into force from 28th May, 2018. It is more important than ever that you tell us your preferred communication preferences. GDPR will affect every organisation that processes personal data, including charities like us, and those who fail to comply will face hefty fines.
Knowing your preferences means that we can be more cost effective with our communications and ensure that we contact you in the way that you wish to hear from us. In the eyes of the GDPR, silence or no response does not constitute consent. We therefore need all of our supporters to provide positive and clear affirmation of their preferences.
Over the next few months we will be encouraging all of our supporters to get in touch and tell us what you want to receive, how often and through what method. We are a small team but we are here to listen and make sure that you enjoy supporting Ethiopiaid and trust us to follow through with your preferences.
Please tell us the marketing communications you would like and by which method (email or post) from below:
Our Christmas newsletter only
Bi-annual newsletters only
Bi-annual newsletters and 2 appeals a year
Bi-annual newsletter and all appeals (usually 5 a year)
No marketing communications – only contact me to administer my donation(s)
Do not contact me at all for any reason
Please email support@ethiopiaid.org.uk with your preferences.
Ethiopiaid values your privacy. The information we collect about you is used for administration purposes (i.e. claiming gift aid), recording your donations, confirming your contact preferences and consents, and for fundraising and marketing appeals. From time to time we also analyse supporter information to ensure that our marketing and fundraising materials are appropriate and relevant. We promise never to sell or swap your details. Please click here to read our privacy statement.
World Youth Skills Day
Posted by Francesca Rutherford on Saturday 15th July 2017
Today is World Youth Skills Day. Young people around the world are still disproportionately affected by labour market inequalities, young people are more likely to be unemployed, underpaid and suffer from job insecurity.
In 2004 the Ethiopian government implemented policy with the aim of bringing 'about the active participation of youth in the building of a democratic system and good governance as well as in the economic, social and cultural activities'. While Ethiopia has made significant progress in accomplishing this aim, there remain some significant disparities. Access to quality jobs in Ethiopia is greatly depends on location, with the majority of quality jobs being located in urban areas. However, due to the significant lack of education and training opportunities available to the youth population, young people still face high levels of unemployment even in urban areas. The vast majority of the Ethiopian youth population suffer from the lack of access to quality education, training programmes and employment opportunities.
Ethiopiaid support a number of partners that provide children and young people the opportunity to attend school and the skills they will need to improve their chances of being able to support themselves in the future.
We have worked with Hope Enterprises for over 20 years, Hope run a range of programmes that help children and young people learn and develop crucial skills and gain valuable experience. Hope Enterprises feed hundreds of street children every day with their Street Children's Breakfast initiative, the hope being that without the worry of having to find food, the children will want to stay for the literacy and numeracy classes, which are held afterwards.
Hope Enterprises also run six schools across Ethiopia providing free quality education to hundreds of children every year. The schools provide their students with everything they need, from stationery and uniforms to food. As well as preparing students to take their national exams Hope Enterprises provide a wide range of vocational courses in the hope that when they finish school, students will be able to support themselves.
To read more about how we support young people gain the skills they need for the future, click here.
World Population Day
Posted by Francesca Rutherford on Tuesday 11th July 2017
With the world population estimated to reach nearly 10billion in 2050, World Population Day aims to draw attention to the added pressures and challenges an ever increasing population will cause across the globe. Ethiopia is one of the most populous countries in Africa and has one of the fastest growing populations on the continent; as such the country faces increasing challenges in adequately providing for its people.
The United Nations Population Fund has identified sexual health education, maternal health and gender equality as issues which require particular improvement in the coming decades.
Ethiopiaid work to support all three of these aims. We work closely with partners to provide women with pre- and post-natal care. We support the training of the next generation midwives and healthcare workers who will go out and support women in their communities. We work closely with partners who educate girls, boys, women and men about sexual health, with the hope of removing some of the stigma that surrounds these issues in much of Ethiopia. We work hard with our partners providing education for all, regardless of gender, background or ability.
We hope that through our work society will be more equal for all.
You can read more about the partners we support and the amazing work they do here.
Help Us This Summer
Posted by Francesca Rutherford on Monday 10th July 2017
Our parnter Dignity Period works in the Tigray region of Ethiopia helping to give girls the information and support they need to manage their period. Sadly menstruation is largely misunderstood in Ethiopia and particularly in the rural areas of the country, Dignity Period hope to change these misconceptions and ensure that girls feel comfortable and confident talking about their bodies.
Harifeya is 16 years old and at the top of her class at Adigudem Secondary School in a small town in Tigray. She is from a farming family in Wujurat, about 22 miles away from her school, and is only able to visit her family home once a month. For girls like Harifeya, starting your period is a difficult experience.
'When I first started to menstruate, I did not know what it was...[it] came suddenly when I was working on the farm... I was very shocked and embarrassed…I did not tell anyone the first day. The second day the blood came again. I was very embarrassed…'
In rural Ethiopia menstruating girls have little support. This important step into womanhood is not openly talked about and is seen as a source of shame. 98% of girls in Tigray lack access to sanitary products which are expensive and difficult to find. Many don't possess underwear either. Girls are forced to use whatever materials are available such as grass, leaves, old rags or nothing at all.
'I went home, hid… and tore an old scarf. I used this to manage my menstruation. I couldn't attend class ... I did not go to class for three days.'
Harifeya could not ask her parents to purchase menstrual products because they are too expensive and she was ashamed. During their periods girls are afraid to go to school where they often face ridicule and embarrassment. In addition to this, the majority of schools have inadequate, if any, toilet and washing facilities. As a result, many girls drop out of school altogether, missing their chance to create a better future for themselves.
'I thought people would stare at me and insult me. Whenever I menstruated, I did not go outside of the house. I didn't even to go to school…..this affected everything in my life.'
There are 9 million girls in Ethiopia. Educated girls make better decisions about their bodies, their lives and their future families. They have access to better opportunities, employment, are at less risk of dying in childbirth and are more likely to send their own children to school
.'…Girls should not be shocked or afraid when they start menstruating because it is something natural that happens to all girls when they grow to [become] a woman.'
A reusable sanitary pack costs just £3 to make and provides girls with everything they need to manage their period for 12-18 months.
We are working hard with Dignity Period in order to give girls In Tigray the confidence to manage their period and continue with their studies free from fear and embarassment.
To support our work with Dignity Period, you can donate here, if you would like to read about what we have already acheived this year you can read our summer newletter here.
Thank you.
Jun 2017
World Day to Combat Desertification and Drought
Posted by Francesca Rutherford on Saturday 17th June 2017
Today marks World Day to Combat Desertification and Drought, the occasion has been observed since 1995 in order to raise public awareness for the devastating effects of drought and to promote international cooperation in combating the causes and symptoms of desertification and drought around the world.
East Africa is currently in the grips of a severe drought caused by the cumulative effects of El Niño in 2015/2016 and a series of failed annual rains over the last few years. As a result, millions of people in Ethiopia are in desperate need of assistance. The Afar region, in the North of Ethiopia has been particularly affected by this crisis and we are working closely with our partners to try and mitigate the impact on communities in the region. Our partner the Afar Pastoralist Development Association (APDA) is working tirelessly to help people in Afar survive the drought. APDA is responding to the crisis in three important ways: water trucking, provision of health care works and veterinary care.
The drought has caused the water holes, which most people depend on, to dry up and the geography of the region makes well boring impossible. The only alternative is to drive trucks full of water into the region in order to provide people with the water they desperately need. One truck can carry 14,000 litres of water, enough to provide 2,800 people with 5litres each. It is a monumental and never ending task keeping these trucks running.
Health workers have a fundamental role in ensuring aid gets to where it is most needed. Many settlements in Afar are remote and widely dispersed. Health workers are the only viable means by which these remote communities receive the help they need. Health workers often walk for many days at a time to reach these communities and provide them with vaccinations, malnutrition supplements and nutrition surveillance.
Many people in Ethiopia are pastoralists and rely on their livestock for survival, APDA provide crucial veterinary care for the livestock of around 7,500 households in the Afar region, ensuring that these families can continue providing for themselves.
If you would like to find out more about the drought crisis, our work with ADPA and how you can help, you can do so here.
Menstrual Hygiene Day
Posted by Francesca Rutherford on Sunday 28th May 2017
Sadly in Ethiopia menstruation remains taboo in many communities and can even be a source of shame and exclusion for women and girls across the country. Sanitary products are often very expensive and hard to find, resulting in many women and girls resorting to dirty rags, leaves or nothing at all to manage their period. There remains a lot of misconception and misinformation about menstruation in Ethiopia; girls are rarely
taught about what is happening to their bodies and how to manage these changes and men and boys are very rarely educated about periods and how they might help their daughters, siblings or friends during puberty. This widespread lack of understanding often results in many girls feeling too afraid or too confused to ask for help. The shame and embarrassment that many girls feel can prevent them from attending school, this results in some girls falling behind with their education. Studies have shown that girls who receive a good education are more likely to earn more, marry later, have fewer children and have children who are healthier and better educated. When women and girls prosperous, so too are the countries they live in.
We work with a number of partners who are working on making education accessible and equitable for girls. Our partners Dignity Period run an important programme in the Tigray region of Ethiopia providing safe and clean sanitary products to young women in the area. The products the project provides are reusable, giving the young women the freedom to manage their monthly cycles with confidence. Dignity Period also runs an education programme with the aim of challenging the stigma and misunderstanding surrounding menstruation.
Watch how Dignity Period's work helps young women in Ethiopia
Read about how Ethiopiaid support women's health projects in Ethiopia here.
International Day to End Obstetric Fistula
Posted by Francesca Rutherford on Tuesday 23rd May 2017
Obstetric fistula are holes that form in a woman's bladder or rectum caused by obstructed labour during childbirth. This condition is easily prevented and treated with access to good quality maternal healthcare. In Ethiopia around 10,000 new cases of fistula are reported each year but currently there are only 1500 midwives trained to deal with the condition.
In Ethiopia, women suffering from fistula often face societal marginalisation, preventing them from being able to work, seeking help or receiving treatment. Ethiopiaid have been working with Hamlin Fistula Hospital, who works at forefront of fistula prevention in Ethiopia, for over 20 years. The Hospital, which was founded by Dr Reg Hamlin OBE and Dr Catherine Hamlin AC in 1974 was the first hospital dedicated to the treatment of fistula in the world and the only place where fistula injuries could be treated in Ethiopia. Today, thanks to your support, Hamlin Fistula has been able to open a number of treatment centres across Ethiopia, and now provides training for the next generation of Ethiopian Midwives.
Our other partners Women and Health Alliance International (WAHA) and Healing Hands of Joy also do crucial work in treating and raising awareness of obstetric fistula in Ethiopia. Their programmes cover diagnosis, treatment and rehabilitation and provide fistula treatment across Ethiopia. Healing Hands of Joy's Safe Motherhood Ambassadors programme trains ex-sufferers of fistula to go out into communities and teach women and men about fistula and how it can be prevented, adding to the growing awareness and understanding of the condition.
Although the provision and quality of maternal health services Ethiopia is improving, there is still so much that needs to be done. Thousands of women across the country are still needlessly suffering during childbirth; from preventable fistula injuries and from a lack of pre- and post-natal support. We are currently seeking your support to help improve the situation for pregnant women and new mothers in Ethiopia. To see how you can help and to donate, please click here.
Join us as we walk side by side with women living with fistula
Posted by Francesca Rutherford on Tuesday 16th May 2017
We recently told you about the midwife, Emebet, at Hamlin Fistula Hospital, below is the sotry of her patient Aregu Udessa.
Aregu is from a pastoralist community who are known for their nomadic lifestyle, people who travel long distances in search for food and water for themselves and their animals. She married young and fell pregnant at 17. Her family were delighted. As is tradition in her culture, her mother stayed with her throughout her long, five day labour at home. Tragically, it ended in a stillbirth and serious injury to her bladder, due to a large fistula. For many months after this, Aregu lived in isolation – separate from her husband, mother, friends and neighbours. She leaked urine constantly and grieved quietly for the loss of her child.
During a door to door malaria campaign, extension workers discovered Aregu hunched over in pain and hiding in the darkness of her hut. They realised she was suffering with a severe fistula injury, and brought her to the Yiragalem centre for treatment. Here Aregu met Emebet and this is where her life began to get better. Through the patience and care of her midwife, surgeon and counsellor that Aregu started to realise that she was not cursed, she was worth treating and the importance of giving birth with a medical professional present. Aregu has been learning weaving, which she intends to make into a small business when she leaves the centre. She will attend the local health centre for the birth of her next baby.
She told us: You gave my life back and made me a woman again. I thank you from the bottom of my heart and wish you a long, happy life - as I now believe I will have.'
With your gift of just £40, Ethiopiaid can fund midwives like Emebet and help more women, women like Aregu.
May 2017
International Day of the Midwife
Posted by Francesca Rutherford on Friday 5th May 2017
Today, 5th May, is International Day of the Midwife. We celebrate the dedication of midwives across the world that work tirelessly to make childbirth safer.
Proper maternal care is often taken for granted in the developed world, yet many women in Ethiopia do not have access to even the most basic care during and after their pregnancies. In Ethiopia there are an estimated 39,000 women currently dealing with obstetric fistula, and another 3,700 women who develop the condition each year. This debilitating, and often stigmatised condition is easily preventable with the right medical care during labour, something a well trained midwife will provide. Our obstetric fistula prevention projects work closely with midwives, doctors and health extension workers to make sure that woman who are affected by fistula are treated for the condition and educated on good maternal health practices.
We support and work closely with the Hamlin College of Midwives, which, through a progressive and rigorous curriculum, train midwives to work autonomously throughout Ethiopia. The course equips midwives with the skills and knowledge to go back to their own communities and confidently and consistently provide labour and delivery services, antenatal and postnatal care, family planning, HIV/AIDS counselling, record keeping and medical administration.
We also support the Safe Motherhood Ambassadors programme which trains former fistula suffers to educate other women and their communities about fistula to increase awareness of the condition and encourage sufferers to seek help.
To read more about how we support mothers and midwives click here. With your help we can continue supporting midwives across Ethiopia.
Ethiopiaid Monitoring Trip Diary 2017: Economic Empowerment at Cheshire Services!
Posted by info@ethiopiaid.ca on Monday 3rd April 2017
Last Saturday I travelled to Harar, a walled city with a rich past and history, and once a capital of Ethiopia. There is no airport so I flew to the city of Dire-Dawa, where Cheshire Services also runs a centre with services for the disabled. Fasil, Cheshire's program manager, was waiting for me. We drove east, up a steep sinuous road into the mountains, to an altitude of about 2000 metres. About 50 kms away from Harar, we turned onto a dusty and bumpy country road and crossed a few small villages in the rolling hills. People smiled and waved at me when we drove by, foreigners are still a rare sight in these parts. We stopped in the village of Ifa Aramaya, where Cheshire has been supporting 20 women with disabilities through its credit cooperative for animal husbandry. Adinan, the social worker running the project, greeted me. We walked up a long path lined with cactuses. It was already very hot under the sun.
Along the winding path around several houses, with many curious children now in tow, we reached a modest mud house. This is where Chaltousan, a mother of five, lives. She is 40 years old and was born here. Her husband, Abdul, is a farmer. One of their sons was with spina bifida and severe mental disabilities. He was unable to attend school and, in the absence of proper health care, passed away just three months ago. Chaltousan stopped speaking, it was a difficult moment as she recalled her 8-year old's tragic end. Life has been hard on the family and they were barely surviving with the help of relatives. Poor families in the countryside cannot access bank loans as they are deemed a liability.
Cheshire's outreach team visited Chaltousan eight months ago, and invited her to join the credit cooperative to help her break out of poverty. She first attended a 3-day training with other women in the village to learn basic numeracy and business skills. She received advice on how she should use and pay back the loan, and how to make savings monthly. Chaltousan purchased a cow and 2 goats. At the beginning, it was difficult and she had to postpone two reimbursements. But within six months of selling milk and butter, and lending her male goat to breed in the village, she is now able to save a decent amount every month. The family's life took a turn for the better and she expressed a lot of gratitude. With her savings, she looks forward to purchase another cow and increase her butter production.
Over the next two days, I visited other families in Ifa Aramaya (like Meimouna and her adopted daughter, to the left), Gursum and Kabsu. These are all remote villages in the Harar region, where women benefit from the credit cooperatives set up by Cheshire Services. I was shown how the credit cooperatives are managed, from individual records of certified beneficiaries, cooperative committee policies and credit saving booklets. In Gursum, the cooperatives have successfully mobilized resources within the community to increase the amount of credit available for people with disabilities. A worthy endeavor of solidarity!
In this National Regional State, the population is composed of about 70% Muslims, and 30% Orthodox Christians and other faiths living in perfect harmony. People are not shy and women wear extraordinarily colourful traditional clothes. I will long remember the beautiful faces and smiles that punctuated my village visits and meetings. A long drive back to Dire-Dawa and a flight to Addis Ababa, I look forward to a few final meetings before diving back into Spring in Ottawa.
Olivier Bonnet, Executive Director Ethiopiaid Canada
March 30 Harar, ET
Cheshire Services is supported by Ethiopiaid Canada, Ethiopiaid Ireland and Ethiopiaid UK. Since we share a Global Strategy for empowerment and change in Ethiopia, this post is also being shared on Ethiopiaid Australia's page.
This is the fifth of several posts Ethiopiaid will be sharing after each partner visit while in Ethiopia. Every year, as part of our monitoring and evaluation process, the directors of Ethiopiaid Australia, Ethiopiaid Canada, Ethiopiaid Ireland and Ethiopiaid UK travel to Ethiopia to meet with our partners to make sure we are creating lasting and effective change and that your donations are well spent. Watch this space for more updates!
Mar 2017
THE FORGOTTEN GRANDCHILDREN OF ADDIS ABABA
Posted by Francesca Rutherford on Wednesday 29th March 2017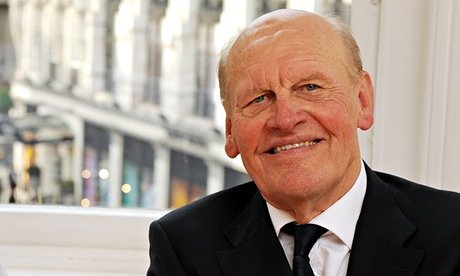 As a Grandfather I have been blessed over the years with the arrival of many grandchildren. I've watched them take their first steps, witnessed their first words and enjoyed seeing them grow into the confident young adults they are today, each supported by loving parents and family. Sadly in Ethiopia there are millions of orphaned children who are not so lucky. Every day is a struggle and the only family left to care for them is an elderly grandparent, themselves destitute and barely able to survive each day.
The impoverished elderly are the forgotten ones. The boys and girls who rely upon them are some of the most vulnerable in society.
Ethiopia has one of the largest populations of orphans and vulnerable children in the world. Five and half million children, around 12% of the total child population, are orphans or vulnerable children. Poverty, disease, malnutrition, armed conflict, recurrent drought and food shortages are all responsible factors.

Grandparents can suddenly find themselves caring for grandchildren. Grieving for the loss of their own children, they face the responsibilities of providing for the young, stretching meagre meals to feed more mouths and begging so that they can give their grandchildren some sort of education. Meeting their own daily basic needs is difficult enough let alone providing for children.

Many elders have to survive on just 23p a day.
Lack of medical care means elders suffer chronic health conditions. Ethiopia has over 4 million people over the age of 60. Without the availability of a state pension the only way to survive for many is to live and beg on the streets.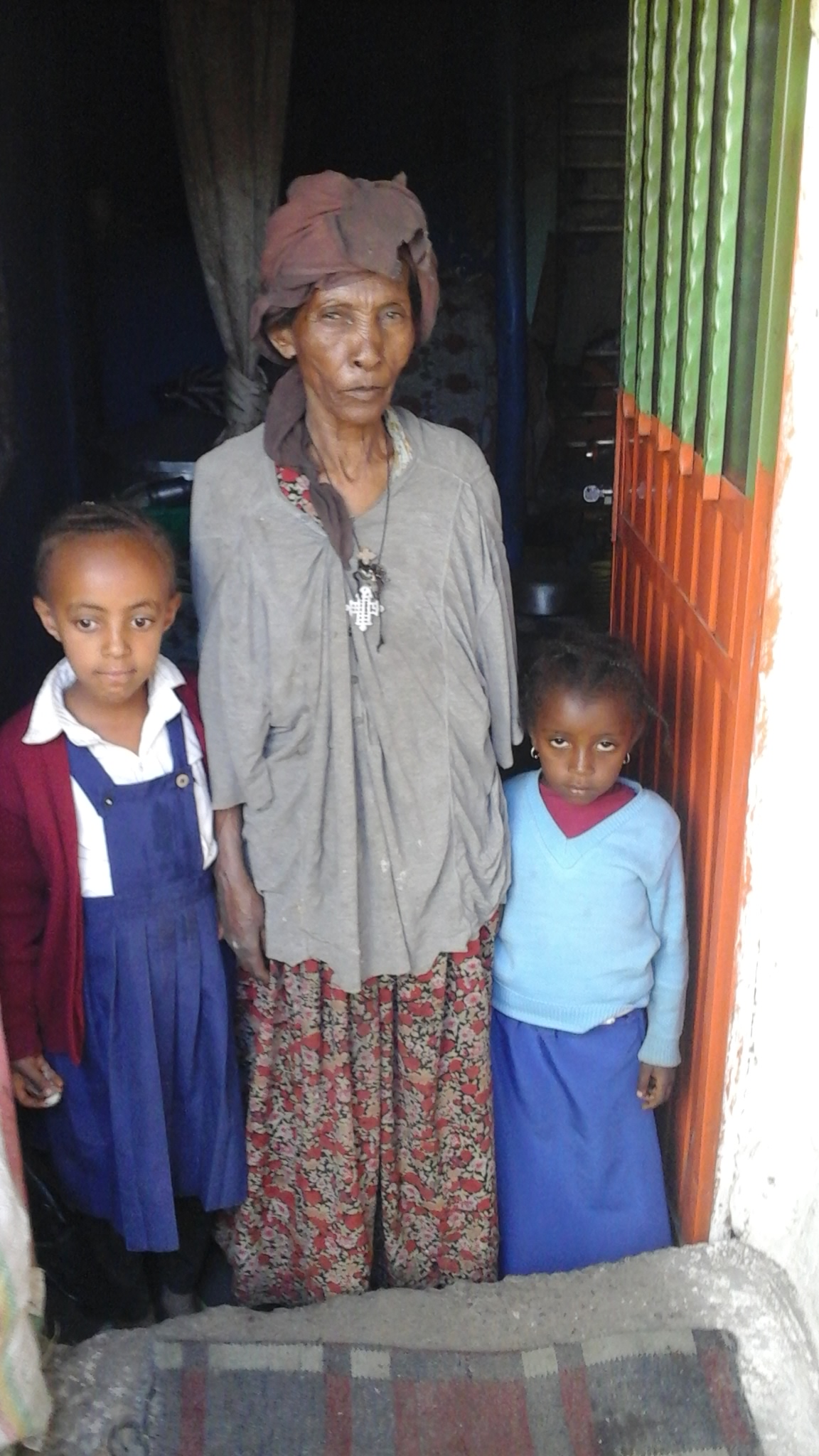 Our partner, The Destitute Elders Welfare and Development Association (DEWADA) support some of the most impoverished and vulnerable elders in Addis Ababa. Each month DEWADA provide 1,071 elders with a monthly welfare payment of 200 Birr (£7). This payment is crucial as it is the only means of buying food, clothing and basic medication. Hundreds of these elders also care for orphaned grandchildren. Sometimes not even one meal a day is possible.
Yedidia, age 7, and Genet, age 4, have lived with their grandmother since the death of both their parents from HIV/ AIDS. Denku had worked as a maid but her arthritis become too painful to carry on. Denku was left with nothing and each day was a fight for survival.
Thankfully Denku found DEWADA. They gave her a small pension so she could feed herself, some medical care to help her arthritis and made her small home more comfortable. However, when Yedidia and Genet came to live with her, it was like taking a step back. Denku was only able to provide one meal a day for herself and her granddaughters. Each day was spent begging on the streets to make a little more money so the girls could be fed too. Denku was desperate, she wanted Yedidia and Genet to have a happy, healthy, childhood and the opportunity to go to school.
Denku struggled on like this for some time until Messih, DEWADA's project co-ordinator, realised her struggle and stepped in to help. Her monthly pension was increased so that she can now feed her granddaughters, send them to school and access health care.
Denku is just one of so many elders who need just a little extra each month to give their orphaned grandchildren hope. Like any grandparent, Denku simply wants Yedidia and Genet to be safe, educated and able to build a better future for themselves.
A regular gift gives security meaning families no longer live hand to mouth. Children like Yedidia and Genet can reclaim their childhoods and have hope for the future. Please consider giving £7 a month to help a child living with a grandparent.
As ever I am grateful for your support, and I hope you will join me in helping grandparents and orphaned children.
Mar 2017
Monitoring Trip 2017- SENTigray
Posted by Francesca Rutherford on Monday 27th March 2017
Our partner SENTigray supports children in the Tigray region of Ethiopia who have extra educational needs. In partnership with SENTigray and Mekelle Blind School, we work to ensure that all children, including those with disabilities are given the education they deserve. Ethiopia has the highest rate of preventable blindness in Africa, but sadly only 1% of children living with serious eye conditions receive learning support. Through working with partners like SENTigray and Mekelle blind school, we hope that all children will be able to go to school and get a quality education.
We arrived early in the morning, and were able to visit the children in their daily classes - when we last visited, school had finished for the day.
The grounds are looking much improved from the previous visit: they are tidy, lots of plants are growing (the vegetable garden is blooming with lettuce, cabbages, potatoes) and there is a new beehive - complete with resident bees. ('They just turned up, so we built them a home' Masho tells us) The children look healthy and seem happy. The classrooms are better equipped with braille books, the music room is well-stocked with instruments (we got a live demonstration of the children's musical abilities) and the library is very impressive (crammed with books, and had a table full of students reading the specially adapted materials). The dormitories are clean and less crowded, and boys and girls have now been separated. All of which we were very pleased to see.
We met a number of staff who greeted us warmly - popping our heads into music class, english, maths and Tigrayan lessons where all the children seemed very engaged and excited to learn (All vying to be picked to answer the teachers' questions).
We then sat down with three of the students who had been using the talking textbooks to find out how they had been getting on...
Tigist, aged 15
Tigist is an articulate and quietly spoken girl, who joined the Blind School in 2009. Her favourite subject is civics. Her teachers report that she has had a good academic performance since joining the school.
Tigist lost her sight aged 1. Only her uncle knew where to send her to get the specialised support she needed. The rest of her family wanted her to stay at home and told her that if she left, they would not let her return. However, once they visited the school, they realised how much it was helping Tigist and that being blind need not stop you from being successful and getting a good education.
She told us that she sees her family once a year, in the summertime. They come and take her home for 2 weeks or up to 2 months. In the meantime, they speak regularly on the telephone. It is clear that she misses them, however she has many friends at the school who help keep her company she she gets sad.
I asked her about the ways in which the Talking Textbooks had helped her studies. She cited three main ways:
1) Improved and wider educational knowledge - she has access to many subjects and can listen whenever she wants.
2) Learning independently - she no longer has to depend on her peers to help her to understand.
3) Increased confidence - 'both in personality and in my academic ability'.
I asked Tigist what she hopes to do for a career, and she said 'a human rights lawyer, particularly so that I can help protect people living with disabilities'
She wanted to pass on a message to Ethiopiaid supporters: 'Thank you for your help. We need your support in order to do well, be independent and be role models.'
Hailemariam, aged 13
Hailemariam joined the school in 2012. For the first few years, Hailemariam struggled with education and fell behind. He tells us that he now understands the subjects well. His favourite subject is Amharic.
Before he came to the school, he didn't know anyone else who was blind. He lost his sight aged five and his family told him that this meant he would never be successful. A neighbour referred him to Mekelle Blind school and it was when he first met other children with similar visual problems that he realised he was not alone.
Hailemariam says the Talking Textbooks have helped him hugely: ' Before, we couldn't read. There were very few braille books and we had to wait for our peers to read to us. I was not getting good grades. Now, we are in competition with our peers to see who can achieve the best grades!'
Hailemariam recently came second in his class. He enjoys plugging in headphones and studying hard.
I asked him what his favourite thing about school is, and he said it was both the library and time spent playing with his friends.
He wants to be a legal professional when he leaves the school and thanks Ethiopiaid supporters for the opportunity to make something of himself.
Kifle, aged 13
Kifle went blind aged 2, he said he grew up feeling useless. His family took him to a spiritual area to bathe in holy water, but this did not restore his sight. Kifle was told about an NGO that could help him, but was mistakenly directed to Mekelle Blind School. He says this turned out to be a good mistake!
Kifle joined the school in 2013 and is very academic. He is now in grade 5, which is 2 years ahead of his same-age peers. Kifle's favourite subject is social science.
We asked him how the Talking Textbooks had helped him to be even more successful in his studies. He told us: 'I got an even better result than last year. My average grade score went up from 70 to 91 (out of 100). I am now second highest achiever in my class of 45 students. The textbooks help me to be independent and I can study whenever I like.'
Kifle wants to become a lawyer when he finishes at the school. He says he will come back and support the students.
The students at Mekelle Blind school have benefitted so much from your generous donations and we are incredibly excited to see them grow up into strong confident leaders!
Anna Lord
Ethiopiaid UK
Monitoring Trip 2017- Dignity Period
Posted by Francesca Rutherford on Sunday 26th March 2017
Dignity Period works with young women in the Tigray region of Ethiopia providing them with reusable sanitary products. Menstruation, which is often a taboo and a source of shame across Ethiopia, often prevents girls from going to school out of fear of embarassment. With the help and support of Dignity Period, girls in Tigray can manage their periods with confidence, allowing them to focus on their education.
Rosina, aged 16. Mlat, aged 16. Mulu, aged 15 and Kasemneger, aged 16. In grades 9&10, at Adigudem Secondary School, Mekelle. All have now received leaflets and sanitary packs from Dignity Period. The girls take 4 modules each, for 6 months at a time and over a period of two years.
On arriving at Adigudem school we met with the new principal who helped to translate our questions to the girls.
Before Dignity's partnership with the school, the girls said they had no awareness of menstruation and had received no education on it. Unfortunately, all 4 girls had started their periods before they knew what they were. This is sadly all too common, as the girls would learn from the booklets given to them by Dignity. These booklets contain personal stories of girls as they discuss their own experiences of menstruation and the need to change the view of periods as 'taboo'.
Kasemneger told us that all four of them had stopped coming to school as a result of their periods; they felt dirty, ill-prepared and ashamed to attend classes - particularly with stained clothing a likely possibility.
Thanks to Dignity and Ethiopiaid's support, the girls can manage their menstruation hygienically and confidently. They know when to expect their periods every month and mark it on a calender. Furthermore, they now feel able to share awareness of menstruation with their families and will go out and buy pads from the shops for female relatives.
We asked what they wanted to do once they have finished school - now Dignity has helped them to focus more on their education:
Mulu: A lawyer
Mlat: A doctor
Rosina: An engineer
Kasemneger: A doctor
These girls will let nothing get in their way.
Anna Lord
Ethiopiaid UK
Ethiopiaid Monitoring Trip Diary 2017- DEWADA
Posted by Francesca Rutherford on Saturday 25th March 2017
Read what our team has beeen up to in the latest instalment of their Trip Diary.
On Tuesday we met with the team at DEWADA our partner in central Addis working to support elders living in abject poverty. In 2016 Ethiopiaid supporters helped 1071 elders and 200 vulnerable orphans cared for by their grandparents.
Messih the Project Coordinator took us to a Woreda's pension collection day (a Woreda is similar to a parish in the UK). Thanks to our donors support we were able to increase our funding last year so that the elders monthly pension could be raised from 120 Birr to 200 Birr a month (that's just £7). This has enabled them to provide more than just the one meal of bread that they had been able to afford peviously. Extra funds for clothing were also given so that elders could have a new set of clothes to replace their filthy garments and retain a little dignity.
As we drew up to the Woreda office, albeit a little later than planned, we were greeted by 250 elders and young grandchildren who had waited on the hot dusty paving for over 2 hours to meet us. As we stepped from the car they gave a communal cry giving thanks to Ethiopiaid's donors for the help they have given. The elders crowded around to proudly show us their new sets of clothing and shake our hands. I spot four toddlers gripping their grandmothers hands and hiding behind their skirts. It was so very moving to think that so little has made such a difference to the lives of these incredibly courageous people.
Sadly the ongoing drought has a far reaching impact and its affects are felt here in the Woreda. Messih tells me that the cost of staple foods such as fresh fruit, vegetables, cereals and oil has increased so much as a result that even he struggles to afford them, let alone the elders. It is clear that despite the smiles I am witnessing, many people are struggling just as much as before, with many being forced to return to having just one meal of bread a day. As we watch them leave to go about their daily business I am left pondering how we can encourage more of our donors to support them, especially in times of extra hardship.
Lisa Cousins, Ethiopiaid UK
Addis Ababa, 23rd March 2017
This is the fourth of several posts Ethiopiaid will be sharing after each partner visit while in Ethiopia. Every year, as part of our monitoring and evaluation process, the directors of Ethiopiaid Australia, Ethiopiaid Canada, Ethiopiaid Ireland and Ethiopiaid UK travel to Ethiopia to meet with our partners to make sure we are creating lasting and effective change and that your donations are well spent. Watch this space for more blog updates!

Our interview with Fistula Ambassador Natalie Imbruglia
Posted by Francesca Rutherford on Thursday 23rd March 2017
Last night we caught up with our Fistula Ambassador Natalie Imbruglia via a live Twitter interview.
We were delighted back in September when Natalie agreed to become our Fistula Ambassador, helping us to raise awarenss for this devestating, yet curable, childbirth injury. We asked Natalie why she wanted to get involved in our fistula work and to tell us about her own expereiences of visting Ethiopia.
When did you first become aware of obstetric fistula in Ethiopia?
I learnt about it in 2005 from Richard Branson. Virgin Unite took me on a field trip to Ethiopia and Northern Nigeria. I interviewed women suffering with the condition. I also interviewed the husbands, families and Emir's (spiritual leaders). I couldn't believe I'd never heard about Fistula when 2million women worldwide are suffering with this preventable treatable condition.
How has being a Fistula Ambassador changed you?
After that first field trip I could not forget about all those women suffering. I promised myself I would continue to shine a light on this issue and be a voice for them so they are not suffering in silence. As a woman it affected me deeply. I believe it's a woman's human right to be able to deliver their baby safely. It's all our responsibility to nurture and protect women and mothers around the world. Child birth should be a joyous occasion, a celebration of life, not the beginning of a life with fistula, which can tear apart the family unit.
What do you like most about being an ambassador?
I like giving people an opportunity to help themselves and using my profile to draw attention to matters that are close to my heart. I love getting to learn about other cultures. I now have more compassion for people and a respect for our differences. These women have inspired me. I'm also inspired by those who work tirelessly to help them. It makes me want to be a better person, to do more to help. My heroes are people like Catherine Hamiln, who founded the first fistula Hospital in Addis Ababa and Allison Shingo who founded Healing Hands of Joy in Mek'ele. Both of these women have dedicated their lives to helping women with Fistula.
Is there a story that has particularly touched you?
On my last field trip to Ethiopia to visit Healing Hands of Joy I met a woman who had been suffering with fistula for 22 years. We approached her with one of the Safe Motherhood Ambassadors who had gone through the program at HHOJ. She had already had a successful fistula surgery, been educated and reintegrated into society. I watched this women inspire the other to finally come forward and have the courage to seek help. The women who had been suffering for 22 years went on to have fistula surgery. When we support each other we can find courage we didn't know we had. This woman's life was given back to her. This really touched me.
Why do you support Ethiopiaid?
Ethiopiaid has partnered with the Ethiopian Government on their Campaign to Eradicate fistula by 2020 in Ethiopia. I'm really excited about this campaign and I wanted to be part of the amazing work that Ethiopiaid is doing to help these women.
What other charities do you support?
My main focus is women with fistula; I support Virgin Unite, Ethiopiaid and Healing Hands of Joy. But as its World Water Day (22nd March) I should draw your attention to Drop4Drop who do amazing work around the world to ensure people have clean drinking water.
I also support Big Change whose mission is to transform the way we support the next generation. You should check out their site.
What do you hope for the future of maternal health?
My hope is that women all over the world will be supported to deliver their babies safely. There are already solutions, we just need to work together with the governments and Emirs to make this happen sooner rather than later. Ethiopia is on its way to making this a reality my hope is it that other countries will follow their lead.
Who has inspired you?
My mother and father have inspired me by working full time jobs and raising 4 strong powerful women! I will forever be grateful for the sacrifices they made for us. As I mentioned earlier, Catherine Hamlin and Allison Shingo inspire me because they have dedicated their lives to helping women with Fistula. Richard Branson has also inspired me, not only is he a successful business man, he is an amazing father who has instilled great values in his children. If it wasn't for Richard and Virgin Unite I would never have known about women with fistula.
Have you ever been to Ethiopia? What do you like about the culture?
I have such fond memories of Ethiopia. My first visit was to The Hamlin Fistula Hospital in Addis Ababa. It was so impressive and the staff were so loving to all the women being treated. When a woman there is repaired of fistula they all sing a song and they present her with a new dress. I will never forget seeing the joy on their faces, to finally be dry after so much suffering. It was fantastic. The people were very graceful and friendly and I loved the food!!! On my last trip I saw some beautiful lush landscape. I definitely want to go back.
If there was a person from history you could follow on social media who would it be?
Oscar Wilde … for his Wit!
Who's your favourite person to follow on Instagram?
I have so many but I love Mattdraperphotography for his underwater photography. His pictures take you to another world, just stunning.
A big thank you to Natalie for giving up her time to talk to us, we look foraward to working with you!
Ethiopiaid Monitoring Trip Diary 2017 - Our Partners
Posted by Natacha Soto on Thursday 23rd March 2017
Be the Change you want to see
Today I completed the visits to Ethiopiaid Ireland's partners in Ethiopia: AWSAD, the Hamlin Fistula Hospital, Hope Enterprises and Cheshire Services opened their doors to Ethiopiaid and made us feel welcome every step of the way.

Today I also read the United Nations Development Programme's latest Human Development Report: 'Human Development for Everyone', which was released on March 21. The report shows that in almost every country, several groups face disadvantages that often overlap and reinforce each other, increasing vulnerability, widening the progress gap across generations, and making it harder to catch up as the world moves on. Principally women and girls, newborns and school-age children, rural dwellers, indigenous peoples, ethnic minorities, people with disabilities, migrants and refugees, and LGBT communities are among those systematically excluded by barriers that are not purely economic, but political, social and cultural as well.
The Human Development Index measures the average achievements in a country in three basic dimensions of human development: a long and healthy life, education, and a decent standard of living. Ethiopia still ranks low at 174th out of 188: this means there are still many challenges the most vulnerable in the modern Ethiopian society face on a daily basis.
What I witnessed in the last few days is local organisations working hard to reach and serve the most vulnerable, the poorest of the poor:
AWSAD supports victims of gender-based violence and discrimination, harmful traditional practices and exploitation.
The Hamlin Fistula Hospital is dedicated to the treatment and prevention of childbirth injuries called obstetric fistulas: a condition that can lead to severe infections and paralysis caused by nerve damage.
Hope Enterprises operate two feeding programmes for people living on the streets of Addis Ababa and Dessie (both children and adults), seven elementary schools, five high schools, numerous vocational training and adult literacy programs throughout Ethiopia.
Cheshire Services provide orthopaedic and social rehabilitation services for children and young people with disabilities also throughout Ethiopia.
Salem (hello) and a smile were on every person I met. The testimonies we heard were heart-breaking to say the least. Nevertheless they thanked us infinitely for the support we provide, they know they now have the opportunity of a better life, an opportunity they never thought it was available to them and they will make the most of it.
The people and the work I had the honour to witness are a sign of hope for all those who are mostly affected by the inequalities of the modern world and we are thankful for all the support of our donors, who through the provision of funding to our partners, are very much participative of the change we are enabling in the Ethiopian society.
Eufemia Solinas, Ethiopiaid Ireland
Addis Ababa, 22nd March 2017
Pictured above:
Eufemia, the team of Cheshire Services and visitors during visit at Menaghesa Centre / Tailoring Vocational Training for young mothers run by Hope Enterprises at Addis Ababa branch.
This is the third of several posts Ethiopiaid will be sharing after each partner visit while in Ethiopia. Every year, as part of our monitoring and evaluation process, the directors of Ethiopiaid Australia, Ethiopiaid Canada, Ethiopiaid Ireland and Ethiopiaid UK travel to Ethiopia to meet with our partners to make sure we are creating lasting and effective change and that your donations are well spent. Watch this space for more blog updates!
Ethiopiaid Monitoring Trip Diary 2017 - AWSAD
Posted by Natacha Soto on Tuesday 21st March 2017
A warm welcome in Ethiopia

It is not every Monday morning that you have the opportunity to meet amazing people doing amazing work. And it is not every day you get to meet wonderful women, who are showing determination, bravery and real hope for the future even through some of the most devastating experiences life could bring.
The first partner I got to meet during my very first visit to Ethiopia is AWSAD, the Association for Women's Sanctuary and Development. AWSAD runs a crisis centre for women and girls in Ethiopia, providing a refuge for victims of gender-based violence and discrimination, harmful traditional practices and exploitation. They also offer legal advice, health services and vocational training, as well as delivering training to community and government institutions, such as the police forces, to enhance their capacity of providing quality services to victims of gender-based violence and exploitation of women and girls.
Maria, founder and director made us feel welcome since the moment we crossed their gate: water, tea and biscuits accompanied a thorough presentation of the work of the organisation during 2016, together with its successes, such as the opening of new safe houses outside of Addis Ababa, but also with the endless challenges they face when providing a multi-faceted service to young girls and women, who have been affected by violence.
We were then honoured to be welcomed in one of the safe houses, where we were introduced to three young survivors, who very kindly shared their heart-breaking stories. It is hard to imagine a world where anyone has to endure such level of pain, violence and abuse – but it is a reality, and that is why there is such demand for the services AWSAD provides. Currently their safe houses are at full capacity and more – the one we visited hosts 79 women and 37 young children. Numbers confirms that there is no denying they need ongoing support.
Even through life hardships, the group of young children and women welcomed us with dances, singing, a beautiful coffee ceremony, a hand-made card from the young children who attend classes in the house and few hand-made presents by the very same women we seek to support.
The spirit and genuine warmth was overwhelming, nevertheless I felt truly uplifted. A feeling that is accompanied by the certainty that Ethiopiaid support to AWSAD is truly in aid of some of the most vulnerable people in Ethiopia and it is a partnership we are very proud of.
Eufemia Solinas, Ethiopiaid Ireland
Addis Ababa, 20th March 2017
Pictured above:
Olivier Bonnet (Ethiopiaid Canada), Eufemia Solinas (Ethiopiaid Ireland) and Lisa Cousins (Ethiopiaid UK) Directors with Maria Munir (AWSAD), during visit at AWSAD. / Tailoring Vocational Training for young women run by AWSAD.
This is the second of several posts Ethiopiaid will be sharing after each partner visit while in Ethiopia. Every year, as part of our monitoring and evaluation process, the directors of Ethiopiaid Australia, Ethiopiaid Canada, Ethiopiaid Ireland and Ethiopiaid UK travel to Ethiopia to meet with our partners to make sure we are creating lasting and effective change and that your donations are well spent. Watch this space for more blog updates!
Ethiopiaid Monitoring Trip Diary 2017 - Arrival
Posted by info@ethiopiaid.ca on Sunday 19th March 2017
Diary Entry from Canada:
It's a bit tough leaving behind our Canadian winter in the middle of the night, and arriving in Addis in the early morning hours after 15 hours of flying and an 8 hour time difference! Some emotions as I step once more on the continent in which I was born. Between the airport and hotel, the city is just waking up, and it is summer in Ethiopia. The bougainvillea and hibiscus are in flower, it is sunny, the air is full of unfamiliar bird songs and the soft sounds of Amharic language. There are smiling faces to greet me.
As expected I did see many groups of soldiers, men and women, carrying old Kalashnikovs and batons, stationed along the main arteries. They were not there last year. The state of emergency declared last October was expected to end this month, but it has been prolonged. The soldiers' blue uniforms are visible, but they seem laid back, sitting in the shade, not on high alert. It is morning rush-hour, the shops and cafes are opening, streets are bustling and there are people everywhere. I am happy to find fruits and vegetable stalls carrying a bright and wide variety you simply cannot find during winter in Canada.
This evening, I took a stroll to close-by Medane Alem Church. My colleagues from the UK and Ireland are arriving tomorrow. I will read up on our partner's latest reports to prepare the visits to our partners next week. I look forward to my meetings at Hamlin Fistula Hospital on Monday, where we are set to meet Dr Tesfaye, the new CEO who was appointed 9 months ago. I may even have the opportunity to meet Dr Hamlin herself.
I also look forward to meeting the youth graduates we supported for vocational training this past year, as well as some of the women from the first tailoring training project - all run by our partner Hope Enterprises.
Olivier Bonnet
Ethiopiaid Canada
This is the first of several posts Ethiopiaid will be sharing after each partner visit while in Ethiopia. Every year, as part of our monitoring and evaluation process, the directors of Ethiopiaid Australia, Ethiopiaid Canada, Ethiopiaid Ireland and Ethiopiaid UK travel to Ethiopia to meet with our partners to make sure we are creating lasting and effective change and that your donations are well spent. Watch this space for more blog updates!
Mar 2017
We're headed to Ethiopia!
Posted by Francesca Rutherford on Friday 17th March 2017
A year has passed and it is time to head to Ethiopia for our annual partner visits! On Sunday 19th March, Lisa Cousins (Executive Director ) and Anna Lord (Fundraising Manager) departed for Addis Ababa, Ethiopia's capital city. They have 10 busy days ahead of them, armed with questions for our partners, and a camera to capture what they see. This trip is all about connecting with projects on the ground and seeing how the pounds you have donated to Ethiopiaid are being spent. If you have a burning question about one of our projects or for a specific partner that you would like answered, send us a message here.
Watch this space for our upcoming trip diary!
Mar 2017
Emergency Relief 2017
Posted by Francesca Rutherford on Tuesday 14th March 2017
East Africa is in the grip of a critical humanitarian crisis. Many have already died and millions more are at risk of starvation.
Back-to-back droughts have already left over 5 million people in Ethiopia suffering from extreme hunger.
Wat we are doing to help:
Last year the donations you gave created a safety net for thousands of vulnerable people facing starvation. Since then we have been closely monitoring the situation with our partner Afar Pastoralist Development Association (APDA). But now the situation is escalating again.
The communities you helped last year are just about surviving and APDA are tirelessly working to keep the safety net in place.
In the last few weeks APDA has identified a further 15,000 children under the age of 5 and 25,000 pregnant or breast feeding women who are now suffering severe malnutrition. The situation is deteriorating rapidly and we need to act now to provide the emergency aid they so desperately need.
While Ethiopia battles the continuing impact of last year's El Niño-induced drought, again, failed rains in the southern and eastern parts of the country have led to new symptoms of drought. Many have been unable to rebuild their livestock herds, struggling to control disease outbreaks and remain reliant on water trucking.
In the last 24 months you helped raise over half a million pounds for our partners in the Afar region so that they could support vulnerable communities unable to reach the government's aid distribution points. Thousands of people have been supported through water trucking, well boring, food aid, livestock, hygiene programmes and medical care. But more funding is urgently needed to ensure that they can survive the next 6 months.
With your help we can, again, provide the emergency relief needed.
APDA's health workers are vital in ensuring aid gets where it is most needed. They travel huge distances on foot for 15 days at a time, visiting households to conduct nutrition surveillance, treat immediately those identified with malnutrition and give awareness on hygiene and disease prevention. The government, UNICEF and the World Food Programme rely upon APDA's health workers to get vaccinations and malnutrition supplements to remote communities across the Afar region.
In just 15 days one health worker can reach and treat 150 severely malnourished and vulnerable people. It costs £45 to keep a health worker in the field and provide medicine for 30 people.
We are asking you to give what you can today. We can't express enough the gratitude I feel for your ongoing support and generosity.
Ethiopia Drought 2017 FAQ's:
What is the Ethiopian Government doing?
The Ethiopian Government is calling on the UN and international community to assist 5.6 million people, whose lives, livelihoods and well-being depend on our support. The Ethiopian Government has pledged $47.35 million, leading the emergency response, but a total of $948 million is needed.
What happened to the goats Ethiopiaid donors bought last year?
Throughout the last year we have been providing our partner APDA with funds for animal feed and veterinary medicine to keep the goats alive and continuing to support the families and communities.
Running water pipes and drilling boreholes is extremely expensive and difficult. There is a lack of supporting infrastructure, such as roads, to bring in equipment and the geology of the land requires expertise difficult to find in Ethiopia. The government relies on foreign NGO's to provide wells but with these projectscost often in excess of $1million, progress has been slow. Further issues with boreholes are also common, climate change can mean boreholes dry up and having the skills and finances to maintain wells is difficult.
Why do droughts keep happening?
Ethiopia is particularly susceptible to droughts being a landlocked country with a vast and, in many regions, difficult terrain. Although over many decades infrastructure has been put in place and has changed the lives of those living in those locations, many regions and lifestyles are severely vulnerable to climate change. Changes to traditional weather patterns, failed seasonal rains, El Nino and back to back droughts have lead to regions, such as the Afar, being on the brink.
Why do health workers travel on foot?
Many settlements in the Afar region are remote and dispersed. No roads connect the family dwellings and vehicles are expensive, unreliable and badly equipped for the landscape. Progress on foot is slow but more flexible and reliable.
Why don't families and communities move to regions where there is water?
Over many decades Ethiopia seen much internal displacement, in times of drought and famine families and communities do migrate to other parts of the country and even cross borders in search of water, food and grazing land for livestock. However many people, the most vulnerable we are supporting, are not able to relocate. The elderly, disabled, pregnant women and young children are unable to make the long journeys, on foot, over the rough, hostile volcanic landscape, with no vehicles, food, money and even shoes. These families are often left behind while the men go in search of water, food and work. The families are left to wait it out.
Press release:
You can download our press release here. For more information or interviews you can contact: Francesca Rutherford, 01225 476385, francesca@ethiopiaid.org.uk

Mar 2017
International Women's Day - Be Bold for Change
Posted by Francesca Rutherford on Tuesday 7th March 2017
On Wednesday March 8th 2017, we honour this year's International Women's Day.
Recent events, all over the world, have taught us that now, more than ever, it is important to speak out for the empowerment of women and encourage them to lead positive change in global development.
Ethiopiaid works with trusted Ethiopian organisations to help their people to break the cycle of poverty. All of these partners – in various ways - seek to make life better for women. Many also have local, female project staff who work closely with women and girls to shape their programmes of intervention; to tailor activities to each woman's specific needs, enabling them to realise their potential.
As important and inspiring as all of Ethiopiaid's beneficiaries are, I wanted to use this post (and International Women's Day) to celebrate the hard-work and achievements of two truly remarkable Ethiopian women: Maria Munir and Dr Mulu Muleta. I was lucky enough to meet Maria when I last visited Ethiopia (here she is below, pictured with Ethiopiaid's Chair of Trustees Alexandra Chapman)
Both Maria and Dr Mulu fearlessly lead their respective charitable organisations to be bold for change in their country.
Former High Court Judge, Maria Munir, co-founded the Association for Women's Sanctuary and Development (AWSAD). AWSAD began its work in 2003, after Maria and a small group of her fellow lawyers had been providing female survivors of gender-based violence with a pro bono legal advice service to bring their perpetrators to justice. They recognised however that once women had received legal support, they still worried about how to feed and provide shelter for themselves and their children. As a widow, Maria had a particular understanding of the difficulties of being a single mother.
In response AWSAD was established, providing a holistic service to help vulnerable women to recover and rebuild their lives – alongside legal advice, this included residency at a safe house, food, medical care and skills training for income generation. Maria explained:
"The basic services are there, so women have time to think about what they want in the future... services like counselling are there to support her to decide what she wants to do. The different components of the safe house allow women to become economically and socially empowered."
Munir has been nationally recognised for providing legal aid to more than 8,000 women. She has travelled widely to promote women's rights; encouraged participation of women in elections; advocated for the revision of the family and penal code and pension regulation and provided paralegal training across Ethiopia.
Dr Mulu Muleta (pictured in surgery, right) oversees the work of the Women's Heath Alliance (WAHA) International Ethiopia. The organisation partners with three university teaching hospitals to run clinics across the following regions in Ethiopia: Adama, Jimma and Gondar. Alongside the training of the next generation of surgeons, the hospitals provide free obstetric fistula operations to some of Ethiopia's most marginalised women; relieving them of pain, discomfort and stigma and providing follow up care and emotional support. Dr Mulu is an obstetrician and gynaecologist, who previously worked at the Hamlin Fistula Hospital. She was inspired to take up medicine after her mother was involved in a serious car accident when Mulu was a teenager. Her father was a farmer and worked hard to send her to school as he wanted her to fulfil her potential, Mulu told us:
"[My father] was very aware of the importance of girls' education and overall of women's emancipation"
Despite this support, Mulu was initially unsure as to whether she was capable:
"I didn't know that a girl could be a doctor"
But she was more than capable. When she graduated from medical school, Mulu was just 23 years old: the youngest doctor in the country's history. In 2009, Mulu received an award from International Federation of Gynecology and Obstetrics in recognition of her lifetime services to women's health.
Together, especially on International Women's Day, we must join Maria and Mulu's examples in tirelessly striving to ensure that women have a chance to fulfil their potential.
Anna Lord
Ethiopiaid Fundraising Manager
To support the work of Ethiopiaid, and enable more women to be bold for change please donate.
Introducing our new Ambassador for Fistula… Natalie Imbruglia!
Posted by Francesca Rutherford on Thursday 9th February 2017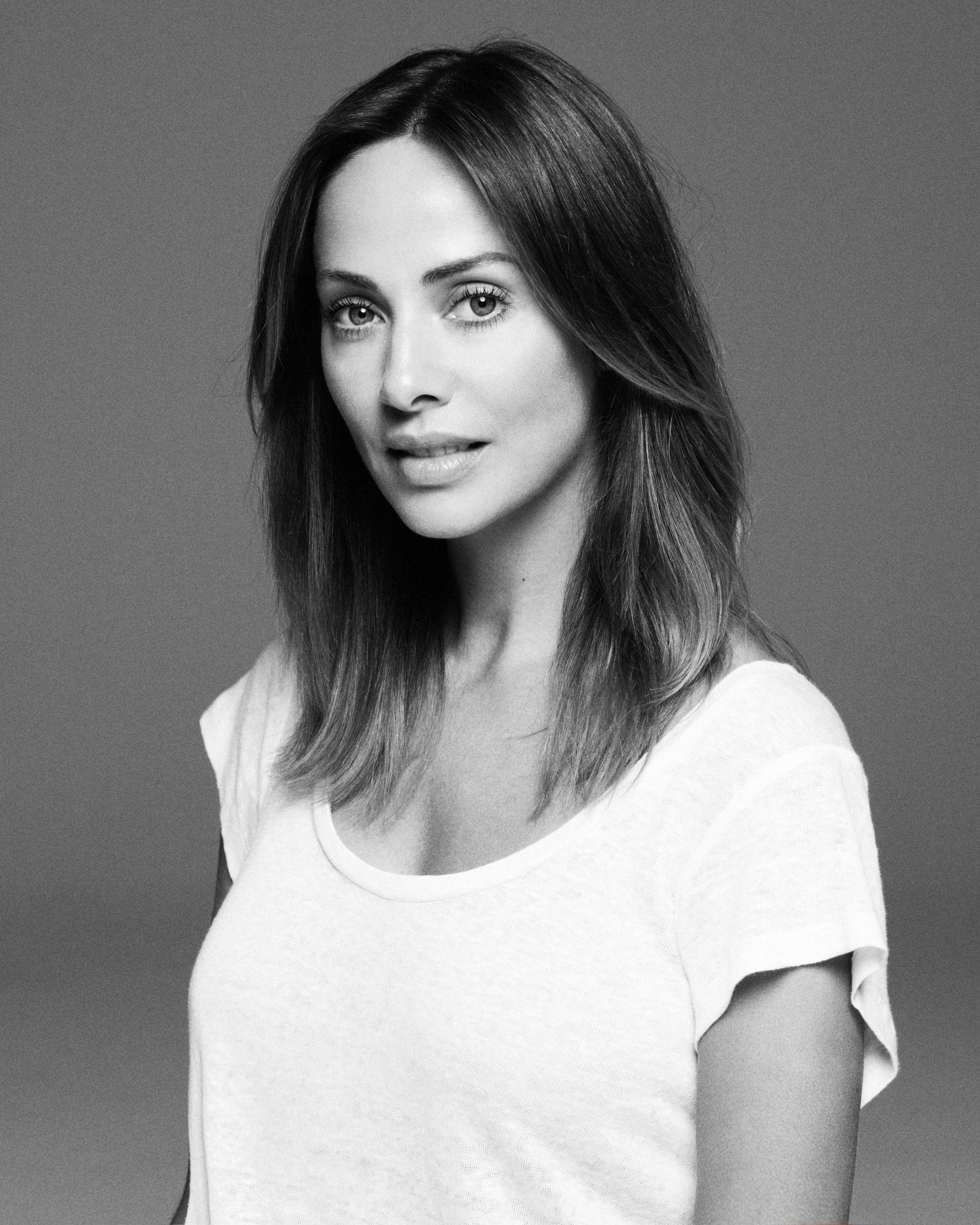 We are delighted to announce that Natalie Imbruglia has agreed to become our Ambassador for obstetric fistula, helping us to raise awareness of this devastating childbirth injury.
Natalie is an Australian-British singer-songwriter, actress, model, and philanthropist. Her charity work is extensive and we are really pleased to have her support for our important work. As an ambassador for Virgin Unite – the charitable arm of the Virgin Group – Natalie supports campaigns to end poverty and to raise awareness for the eradication of obstetric fistula. In 2005, Natalie visited fistula hospitals in Ethiopia and Nigeria with representatives from UNFPA – the United Nations Populations Fund – and Virgin Unite. Deeply moved by the suffering these women endure, she felt she needed to become more involved in the fight against fistula.
"For some people, fistula is a difficult issue to talk about. But that discomfort pales in comparison to what women living with fistula face every day," Imbruglia says. "I don't want to be part of the silence. I want to do everything I can to make a difference in these women's lives." To hear Natalie talk more about obstetric fistula, please watch the video below:
In 2009, along with fistula survivor Sarah Omega Kidangasi, Natalie addressed the Economic and Social Council of the United Nations to call attention to obstetric fistula, a childbirth injury that results in prolonged pain, incontinence, and social exclusion. She spoke to 400 attending ministers, detailing the condition, as well as how treatable it is.
"Obstetric fistula was eliminated here in Europe and the United States more than 100 years ago," said Imbruglia. "It's unacceptable that women and girls in developing countries are still suffering from this entirely preventable and treatable condition."
She has fundraised and lent her voice and energy to ending obstetric fistula. She has contributed to the Department for International Development's blog, outlining the devastation caused by fistula, as well as its negative impact on developmental progress. To read the full blog, please click here.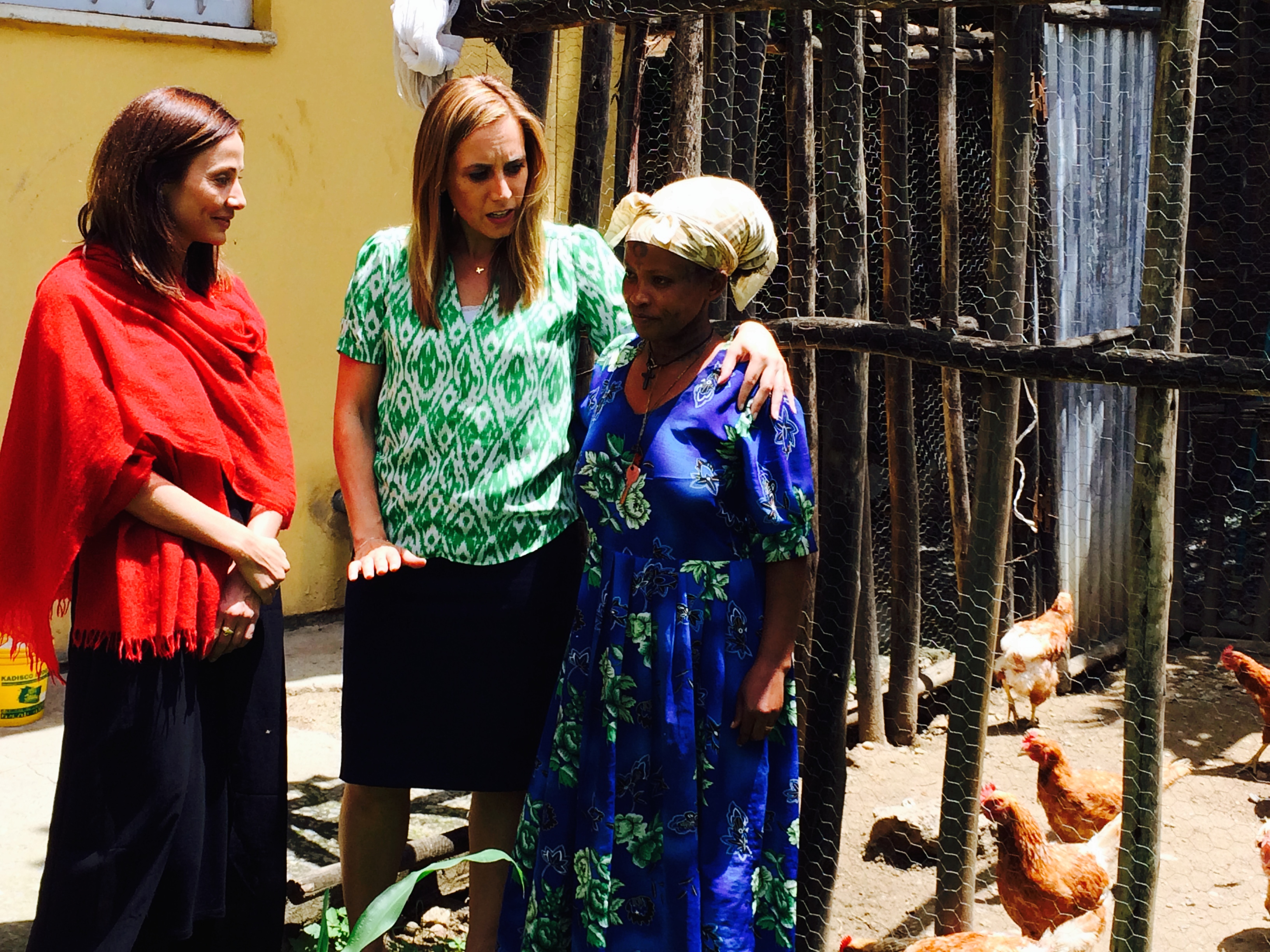 Natalie's work is crucial in terms of raising awareness of the condition. Every minute, a woman dies needlessly in pregnancy or childbirth, and for each of these women, 20-30 women suffer a serious birth injury. Obstetric fistula is a treatable condition, and we cannot let any more women to suffer.
Ethiopiaid's partners in Ethiopia – Hamlin Fistula, Healing Hands of Joy, and the Women and Health Alliance International – work tirelessly to create lasting change on the ground. Together we aim to make great strides towards eradicating obstetric fistula for good. But we need your help to reach the many thousands still living in isolation and shame and to prevent this happening to more women. Please donate here:
Meet Noor, a Noma survivor
Posted by Francesca Rutherford on Wednesday 8th February 2017
Alex Chapman, Chair of Trustees
During my most recent visit, I was lucky enough to join one of the complex surgical missions where surgeons, anaesthetists and nurses from the UK and Ireland volunteer their expertise to operate on victims of Noma and others suffering severe facial disfigurements. Here, I met Noor.
Noor
Noor is a remarkable young man I met on my trip. He had survived Noma and had been left with a significant disfigurement on the left hand side of his face. Unlike many other Noma survivors, twenty-five year old Noor had managed to stay in school and is currently studying Computer Science.
Before his operation we spoke together for some time. His command of English was fairly good and it was clear that he was determined to make a good life for himself despite what had happened to him. He explained to me that he had been told his condition was gangrenous so he had used a computer to research the word and discovered he had Noma. After further research, he found out about the complex surgical missions organised by one of our partners and travelled three days by bus to reach their team in Addis.
Noor had received previous surgery elsewhere when skin from his tongue had been taken to repair his lip and the hole in his face. Unfortunately, the operation had been done poorly and had left him with terrible scar tissue which would be impossible to repair.
Noor's surgeon explained to me that this is a common problem. Noma survivors are so desperate that they seek help from poorly-qualified doctors or resort to traditional healers. One particular healer is known to use Sulphuric acid to try and 'cure' the Noma, with horrific consequences.
Later that morning I was invited into the operating theatre to watch Noor's surgery. It was called 'Radial Artery Free Flap'. Two surgeons worked together to cut out the Noma damage and scar tissue around the mouth and replace it with a flap taken from Noor's arm. The operation took 6 hours, and witnessing it was not for the faint-hearted! But I was fascinated to see the surgeons deftly navigating arteries, tendons and muscles to rebuild Noor's face with such skill and craftsmanship.
That evening, I returned to the ward to see Noor. Although he was still groggy from the anaesthetic and swollen, he seemed very pleased with the outcome. As I left Noor, I couldn't help wondering what the future will hold for him. Returning home with a new face will give Noor new confidence and opportunities, and judging by his tenacity and determination to find himself help in the first place, I am sure he will go far.
Noor spent a month receiving post-operative care, before taking the long bus journey home. Just recently we heard that Noor has settled back into his life and is healing well. The operation was a lifechanging success.
International Day of Zero Tolerance to FGM
Posted by Francesca Rutherford on Wednesday 1st February 2017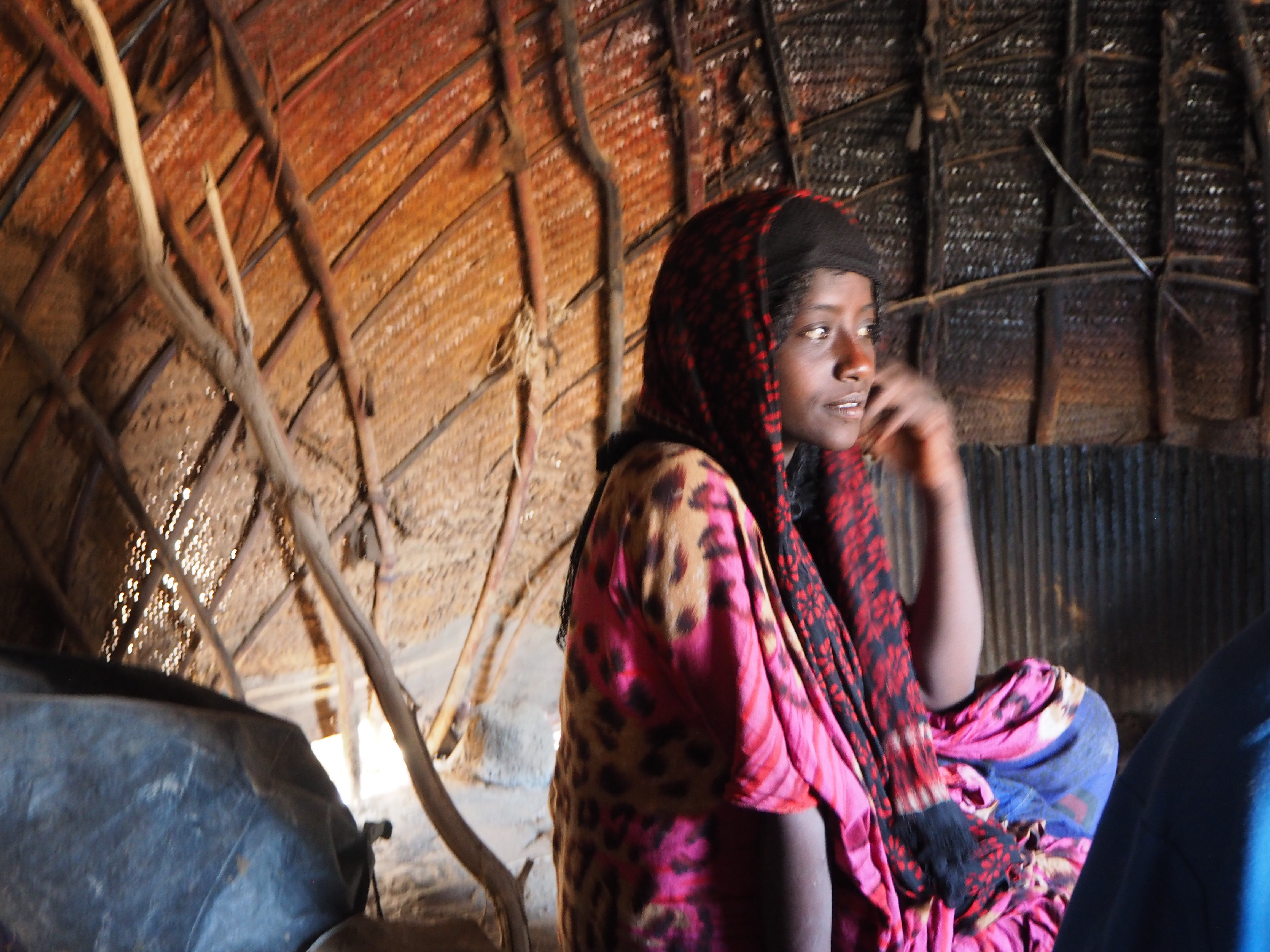 "The Sustainable Development Goals contain a specific target calling for an end to FGM. When this practice is fully abandoned, positive effects will reverberate across societies as girls and women reclaim their health, human rights and vast potential."
— UN Secretary-General of the United Nations, António Guterres
Female genital mutilation (FGM) involves the performance of procedures that involve altering or injuring the female genitalia for non-medical reasons; these procedures often differ with ethnic group and can include the ritual removal of some or all of the external genitalia. The consequences of such violation can be severe: infections, cysts, complications during childbirth, and fatal loss of blood.
Globally, it is estimated that at least 200 million girls and women alive today have undergone some form of FGM. If current trends continue, 15 million additional girls between ages 15 and 19 be subjected to it by 2030.
FGM is considered an important part of a society's culture or identity, and is often carried out by women who have also been cut. For them, it is an honour, and they are afraid to confront the social exclusion that results from not cutting their daughters. It can be difficult for families to decide against having their daughters cut because of these societal, as well as religious, pressures. The act is recognised as a violation of the human rights of girls and women, the result of entrenched inequality between the sexes. It violates their health and security, and their right to be free from torture and degrading treatment. As the procedure can result in death, it also violates their right to life.
Countries with the highest prevalence among girls and women aged 15 to 49 are Somalia 98%, Guinea 97%, and Djibouti 93%. As of 2013, 23.8 million women in Ethiopia have been victim to FGM.
To promote the eradication of this harmful traditional practice, we must make systematic efforts to engage with the entire community – men and women – to alter perceptions of the practice, emphasis societal dialogue, and empower communities to act and protect the rights of women and girls. These efforts must also address the sexual and reproductive health needs of the victims of FGM, as its consequences can be dire.
FGM is mostly carried out on young girls sometime between infancy and age 15. It can cause severe bleeding and health issues including cysts, infections, infertility as well as complications in childbirth increased risk of newborn deaths.
In 2012, the United Nations General Assembly unanimously adopted the first-ever resolution against female genital mutilation, calling for intensified global efforts to eliminate the practice. The United Nations Population Fund (UNFPA) attempts to eradicate FGM on a global scale; the programme operates on seventeen African countries and also supports regional initiatives. In keeping with the Sustainable Development Goals - under Target 5.3 which calls for the elimination of all harmful practices – the UN and UNFPA are attempting to improve the lives of women around the globe by eliminating this practice.
WHERE WE COME IN...
The Afar Pastoralist Development Association (APDA) is our trusted partner working to eradicate female genital mutilation (FGM) in the Afar region of Ethiopia. In 2016, APDA were able to overcome a series of challenges to provide their care. Working in the most severely affected drought region in Ethiopia, APDA's women extension workers gave the community the capacity to cope with these difficulties, including drought, flooding, and disease outbreak.
These workers also continued their efforts to raise awareness and encourage clan leaders to stop harmful practices. They engaged local level religious leaders and witnessed productive conversations regarding the dangers of cutting and the benefits of educating and training women. A community radio station has helped deliver important messages regarding FGM as well as early marriage. They also work to persuade FGM practitioners to publicly reject the practice and undertake new professions, and train traditional birth attendants to actively discourage FGM, counsel expectant mothers, and conduct post-natal check-ups. APDA also seeks to educate families on the multiple health issues faces women and girls. Despite these vital changes, there is still more work to do.
OUR SUCCESSES...
In 2016, approximately 50,000 women were made aware of the risks of FGM and were supported and/or received counselling
The number of female extension workers has now increased to 30, meaning an even wider area can be reached
A new community radio service was set up in the Afar region with clear messages about the need to stop harmful practices, especially FGM and early marriage
Dining Hall Project
Posted by Francesca Rutherford on Thursday 26th January 2017
We have been partnered with Hope Enterprises for over twenty years. They give street children and vulnerable young people a way out of poverty and the confidence for a better and brighter future. In 2016, in collaboration with Hope Enterprises, we achieved many successes:
819 students passed exams across all Hope secondary school sites
950 students provided with school lunches
850 beneficiaries of the daily street children's breakfasts were served over 300,000 meals
79,000 lunches served for destitute, children, teenagers, and adults
Most recently, Hope Enterprises have completed a new dining hall. Thanks to our generous supporters, Hope Enterprises have been able to feed the minds and stomachs of thousands of chidren and young people. Children in their schools are receiving a quality education, helping them to build the foundations for a prosperous future.
Earlier in 2016, our generous donors enabled us to respond to an urgent request to replace a dangerous and dilapidated dining hall at Hope's school in Addis Ababa.
Before - the shed originally held poultry
The buildings had originally been poultry sheds, before a lack of space meant their re-appropriation as dining halls for the children. The buildings were cramped, dirty, and not fit for purpose - they needed replacing many years ago. Fortunately, Ethiopiaid were able to rpovide the school with the funds for two new purpose built dining halls for the whole school to use.
Building started while the students were on summer holidays and we are pleased to report that they are now complete. Having a nutritious lunch in safe surroundings enables students to concentrate and ultimately achieve more. We are delighted with the completion of this project.
After - the finished result
12 Facts You Need to Know about Ethiopia!
Posted by info@ethiopiaid.ca on Thursday 19th January 2017
As an NGO that supports work in Ethiopia exclusively, we thought we should share some facts about the very country whose change and progress we are most humbled to be part of! We guarantee you'll find at least 3 of the following 12 facts interesting (sorry, no refunds!).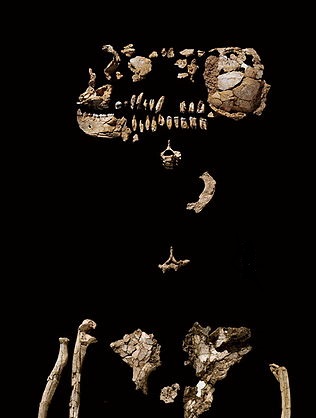 #1 Coming in at 4.4 million years, Ardi is the oldest hominid ever to be discovered, followed by Lucy at 3.2 million years old- making Ethiopia the birthplace of Humankind! As an aside, Ardi was discovered by Ethiopian Paleoanthropologist, Yohannes Haile-Selassie.[1],[2] Image: Ardi. Source Wikipedia- Ardi.
#2 Standing tall (literally) at 2,400 metres, or 8,000 feet, Addis Ababa is the highest capital city in Africa and the third highest capital in the world.[3] Image: Bole, Addis Ababa. Source: addisababaonline.com
#3 In the classroom, we're almost even, boys and girls! In grades 5-8 the ratio of girls to boys is now at 97%, almost 1 girl for every boy in class! Though this number is improving at other grade levels as well, the quality of education has been declining. We know it's happening, and the government is making efforts to reverse it![4],[5] Image: Happy learning at Hope Enterprises in Ethiopia! ©Ethiopiaid
#4 A pillar of strength, Ethiopia is the only country in Africa never to have been colonized, although this was attempted twice by Italy. However, some delicious Italian influence remains, like macchiatos, pasta and pastries. Image: Statue of the Lion of Judah taken against the Ethiopian National Theatre. A symbol of Ethiopian freedom erected for the coronation of Haile Sellassie I, stolen by the Italians and placed in Rome, in 1935. It was finally returned to Addis Ababa in the 1960s. © Jennifer Naidoo
#5 Here's a feel-good quote from the World Bank (2016) we think belongs in this list: "Over the past two decades…primary school enrolments have quadrupled, child mortality has been cut in half, and the number of people with access to clean water has more than doubled."[4] Image: Clean Water in Ethiopia. ©Charity:Water
#6 "13 months of Sunshine": Ethiopia runs on a 13 month Julian calendar. Today, January 19, 2017 is 11 Tarr, 2009 in Ethiopia. Interesting, right? Image: January 19, 2017 from ethiopiancalendar.net.
#7 Despite early marriage being outlawed, Ethiopia still has one of the highest rates of child marriage in the world, with 16% of girls married before the age of 15 and 41% married before the age of 18.[6] We'll expand on this serious challenge in coming blogs!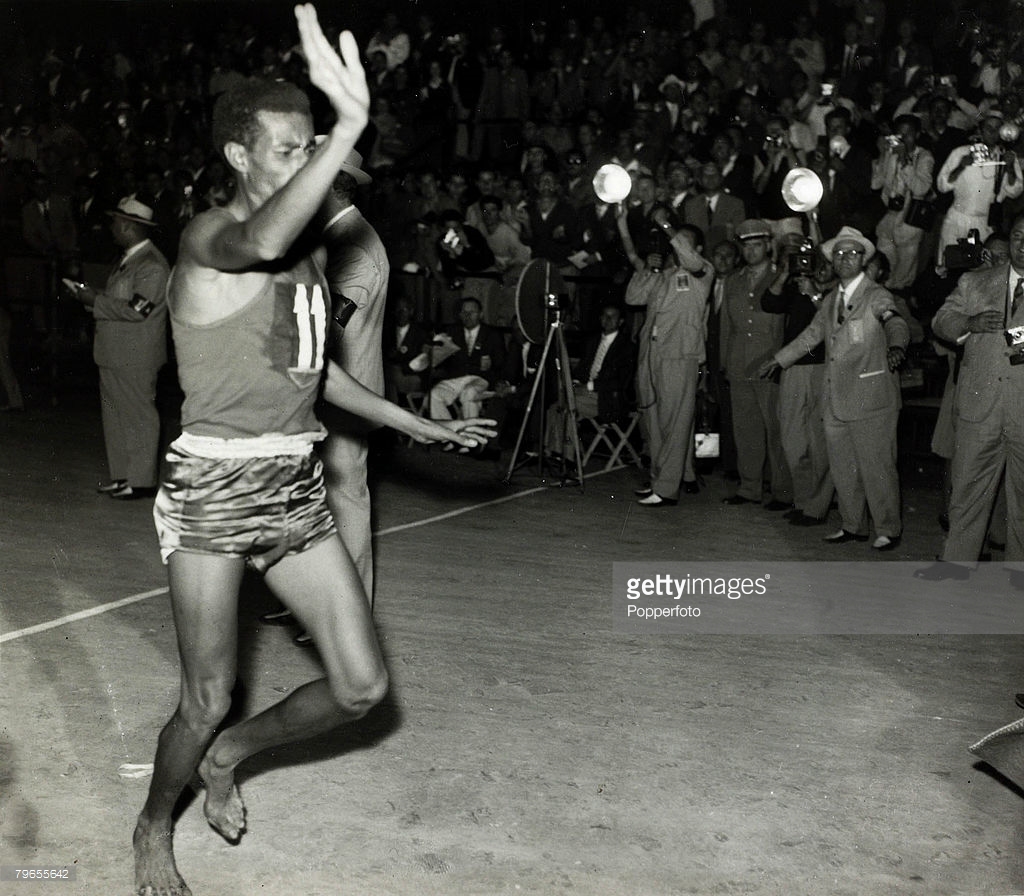 #8 The first African ever to win Gold in the Olympic Games was Ethiopian runner Abebe Bikila. He ran the race barefoot![7] Check him out here: https://www.youtube.com/watch?v=w_Nygi01VqI
#9 While Ethiopia is one of the oldest countries in the world, it was also one of the first countries to sign the Charter of United Nations. Ethiopia is currently home to the Headquarters of the African Union. Image: The African Union HQ in Addis.
#10 Ethiopia's official language is Amharic. In addition to this, there are 88 individual languages spoken, with English being the main foreign language taught in schools.[8] Image: Map of Ethiopia.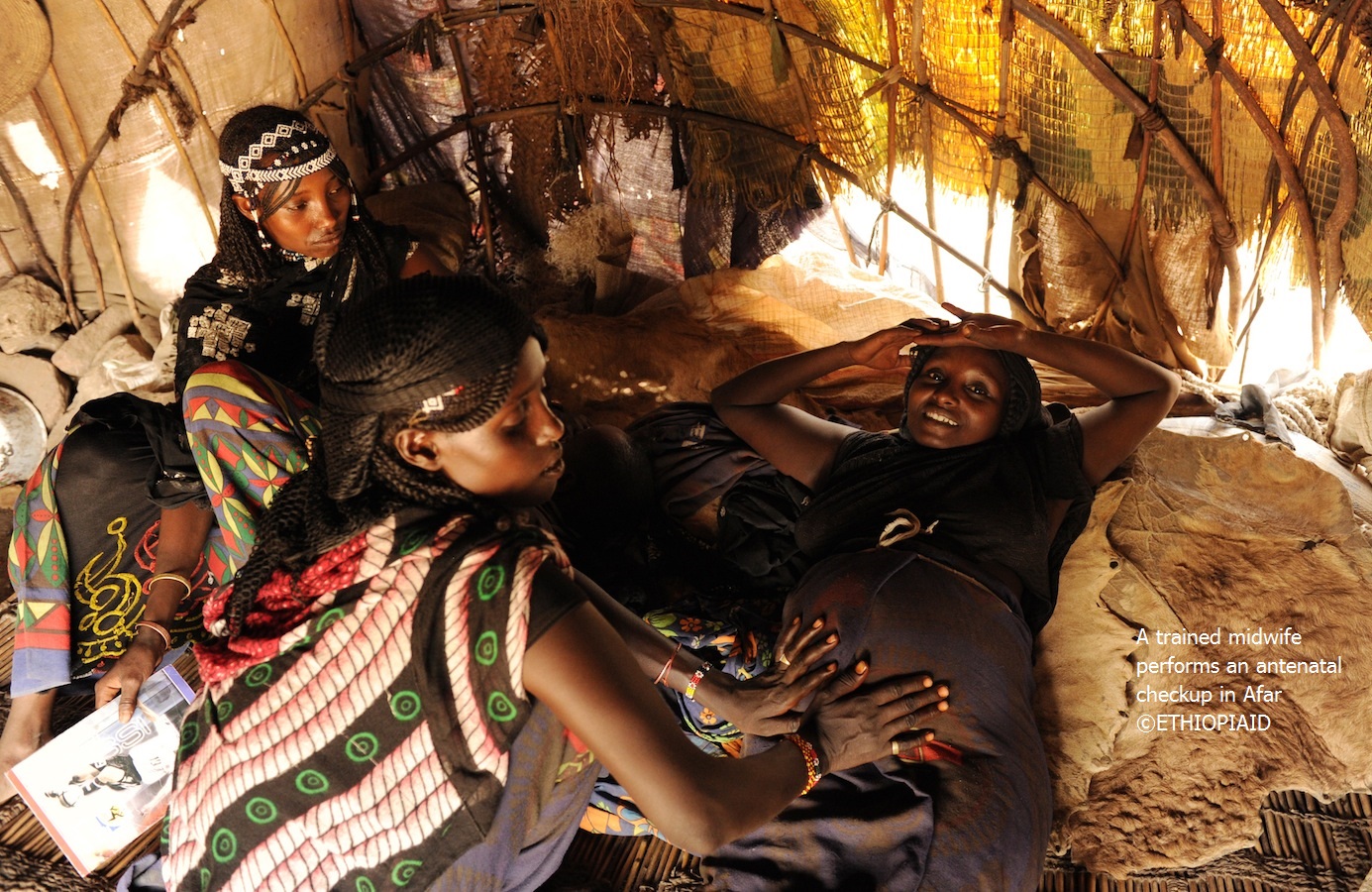 #11 New achievement unlocked: In less than 3 years, Ethiopia has more than doubled the number of health centres in 6 regions of the country. Now, more people than ever have access to healthcare. To keep pushing forward, the country will need to improve the ratio of health professionals to people, consistently provide quality care in all facilities in all regions, and train more doctors.[5]
#12 Finally, the best is of course, last. So most of us know that the origin of our favourite bean (coffee, obviously) comes from Ethiopia, but how was it discovered? Told for generations in Ethiopia, and shared with us the same way, the story goes like this: One day a young Ethiopian herder named Kaldi noticed his goats eating the coffee plant and becoming energized, so he decided to try it. He ate it, but nothing really happened. After trying it in several different ways, he finally roasted it, ground it, and put it in hot water, like tea. This is how coffee, as we know it, was discovered. Coffee shops named after Kaldi can be found all over Addis Ababa, and even in Nairobi, Kenya. I thank my sweet grinds for Kaldi every day! Image: Jebena used for brewing buna (or coffee) in Ethiopia. Source: NatGeo
Special thank you to one of our very own Ethiopian-Canadian volunteers, Eden, who helped research and add to this blog! Also, huge thank you to our volunteer Patricia, for meticuliously editing our work.
Sources:
National Geographic. (n.d.). Explorers Bio: Yohannes Haile-Selassie. Retrieved from http://www.nationalgeographic.com/explorers/bios/yohannes-haile-selassie/
Institute of Human Origins. (n.d.). Lucy's Story. Retrieved from https://iho.asu.edu/about/lucys-story
Marcus, H. G., & Crummey, D. E. (2016, June 30). Britannica Online: Ethiopia. Retrieved from https://www.britannica.com/place/Ethiopia
The World Bank: Ethiopia Overview. (n.d.). Retrieved from http://www.worldbank.org/en/country/ethiopia/overview#1
UNDP. (2014). National Human Development Report 2014: Ethiopia (pp. 1-123, Publication). Addis Ababa, ET. Retrieved from http://hdr.undp.org/sites/default/files/nhdr2015-ethiopia-en.pdf
UNICEF. (2014, November). THE STATE OF THE WORLD'S CHILDREN 2015: Executive Summary. pp. 90. Retrieved from https://www.unicef.org/publications/files/SOWC_2015_Summary_and_Tables.pdf
Abebe Bikila: barefoot to Olympic gold. (2017, January 08). Retrieved from https://www.olympic.org/videos/abebe-bikila-barefoot-to-olympic-gold
The World Factbook: ETHIOPIA. (2017, January 12). Retrieved January 19, 2017, from https://www.cia.gov/library/publications/the-world-factbook/geos/et.html
The Talking Textbook Programme
Posted by Francesca Rutherford on Friday 13th January 2017
Ethiopia has the highest rate of preventable blindness in Africa. Our partner SENTigray support children with special educational needs in the Tigray area of Ethiopia. Unfortunately, in Ethiopia, only 1% of children with such needs have access to specialised education and are often disregarded by society.
We are supporting the Mekelle Blind School to ensure these children have their right to access an inclusive education. We will be helping to provide training in Perkins Braillers as well as a more supportive caring environment for the children, some of whom are as young as 5 years old and a long way from home.
In order to provide a quality education for these visually impaired children, SENTigray have started the Talking Textbook Programme.
Masho (left) holding up an ATP and Techma Gidey (right) a university graduate now working at Operation Rescue, holding the original braille volumes for Grade 9 Biology (left hand) and Grade 9 Geography (right hand). Six such textbooks can be uploaded onto the MP3 players.
SENTigray have recorded some 24 textbooks for grades 5 - 8, recruiting over 20 volunteer readers and doing all the editing to prepare the texts for uploading onto the audio players. The 40 students at Mekelle Boarding School for the Blind, who have been trailing the audio textbook players for over 6 weeks, remain very enthusiastic indeed.
The SENTigray team, with the assistance of two special education needs curriculum experts from the Regional Education Bureau, have conducted 21 distribution and training workshops in Mekelle, and in the towns of Adwa, Adegra and three other towns.
246 visually impaired students in grades 5-8 in 59 schools, as well as the blind teachers in these schools, have now received their audio textbook players. These audio textbook players are absolutely vital to the visually impaired students, even to the point that some schools send students back home to get their audio textbook players if they have not brought it.
Of the 246 players distributed to date, only one broken one has been sent back. SENTigray has been monitoring the distribution only in Mekelle so far, but feedback has been "very exciting and encouraging," students saying, "audio textbook players restore our eyesight."
Mebrhit Alemayehu, a year 7 student living at the Blind School, showing her sighted friends the recording of the textbook.
#EthiopiaidHeroes
Posted by Francesca Rutherford on Wednesday 11th January 2017
We are continually grateful for the support of our donors. We are always humbled by your generosity, loyalty and dedication to helping the people of Ethiopia. It is through these long-term partnerships – between donors and beneficiaries – that we can aspire to create long-term change in the country, and make the biggest difference. Thank you.
This blog is dedicated to a number of people who have made such important commitments to our charity.
Our amazing Reed Recruitment Team challengers raised over £25,000 this year despite our trip being cancelled. Luckily, they can all make next year's trip - it will be mega!
Earlier this year Louise ran 100k in 10 days. Sometimes the things people do for Ethiopiaid leave us awestruck!
This trio cycled the length of France in the middle of summer raising £1,300 – that's dedication!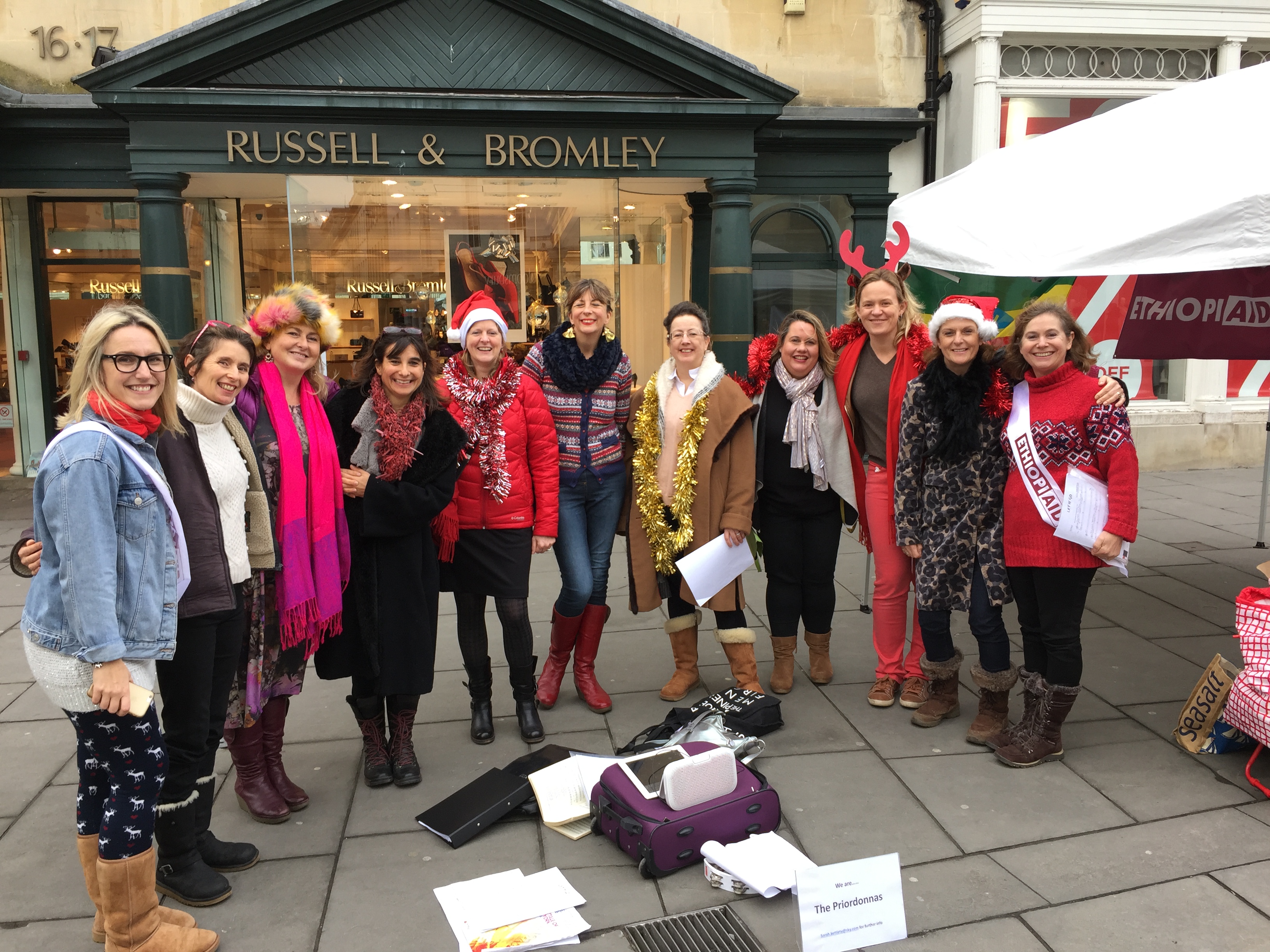 We had 7 volunteer fundraisers and a choir of 11 helping us raise over £400 on our Christmas market charity stand in Bath this year!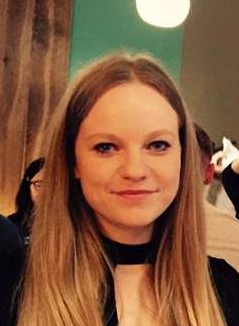 This year we had two brilliant interns, Harriet & Lizzie. They both completed really great projects and were vital to the smooth running of our little office. We can't thank you enough! If you're interested in becoming a volunteer intern with us next year, get in touch!
Charlotte MacArthur has raised over £4,000 this year, running a 10K in preparation for joining us on the Great Ethiopian Run 2017.
This year we are waving off Liam the Executive Director of our Ireland office, who is moving on after 2 and a half years – we're wishing him lots of luck in his new life!
This year our long term supporters Philippa and Steve tied the knot and asked for donations to Ethiopiaid instead of gifts. They've raised an incredible £4,579! If you'd like to do the same, please get in touch!
Our final #EthiopiaidHeroes are our incredible partners in Ethiopia keeping us going. Their inspiring, tireless work on the ground keeping people healthy, fed, educated and safe makes them our biggest heroes!
Three Days in Afar, remote Ethiopia
Posted by Francesca Rutherford on Thursday 20th October 2016
Three Days in Afar, remote Ethiopia
With Valerie Browning founder of APDA, Afar Pastoralists Development Association
7-10th October 2016
Sara Loxton, Ethiopiaid supporter, accompanied our chair of trustees, Alex Chapman, on a visit to our partner, Afar Pastoralist Development Association (APDA), who we support to erradicate FGM in the Afar region and who also provided essential emergency relief during the drought this year.
8.00: Alex Chapman and I are halfway between the Afar towns of Semera and Logiya ready for the arrival of Valerie Browning. We're already sweating in the heat. Today's plan is to head north east for two days through the Afar desert to visit families benefiting from Ethiopiaid's Goat Restocking Project following the end of the drought and the arrival of the rains.
275 families have received the goats, scrub grass has pushed through the rocky desert and the birakats, homemade underground water cisterns built by APDA, have enough water - for a few weeks. What no-one wants to talk about is that with the arrival of the rains have come locusts and Acute Watery Diarrhoea. This Biblical, parched land is possibly most people's idea of Ethiopia. We are at the southern end of the Danakil Depression known as the hottest place on earth. A land of lava lakes, live volcanoes, salt pans and plateaus black with the detritus of past volcanic eruptions. Here the dusty air scrapes your lungs and, if there was ever a place where an ice cold beer was needed at the end of the day, this is it – but like the arid scrub, it is completely 'dry'. The Afar people began converting to Islam in the 10th century and although they retain older beliefs that certain trees have sacred powers, the majority are now Sunni Muslims eking out a subsistence existence unchanged for centuries in this harshest of lands.
2.00: Lunch, Eli Daar. We have long since left the terrifying Addis-Djibouti trunk road. Djibouti is the only port for landlocked Ethiopia. Most imports are transported on overladen trucks with poor brakes and no acceleration, driven by drivers chewing khat to stay awake as they push across the huge distances. Shedded loads, dropped containers and collisions are common. Private vehicles are rare. I think we've seen two cars today. It's a relief to leave the road and begin our climb across the eerily beautiful salt pans. It took longer as we had a flat tyre which Mohammed, our driver, dealt with swiftly despite temperatures in the 40s. Lunch is shiro, a bean paste, eaten on the floor of a corrugated shack and shared with our 5 fellow travellers – all part of APDA: 3 Health Extension Workers, the driver and Valerie Browning.
It is now 24 hours since Alex and I met this inspirational Australian nurse and I can honestly say I have never met anyone like her! Energy, compassion, humanity, courage and humour wrapped up under the traditional dress of the Afar women, Valerie has lived among the Afar nomads for almost 30 years since marrying Ishmael Ali Gardo, an Afar Clan Elder. Known as the Angel of Afar and Maalika (Queen), Valerie has worked tirelessly to improve maternal and child health, improve literacy and eradicate harmful practices such as FGM through the organisation that she and her husband began in 1989: APDA. This is her home
4.00: Beneficiary Meeting. A formal title for our first meeting with a family who have received goats from funds raised by Ethiopiaid's Emergency Appeal. It is hard to spot the domed huts amongst the rocky landscape and as we stumble across the basalt we see no signs of life until a tall man appears from behind the rocks. Two women then rise up from a deboitas, the 3 metre wide by 1.5 metre high hut made from palm leaf matting. Two children are with them. There is nothing here. No trees, no shade, no water, just dust and stones. How can anybody live here? Then, the man moves rocks from one of the piles surrounding us and pulls out a baby goat. Then another… and another! These are less than a week old and are kept in the stone shelters while the rest of the herd has been taken to graze. The family received ten goats in the restocking programme; nine females and one male and the herd is already expanding. This programme is life changing. The family had nothing because of the drought and had been identified by APDA as vulnerable. They now have a chance.
6.00: Manda. We continue across this lunar landscape past rusting tanks, relics from the Derg's violent rule. We have dropped off one of the Health Extension Workers who sets off on foot towards the horizon clutching his paperwork. Valerie tells us that they now have 224 Health Extension workers, grown from 20, and that they are well accepted and respected amongst the people they work with. There are 1.5 million Afari and one in two has stunted development caused by malnutrition. When they do eat, it is always the same thing – legumes.
As the sun begins to set, the Landcruiser pulls left towards a few scattered huts and more stone byres. Children run towards us and goats skitter past – some painted with the letters APDA across their backs! Women appear. They have a lovely welcome ceremony of hand kissing and are thrilled by Valeries's unexpected visit. They produce canvas sheeting and a blanket which they arrange on the ground having moved some of the larger rocks out of the way. This is our bed for the night. Alex, Valerie and I will sleep here surrounded by the others who are happier outside. A gentle breeze catches us as the sun drops into the distant lava field and the moon rises behind us. We sit while Valerie chatters away to everyone. It is three years since this extended family were forced by drought to pack up and move their few possessions south. They dream of walking back home. Valerie dreams of walking with them.
The Clan Elder appears at supper time and after formal greetings Valerie begins business. She discusses births, teenage marriage, education standards and FGM. The Ethiopian Government has banned the practice but Valerie is keen to find out if this law is understood and upheld. It appears that the Government's ban has reached even here but Valerie wants to check and she'll need daylight for that.
We shall sleep well under the shooting stars. I have never been anywhere as silent as this.
6.00: Manda – The following morning. Apparently, Alex tells me, I woke the whole tribe with my snoring. They appeared to find it funny. Hope so… Breakfast is sweet tea from a blackened pot followed by sweet coffee. The cups are shared. They have so little. The goats will make a difference. Twenty 'households' within this community received ten goats each – again, nine females and one male. We walk over to the other side of the village to meet other beneficiaries and Valerie asks to see the youngest baby girl. She's a few weeks old. Alex and I step back and try not to meet anyone's gaze. Valerie inspects the infant and falls silent. She has been cut. Her clitoris has been removed using a razor and pulled out with a spike. The concession to the law makers in Addis Adaba is that the labia remains and she has not been stitched. It is hard to see this as an advancement but I suppose it is. The traditional birth attendant and cutter tells us that she bled a lot. I can't hold back the tears.
11.00: Buure. This is where Mohammed, one of Valerie's most trusted and respected associates comes from. We stop for a Coke (yes, even here) before heading out to meet another group of pastoralists and beneficiaries. They have also been displaced because of drought but look healthier than the people we spent the night with. Again, Valerie is able to mix social chat with health and welfare information before inspecting the youngest baby girl. She discovers that the same abuse has been inflicted on this child. The clitoris has been removed but the labia remains and there is no stitching. She tells them all why this is still wrong. They listen politely and offer no counter argument. We all drink warm goat's milk. We are amazed at Valerie's courage. Mohammed remains here to work for APDA.
2.00: Return to Logiya. Six bone shaking hours in the car during which I realise that I have not been to the loo all day, and am still wearing my pyjamas. Valerie at last gets some kip as we drive back past the people she cares so much for, past the water cisterns and watering holes that she has built, past the places where she has organised vaccination programmes and encouraged children to seek an education. Tomorrow, Alex and I return to Addis where the new British Ambassador, Susanna Moorehead, has kindly agreed to meet us to hear about Ethiopiaid's work. Valerie will be back in her office in the heat and dust of the APDA compound organising health workers, maternity visits, the building of a new hostel for students, checking the status of four young girls who arrived in the nearby hospital with severe infections caused by Type III FGM, filling in accounts and donor reports and preparing for the possible arrival of Acute Watery Diarrhoea.
8.00: Hotel Nondescript, Semera. No water!
Help girls manage their monthly cycle comfortably and discreetly
Posted by Francesca Rutherford on Tuesday 11th October 2016
Help Encourage More Girls To Continue Their Education By Providing Them With A Sanitary Pack
Click on the video above to learn about our partner Dignity Period

Video credit Dignity Period. Photography Joni Kabana
Just £5 helps give a teenage girl her dignity back.
As a father and grandfather of girls I know that growing up can be a difficult time, balancing the demands of school, friendships and family with becoming a young woman.
In the 21st century it is difficult to imagine that simply becoming a woman means being unable to attend school. That is why I am turning to you, a loyal supporter of Ethiopiaid, to ask for your help.

Imagine being in school and starting your period, feeling panic and fear, not knowing what is happening to you. The sad truth is that there is little support for menstruating girls in rural Ethiopia. This important step into adulthood is not openly talked about and often misunderstood. The first time many girls learn about their periods is by having them.

In the Tigray region of Ethiopia 98% of girls lack access to sanitary products which are expensive and difficult to find. Girls are forced to use whatever materials are available such as grass, leaves, old rags or nothing at all.

Unfortunately menstruation remains a taboo topic and is seen as a source of shame, a reality faced by so many young girls.

Many girls are afraid to go to school during their period where they can face ridicule from their classmates. In addition, most schools have inadequate, if any, toilet and washing facilities. As a result, some girls drop out altogether, missing their chance to create a better future for themselves.

I know that we can transform the lives of young girls and that is why I am asking for your support again.
Perhaps you are wondering how your gift could make a difference. The answer lies in our new partner, an organisation called Dignity Period. Dignity Period focuses on changing attitudes to menstruation in Tigray schools and communities, supporting girls to stay in education. Working with a local enterprise, which employs more than 50 local women, they produce and distribute reusable sanitary packs which include soap, pads and underwear.

Each sanitary pack costs just £3 to produce.

Young women are each given a pack so that they can manage their monthly cycles discreetly and are able to stay in school. So far over 7,000 girls have received packs but there are approximately a further 12,000 girls who we want to reach by 2017.

A donation of £45 can supply 15 girls with a menstruation pack. Please join me in giving £45 today to help transform the lives of girls.

Thank you so much, from all at Ethiopiaid and our local partners, at this important time.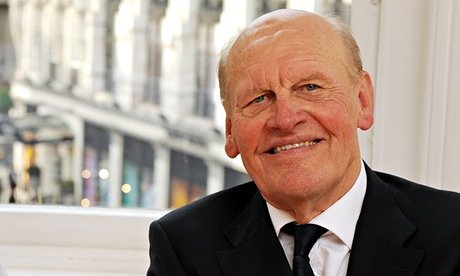 Sir Alec Reed
Founder
Remember A Charity Week 12-15th September…
Posted by Francesca Rutherford on Wednesday 31st August 2016
Please let us know if you have any questions or would like to talk to someone in confidence by calling 01225 476385 or email: mylegacy@ethiopiaid.org.uk
Feed A Child's Ambition This Autumn
Posted by Francesca Rutherford on Wednesday 31st August 2016
As a grandfather, I know that getting ready for the new school year is a pivotal part of any family's calendar. New uniform, stationery, shoes and bags help our children feel prepared for their September start and mark an end to the summer holidays. For many families in the UK, the only choice we face for feeding our children at school, is whether they have school dinners or pack lunch. Impoverished children in Ethiopia simply do not have the luxury of a choice.
I would like to tell you about Tirualem – a young girl who is a student at one of the schools run by our local partner, Hope Enterprises. Ten-year-old Tirualem's father died when she was two, and her mother struggles to provide for her four children's basic needs, which includes sending her daughter to school with lunch. Tirualem's severe hunger clouded her mind and affected her concentration as she struggled to listen to her teachers and complete her work.
Thanks to supporters like you, Tirualem has benefited from a new school feeding project that was piloted last September in her school. Now she receives a daily lunchtime sandwich, which staves off hunger and enables her to concentrate in the afternoon. Tirualem told us: "The program helps me, and now I do not get hungry. I can also attend my education attentively." Tirualem's hunger for education is great. It has helped to keep her in school, and she recently finished her term 5th highest out of her class of 56 students. Without Ethiopiaid's vital intervention, girls like Tirualem would have to drop out of school and watch their dreams for the future fade away.
Sadly, her story isn't unique. The challenges facing children who want to go to school are high. 80% of the population survive on less than $2 a day, which means there is no money for food, shoes, school books or fees. According to UNICEF only 10% of girls in Ethiopia are in school. On average, an educated Ethiopian child receives just seven years of schooling and only 52% will complete primary school (World Bank). That is why we need your help.
Thanks to your support, the ambition of students like Tirualem needn't be drowned out by the sounds of rumbling stomachs, or blurred by the lethargy that comes from a lack of food or sickness. Help us to reach out to more hungry school children. "The food support really helps me. I hope it will continue next year. It would be great, if possible, to have two meals per day."
Last year we helped to support over 950 vulnerable children to stay in school by providing them with a nutritious meal to improve their wellbeing and help them to fulfill their potential. So please, do something wonderful today for school children and consider a gift of £40. Help us to feed their stomachs, so that together we can feed their ambition - empowering young people to change their own lives, and those of their future children.
As ever, I am grateful for your kind support of Ethiopiaid, and I hope you will feel able to join me in helping more children like Tirualem. Thank you.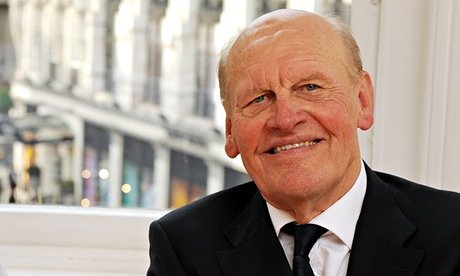 Sir Alec Reed
Founder
Summer Newsletter - How you've kept our projects going through the drought
Posted by Francesca Rutherford on Tuesday 16th August 2016
Take a look at our progress so far this year and find out more about how each of our partners were affected by the drought and how your donations were spent.
If you would like any paper copiesn to share with friends, your community group or school please get in touch.
International Youth Day
Posted by Francesca Rutherford on Tuesday 16th August 2016
For International Youth Day (12th August) I'd like to tell you a little bit about our partner HOPE Enterprises. HOPE has been transforming the lives of young children in Ethiopia since 1971, ever since Jack and Evangel Smith opened their home, and hearts, to twenty street children offering them basic needs, schooling and skill training. When the Smiths left Ethiopia, local people continued their work and now employ nearly 400 staff and run feeding programmes for up to 4,000 students.
In 2002 Ethiopiaid and HOPE joined forces and since then have worked together to feed and school thousands of street children who are rounded up from doorways, bus stations, and derelict hovels.
One of the kids that Ethiopiaid and HOPE have helped is Tamrat. Tamrat started going to HOPE School when he was 5 years old and thanks to his love of learning, now 18, Tamrat has enrolled in the General Metal and Fabrication Assembly course at HOPE Enterprises. He says that the best part of the course is its high chance of employability and shared that: "For future students I recommend this field of education".
Tamrat wants to work in a self-help business group when he completes the two-year course –he has a group of 5 friends who want to do this too. They plan to finance the enterprise by linking with a microfinance scheme.
The challenges facing children who want to go to school are high. 80% of Ethiopian people survive on less than $2 a day, which means there is no money for food, shoes, school books or fees. On average, an educated Ethiopian child will only go to school for 7 years and only 52% will complete primary school (World Bank statistics).
That is why we need your help. Thanks to your support, the ambition of students like Tamrat can be develop.
Help us to reach out to more children and brighten their future!

Ethiopiaid Trip Diary 2016 - Meeting our Partners
Posted by Francesca Rutherford on Wednesday 16th March 2016
Lisa, our Director and Anna our Fundraising Manager have joined colleagues from our Australia, Ireland and Canada offices to meet our partners and review the fantastic impact your donations are having. This trip is part of our monitoring and evaluation process to make sure that we are creating lasting and effective change in Ethiopia and that your donations are well spent.
Monday 14 March
The team visited our women's refuge AWSAD – here's a few of the people they met…
Figrite Girman (aged 18) has been at AWSAD for 3 years having heard about it through her school
Bezo H Mariusam (aged 17) has been at AWSAD 3 years having been told about it by a police officer and
Haimanot Kasshun (aged 18) has been at AWSAD for 6 years having been taken there by a female community officer
Best thing about AWSAD ?
FG: Working together
BM: Good friendships with outside survivors
HK: Spending time with each other
How has the project changed your life?
HK: Counselling has inspired me to start training to go into the profession, so that I can help others
Hopes for the future?
FG: Graduate from school and get good results
BM: Finish school and then help support my parents (they live just outside Addis)
HK: Finish school, study psychology and help other survivors
Any message for Ethiopiaid supporters?
FG: Please continue to support more girls like us
Tuesday 15th March
The next visit was to Cheshire orthopaedic Rehabilitation services at their site in Addis Ababa - REED House
Anna met Alaza, aged one and a half as he was having his weekly physiotherapy.
"Alaza was born with spinobifida and his movement was very limited and painful. Since he was 3 months old, he has been coming with his mother to REED House to undertake physiotherapy and medical assessment.
His physiotherapist is called Hiwot (which means 'life renewed'). Whilst we were there, we watched as Hiwot carried out sensation tests (putting gentle pressure on his legs and soles of his feet with her fingers), strength tests (holding out a toy infront of him and encouraging him to reach out with alternate hands to grab it - see attached video), resistance tests (getting him on all fours and encouraging him to push back on her hands with his lower back and legs).
They are confident that, with continued therapy, and the aid of walking devices such as crutches (if necessary) Alaza will be able to lead a relatively normal and healthy way of life."
Wednesday 17th March
Anna spent the morning with Destitute Elders Welfare & Development Association (DEWADA) field officer, Messih, meeting beneficaries of the pension programme DEWADA provide.
"I met Aslefch Belyenhe (R) aged 90. She has been with DEWADA for over 15 years. Both her husband and son have died and she has felt very sad living her life without them.

Before DEWADA, Aslefch was working as a domestic servant but had to give that up due to her back (she has a stoop).
We visited Aslefch at her house which is made entirely of corrugated iron. She has lived there for over 30 years. It is dark and smoky inside, but she has arranged her things nicely and was roasting some coffee beans when we arrived.

Aslefch has been able to make repairs to her roof and buy some oil for her skin – which she says is very dry. This is all thanks to DEWADA and Ethiopiaid's pension support. Her regular visits from project manager Messih have also made her feel less alone; they clearly have a good relationship, and were laughing and joking with one another. It was not long until Aslefch became tired however (she is 90, after all) so I thanked her for sharing her story and left her to have a sit down and coffee with her friend Taych (L), who had popped over from her house opposite."

Thursday 18th March
Lisa and Anna visited Hope College and met with Aselesech, 23, who graduated from the college in 2007 and has now returned to work on campus.
Aselesech is currently working as an administrator at the college: having enjoyed her time there so much she was excited to have the opportunity to come back as a member of staff, particularly as she knew and liked the environment and staff.
The best bit about Aselesech's time at Hope College was the support she received when she wanted to change course: she started off doing accountancy, and following advice and assessment as to what she was best suited to, she says the staff made it easy for her to enroll on her IT course instead. Aselesech said she was pleased to be given such a choice, and support, regarding the studies that fit best with her skills and aspirations.
Aselesech suggested that more support for the teachers would improve the college – her role is to do just that, but she recognises that several more administrators would further lessen the workload of the teaching staff, and enable them to focus more on the students.
"Thank you to Ethiopiaid supporters for helping Hope College become such a great place for staff and students – we are all learning so much, and are excited for the future."
Monday 21st March
Finally, Lisa and Anna travelled to Mekele, in the north of Ethiopia to visit our partners Dignity Period and Mekele Blind School.
Dignity Period - provides young women with reuseable sanitary products to remove stigma and encourage girls to stay in school.
Anna and Lisa had a quick chat between classes with:
Harifa Berehe (aged 16)
Betel Girma (aged 15)
Tekea Haile (aged 16)
Mulu Gebrekidan (aged 17)
Hayat Seid (aged 18)
How do you feel about getting packs?
HB: We are very happy, those who do not have the money to buy sanitary products are now free to bleed at school and no longer shy.
Are you now less embarrassed about talking about menstruation?
HB: Menstruation is no longer a taboo, we educate young, rural girls that it is not a thing of shame to menstruate.
Do you feel that you can now talk to your parents about menstruation?
HB: My parents did not attend school, but now it is considered normal and we are trying to encourage them to talk more. I am more comfortable doing this now.
Do you have any questions for Ethiopiaid?
HB: We are very grateful for the lessons on menstruation, and to have been given the packs. What about the school toilets? There is currently no water in them. *NB: Engineers without borders are planning to come and do some essential plumbing maintenance in the summer*
MG: We've had lessons about (sanitary) pack storage and how easy they are to store them in a bag however, lots of people from the countryside do not have school bags... what do they do? *NB: We are looking into donating school bags.
Feb 2016
Ticking clock on Ethiopia drought
Posted by Francesca Rutherford on Tuesday 23rd February 2016
The international community has just three weeks to provide $245 million in emergency food aid to help prevent a potentially catastrophic escalation in severe acute malnutrition cases in drought-afflicted parts of Ethiopia from the end of April when the main 'hungry season' begins. This drought is affecting communities throughout the Horn of Africa, from Somalia to Eritrea, Save the Children says.
Ethiopia continues to endure the devastating impacts of its worst drought in 50 years, which has already left a staggering 10.2 million people in need of emergency food assistance, including 6 million children. More than 400,000 children will need urgent supplementary feeding for severe acute malnutrition this year - a condition that can lead to physical stunting and mental development delays. Additionally, at least 1.7 million children and pregnant and lactating women are suffering from moderate acute malnutrition, and are at risk of sliding into further crisis if the food pipeline breaks down.
"In 2016, when we have all the right systems in place to prevent a massive humanitarian disaster, it would be absolutely unforgivable if the international community failed to act. We all said 'never again' after the tragedy of 1984, and again after the famine in Somalia in 2011 – so now is crunch time and we must all step up before it's too late."
Despite early warnings, UN Secretary-General Ban Ki-moon's call for urgent support has not been met. Currently, the combined Ethiopian Government and UN Appeal for $1.4 billion to combat the impact of the drought remains less than half funded.
First Steps at Cheshire Services
Posted by Francesca Rutherford on Wednesday 10th February 2016
Ethiopiaid Board member Alex Chapman recently visited our partner Cheshire Services. Cheshire help Ethiopians who are affected by disabilities through rehabilitation, community outreach, mobility aids and a range of much needed services. You can read more about themhere. Here's what Alex had to say about her visit:
I have just visited the Cheshire Reed House paediatric centre in Addis Ababa funded by Ethiopiaid. The centre supports children with cerebral palsy and gives physiotherapy treatment and occupational therapy. Often people with disabilities are the most marginalised and vulnerable in countries like Ethiopia so it was inspiring and heartening to see the dedication of the staff at Cheshire Services.

I met one mother, Zewdnesh Germew, who had two disabled children - one with polio who uses a wheelchair and another with cerebral palsy who is receiving physiotherapy and learning to walk with an aid (see video). It was very moving witnessing him taking his first steps age 11 years. He couldn't stop smiling!

Zwednesh's husband died and she has 2 other children as well so she carries the burden of the whole family. She told me she was so grateful for the support she gets from Cheshire and she doesn't know how she could cope without them. I felt extremely impressed by the service Cheshire is providing and proud that Ethiopiaid supports their work. Thanks to the generosity of our donors families like Zewdnesh's are given the help they so desperately need.
Volunteer of the Year!
Posted by Kelly Thomas on Friday 5th February 2016
At the end of 2015 we nominated our incredible volunteer, Pamela Galloway, for the Bath Community awards – volunteer of the year award.
On top of all of Pamela's local community commitments as a hydro therapist for disabled children, she volunteered for us at Cheshire Services; a service for orthopaedic and social rehabilitation service for children and young people with disabilities in Ethiopia. A hydrotherapy pool was built but as none of the staff have hydrotherapy training, and indeed the majority cannot swim, Pamela saw that her skills could be put to good use and took on this mammoth task.
Pamela undertook a self funded trip to Addis Ababa to bring therapy, exercise and fun to another group of disabled children. In a one week trip Pamela taught staff members the importance of health and safety in the water, exercises, skills and techniques and how to work and have fun with the children in the pool. All this work has been absolutely vital, without Pamela the pool would have remained unused. She has made an invaluable difference to the lives of both the children and staff.
Pamela was up against strong competition in Bath and unfortunately did not wint the over all prize but she remains our volunteer of the year!
Hunger crisis in Ethiopia worsens amid drought
Posted by Kelly Thomas on Friday 5th February 2016
Pelase support our emergency appeal.
Jan 2016
Fun Facts about Ethiopia
Posted by Natacha Soto on Monday 4th January 2016
Lucy, the oldest human fossil who lived over three million years ago, was found in Ethiopia.

Ethiopia is widely considered the site of the emergence of anatomically modern humans, Homo sapiens, in the Middle Paleolithic about 200,000 years ago. The earliest known modern human bones were found in Southwestern Ethiopia, and are called the Omo remains.

Coffee, one of the world's most popular beverages, was discovered in Ethiopia, in the region of Kaffa.

The best-known Ethiopian cuisine consists of various thick meat stews, known as wat in Ethiopian culture, and vegetable side dishes served atop injera, a large sourdough flatbread made of teff flour.

Ethiopia is the only country in the world with 13 months. It is also eight years behind the Western calendar. They celebrate the New Year on September 11th.

Time in Ethiopia is counted differently than in many Western countries. The Ethiopian day starts with the sunrise, usually at 6 AM as opposed to 12 AM, and as such can vary throughout the year.

Traditionally, parents and children do not share a last name. Most children take their father's first name as their last name.

The main sports in Ethiopia are athletics (particularly long distance running) and football.

Ethiopian Abebe Bikila was the first Sub-Saharan African to win gold in the Olympic Games. He finished the 1960 marathon in first place after running the whole race barefoot. He was the first athlete to win the Olympic marathon twice when he retained the gold model four years later in Tokyo.

Ethiopia is a founding member of the United Nations and the African Union.

Ethiopia is a multilingual nation with around 80 ethnolinguistic groups, the three largest of which are the Tigray, Oromo and Amhara.

Every late November thousands of people from around the world travel to Ethiopia to take part of the Great Ethiopian Run.​
​
Oct 2015
Global Goals
Posted by Natacha Soto on Thursday 1st October 2015
Last September World Leaders committed to 17 Global Goals to achieve 3 extraordinary things in the next 15 years: End extreme poverty; Fight inequality & injustice; Fix climate change. The Global Goals for sustainable development could get these things done. In all countries. For all people. If the Goals are going to work, everyone needs to know about them.
They call for action by all countries –poor, middle and high-income, and pledges no one will be left behind.
Here in Ethiopiaid we welcome these Global Goals and commit to help in the achievement of those that are of particular interest for our work in Ethiopia:
Goal 1: No Poverty - End poverty in all its forms everywhere.
Goal 3: Good Health & Well-being - Ensure healthy lives and promote well-being for all at all ages.
Goal 4: Quality Education - Ensure inclusive and equitable quality education and promote lifelong learning opportunities for all.
Goal 5: Gender Equality - Achieve gender equality and empower all women and girls.
Goal 8: Decent Work & Economic Growth - Promote sustained, inclusive and sustainable economic growth, full and productive employment and decent work for all.
Check http://www.globalgoals.org/ to learn more about this goals and how you can help achieve them!