Ethiopian women in power!
Posted by Francesca Rutherford on Thursday 22nd November 2018
Ethiopia is now the second African State to have an equal gender representation in government with 10 out of the 20 seats filled by women!
.
Since coming into power on the 2nd of April 2018, Ethiopia's Prime Minister Abiy Ahmed has transformed the country, particularly in its attitudes towards women in leadership.
Alongside freeing thousands of political detainees, lifting the country from a state of emergency, declaring the end of the border war with Eritrea and reopening the border, he is quickly providing strong female role models.
He came into power after the unexpected resignation of Hailemariam Desalegn who in contrast held a much larger cabinet with only 4 seats held by women.
The Prime Minister believes that women are best suited to fight corruption, reduce inefficiency and bring accountability and fairness to the government, which is what he states leadership is.
"Our women ministers will disprove the old aphorism that women can't lead."
.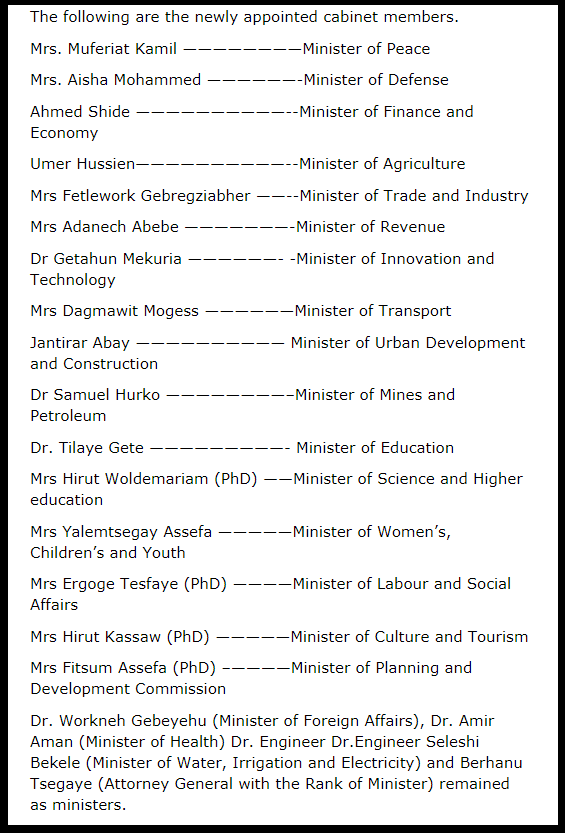 Ms Meaza Ashenafi - Ethiopia's first woman president of the Federal High Court - is probably the best example of this change in attitude towards womens rights.
.
In the late 1990's, Ms Meaza (far left) won a court case whilst defending a 14 year old bride who was accused of killing her "husband" who had abducted and assulted her. This story has now been made into a film, 'Difret', produced by Angelina Jolie.
In a society where gender inequality has been deeply rooted in social structures, institutions and economic opportunities with the voices of women historicalyl being silenced and their capacity limited, Prime Minister Abiy Ahmed is creating strong, real and visible role models of powerful women for future generations.