Feed A Child's Ambition This Autumn
Posted by Francesca Rutherford on Wednesday 31st August 2016
As a grandfather, I know that getting ready for the new school year is a pivotal part of any family's calendar. New uniform, stationery, shoes and bags help our children feel prepared for their September start and mark an end to the summer holidays. For many families in the UK, the only choice we face for feeding our children at school, is whether they have school dinners or pack lunch. Impoverished children in Ethiopia simply do not have the luxury of a choice.
I would like to tell you about Tirualem – a young girl who is a student at one of the schools run by our local partner, Hope Enterprises. Ten-year-old Tirualem's father died when she was two, and her mother struggles to provide for her four children's basic needs, which includes sending her daughter to school with lunch. Tirualem's severe hunger clouded her mind and affected her concentration as she struggled to listen to her teachers and complete her work.
Thanks to supporters like you, Tirualem has benefited from a new school feeding project that was piloted last September in her school. Now she receives a daily lunchtime sandwich, which staves off hunger and enables her to concentrate in the afternoon. Tirualem told us: "The program helps me, and now I do not get hungry. I can also attend my education attentively." Tirualem's hunger for education is great. It has helped to keep her in school, and she recently finished her term 5th highest out of her class of 56 students. Without Ethiopiaid's vital intervention, girls like Tirualem would have to drop out of school and watch their dreams for the future fade away.
Sadly, her story isn't unique. The challenges facing children who want to go to school are high. 80% of the population survive on less than $2 a day, which means there is no money for food, shoes, school books or fees. According to UNICEF only 10% of girls in Ethiopia are in school. On average, an educated Ethiopian child receives just seven years of schooling and only 52% will complete primary school (World Bank). That is why we need your help.
Thanks to your support, the ambition of students like Tirualem needn't be drowned out by the sounds of rumbling stomachs, or blurred by the lethargy that comes from a lack of food or sickness. Help us to reach out to more hungry school children. "The food support really helps me. I hope it will continue next year. It would be great, if possible, to have two meals per day."
Last year we helped to support over 950 vulnerable children to stay in school by providing them with a nutritious meal to improve their wellbeing and help them to fulfill their potential. So please, do something wonderful today for school children and consider a gift of £40. Help us to feed their stomachs, so that together we can feed their ambition - empowering young people to change their own lives, and those of their future children.
As ever, I am grateful for your kind support of Ethiopiaid, and I hope you will feel able to join me in helping more children like Tirualem. Thank you.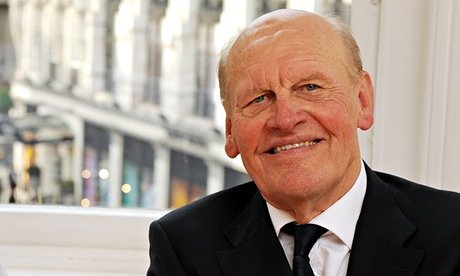 Sir Alec Reed
Founder